Great Escapes
Celebrate your new life together with a honeymoon that perfectly matches your travel personality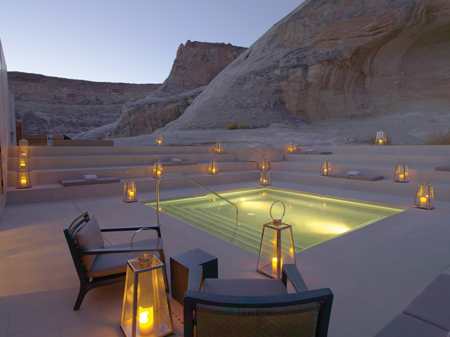 It's your first vacation as a married couple and a great way to celebrate your new life together. Whether you dream of spending your honeymoon lounging on the beach, taking in the sights in a bustling city, or exploring an exotic landscape—or even all of the above—these honeymoon spots have plenty to offer
For the Nature-Loving Couple: Utah's Amangiri resort offers a multitude of adventurous activities to get you and your sweetheart out into a pristine western landscape—no passport necessary —A.A.
Situated on 600 acres in the heart of Four Corners, where Utah, Colorado, New Mexico, and Arizona meet, Amangiri (from $1,050 per night, amanresorts.com/amangiri) is a luxurious place to experience one of the country's most dramatic landscapes. The intimate resort is designed to blend in with the scenery, incorporating natural hues, materials, and textures into thirty-four suites, each with a private entrance and sweeping desert views. With a lavish spa, pool, and dining room, Amangiri is the perfect launch pad for exploring landmarks such as the Grand Canyon, Zion National Park, and Monument Valley.
For the Wellness-Minded Couple: The conservationist-founded Rosewood Little Dix Bay on the island of Virgin Gorda is the perfect escape for health-conscious honeymooners. —V.B.
In the 1960s, Laurance S. Rockefeller, a conservationist, had a clear vision for a resort along Virgin Gorda's Little Dix Bay. His goal? Natural harmony and earth in balance. Nearly fifty years later, Rosewood Little Dix Bay (from $295 per night in low season; $775 per night in high season, rosewoodlittledixbay.com) on the island of Virgin Gorda is a sensory escape from the ordinary, perfect for the active couple looking to focus on health and wellness. "We really try to promote an atmosphere of disconnecting to reconnect," says Domingo Velasco, the resort's director of marketing. If you met your sweetheart on a nature hike and love working out together, this is a great getaway for you.
For the Split Personality Couple: Your groom wants a thrill-seeking honeymoon. You long for a beach-lounging escape. The answer? A compromise with One&Only Ocean Club —B.M.
There aren't many tropical destinations within just a quick, two-hour flight from Charlotte. But the Bahamas is one of them—and that means you can skip two days of traveling to and from your destination in favor of spending that time sipping piña coladas on the beach. Book your post-wedding bliss at One&Only Ocean Club (from $515 per night, oneandonly.com/oceanclub). The luxurious boutique hotel is quiet and ultra-exclusive, boasting ocean-view rooms complete with personal butlers and stocked with Molton Brown bath products.
For the Urbanite Couple: There's no rule that you have to spend your honeymoon on a white sand beach in the Caribbean. Get a dose of city life with a romantic trip to the Windy City —V.B.
Old Blue Eyes had it right when he sang, "Chicago is one town that won't let you down." With a bustling riverfront, lakeshore fun, world-famous entertainment (think Second City), renowned must-see sights from Wrigley Field to the Art Institute of Chicago, and even its own kind of pizza, the Windy City is sure to impress any urban-obsessed Mr. and Mrs.