Great Independent Film … in an Unlikely Spot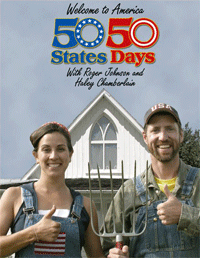 You don't often hear "international" and "Kings Mountain" used in the same sentence. But, film fanatics may be hearing just that this weekend.
It's time again for the 12th annual Real to Reel International Film Festival in the small Cleveland County town. Student and professional films are being screened through Saturday.
The Saturday matinee (1 p.m.) is Welcome to America: 50 States 50 Days, a documentary by a self-proclaimed welcome sign photography expert. Roger Johnson and his sidekick, Haley Chamberlain, go on a road trip to all 50 states in, like the title says, just 50 days. www.ccartscouncil.org/realtoreel/index.html