Green Canvas
In north Charlotte, environmental art weaves together past and present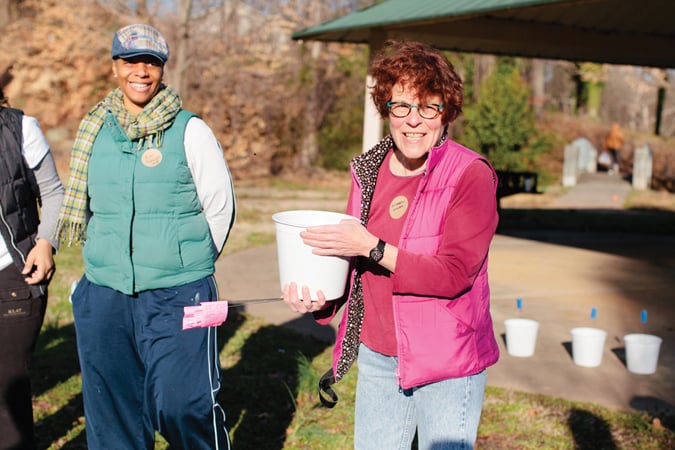 Elizabeth Conner is hunched on all fours, penciling in vertical stripes on a yellow concrete wall in north Charlotte. Her design, meant to discourage graffiti, will brighten the end of a footbridge in Anita Stroud Park, a skinny, six-acre plot of land off Statesville Avenue, less than 10 minutes north of uptown.
Conner, who lives outside Seattle, recently finished a three-month stint as an environmental artist-in-residence at the McColl Center for Visual Art. Her mission was to use the outdoors as a canvas to unite residents of the Park at Oaklawn, Genesis Park, and Brightwalk at Historic Double Oaks. On this Sunday afternoon in March, she's working in a small valley between the neighborhoods. Until recently, it was overgrown and smelled like stagnant water and urine. "This particular spot seemed like a natural," she says. "I think a lot about movement of people. And this is clearly a connector between these neighborhoods."
The neighborhoods are part of a controversial, decade-long redevelopment plan funded by grants, private companies, and the nonprofit Charlotte-Mecklenburg Housing Partnership. Brightwalk, still under construction, is home to a mix of poorer families living in affordable rental apartments and middle-class residents in single-family homes.
It represents a $125 million investment and a dramatic transformation from the barracks-style public housing buildings that stood from the 1950s until 2008. The neighborhood was once known as "the heroin capital of the South," says Kim Graham, who works for the Housing Partnership. Now, the Housing Partnership plans to install environmental art, created by other artists and neighborhood residents, throughout the park and the neighborhoods that surround it. Conner's goal is not just beautification; her artwork is designed to be easily replicable, and preserve the history of the area while addressing the mixed emotions inherent in its gentrification.
Volunteers installed plants and stone pavers in Anita Stroud Park.
She stops to survey the landscaping. Scattered among stone pavers are small pieces of brick, concrete, and asphalt—remnants of the public housing complex. "To me, in many ways, they resemble the past," she says. "There's one right here in fact." She stoops to point out an L-shaped piece of cinder block. "It's evocative of former buildings."
As Conner traces her pencil lines, Pamela Washington, 41, who lives in the Park at Oaklawn, stops by on her way home from church. She remembers when residents would avoid the area around the footbridge. Now, she says the revitalization project has encouraged neighbors to get to know one another and has even drawn visitors to the area. Noticing a group of men—all of whom are white—tossing a football at the park's edge, she smiles. "It's incredible," she says. "Ten years ago, if they were over here they weren't over here to play football. They might have been over here to score."