Greg Brannon's Augmented Reality
The Tea Party's choice for U.S. Senate: OB-GYN, app developer, defendant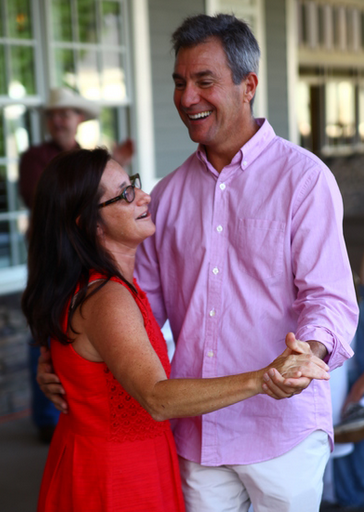 The McClatchy power team of Frank & Morrill dug through what appear to be some deeply weird court documents for their story about Republican U.S. Senate candidate Dr. Greg Brannon and the lawsuit he faces.
It's hard to tell whether this was a deliberate attempt to defraud investors or a case of disassociation from this dimension of reality—with Brannon, either is possible—but here are the basics:
In court papers, the investors, Lawrence "Larry" Piazza, of Maine, and Salvatore "Sam" Lampuri, of Raleigh, described in detail how Brannon pitched them on the company's bid to create Mirascape, a smartphone application that is a "social augmented reality network connecting people, places and things." A company prospectus promised to fill in the gaps that Facebook, Google, Foursquare and other prominent apps were missing.
Brannon's involvement may hinge on an email he sent April 30, 2010, to Piazza, his medical school friend, and other investors stating that the company's chief sales officer, John Cummings, met with Verizon in New York City. The company, he said, needed $100,000 to $200,000 to develop a pitch for a subsequent meeting weeks later.
"I know all of you are BUSY!!!" Brannon wrote, according to court documents. "I need you to give a few minutes to look at this potential. THANK YOU for your TRUST!! Greg."
Rice, the CEO, followed up with a memo, suggesting Verizon might feature the Mirascape app on all its Droid mobile devices. "The challenge here, is that we have to jump to warp speed to accelerate development," he wrote. "This is a one-shot opportunity."
Certain rules of thumb have served me well over the years. One of them is to turn and run from anyone who insists on communicating WITH CAPITALS AND LOTS OF EXCLAMATION POINTS!!!!!!!!!, especially if they're trying to induce me to invest $100,000 or so in an "augmented reality" app, whatever the hell that is. That's just me.
Maybe Brannon will slide on the lawsuit; if you're dumb enough to buy his pitch, you ought to pay a penalty, caveat emptor, y'know. (This is an awfully nice detail, though: "In a deposition, Lampuri describes how Brannon talked business with him when his wife came for monthly doctor appointments during her pregnancy. 'He pretty much spoke about Neogence every time my wife was in stirrups,' he told attorneys.")
Besides, there's a good bit of evidence that Dr. Brannon lives in an augmented reality of his own. BuzzFeed dug this up a couple of weeks back. Take a good look. It's authentic precious-bodily-fluids stuff. There's the One World Currency Threat. There's the Agenda 21 Light Rail Enslavement Plot. There's "They Really Do Want To Implant Microchips Into Your Brain," which speaks for itself.
I don't know if Brannon really needs his dosages adjusted or he's play-acting for the Tea Party base. It's unnerving, honestly, that we even have to ask.