Grocery Wars
The addition of Whole Foods Market heats up supermarket competition in SouthPark. So what does it mean to you, the customer? (Hint: not lower prices)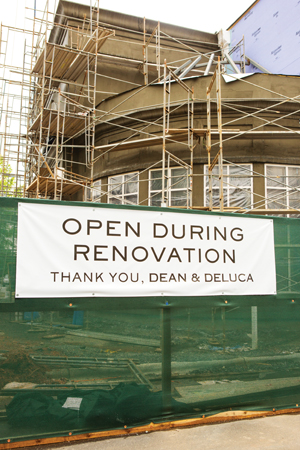 Driving down Fairview Road, it's impossible not to notice the construction fencing surrounding Dean & DeLuca and the scaffolding creeping up exterior walls. Meanwhile, other upscale supermarkets in the SouthPark neighborhood—namely Earth Fare and the Harris Teeter flagship store, nicknamed the Taj Ma-Teeter—have similar plans. Add to this the impending arrival of Whole Foods Market, and it's obvious that grocery wars are brewing in SouthPark.
When retailers battle it out, the customer almost always wins. So who will lose?
"These retailers have shown that customers are willing to pay for a great [shopping] experience," says Phil Lempert, food industry analyst and editor of SupermarketGuru.com. "The upgrades have nothing to do with price wars; the focus here is on service wars."
Despite a still-sluggish economy, Lempert isn't surprised that grocers are investing in upgrades. A recent study by Bank of America Merrill Lynch found that supermarket food prices have risen about 2.5 times as fast as the cost of restaurant meals since 2009, making the cost of dining out more in line with eating at home. Increased competition for local food dollars has grocers struggling to retain market share.
Unlike shoppers who get their groceries at big-box or discount stores and are focused on finding the lowest prices, shoppers at high-end grocers are more concerned about the shopping experience—and are willing to pay more for specialty products, organic and natural foods, and an upscale shopping environment.
"They want to talk to the butcher, go to a wine tasting, take a class … they never want to leave," says Lempert. "[These grocers have] proven that you can be more expensive and still be very successful."
The arrival of Whole Foods in Charlotte (at the intersection of Fairview and Sharon Roads), has been in the works for nearly a decade, with several stops and starts along the way, including an agreement to open a 55,000-square-foot store as the anchor tenant of the Elizabeth Avenue redevelopment. That plan was ultimately scrapped. Finally, in 2010, the upscale supermarket inked a deal to build a 42,000-square-foot store in SouthPark.
"We kept hearing from [Charlotte] shoppers, 'We have everything else except a Whole Foods Market,'" says Darrah Horgan, public relations specialist for Whole Foods.
Whole Foods' name recognition, coupled with a line of exclusive products and unique offerings such as a branded magazine, special events, and Salud!, an on-site cooking school, could make it tough for area supermarkets to compete.
According to Michael Brown, a Charlotte-based economist for Wells Fargo Securities, local supermarkets do have the advantage of a solid customer base. He expects convenience shopping patterns—popping into a local supermarket to grab a gallon of milk after work—will keep SouthPark residents returning to their go-to neighborhood supermarkets.
Even so, Brown believes grocers in SouthPark have reason to be concerned about the arrival of the organic and natural foods retailer, noting it could pose a threat to the profitability of other high-end grocers in the neighborhood. "When a new store moves into town, it changes the landscape," he says.
"The opening of Whole Foods won't provoke price wars, which you would see if Wal-Mart moved in, but it will promote service wars."
Brown adds that the changes will be most evident on weekends, a time when shoppers tend to travel longer distances to a preferred market and load up their carts with higher-value items, spending more than during their quick, weeknight shopping stops. The economic impact may even be felt beyond the SouthPark neighborhood. "A higher end, quality-conscious consumer would be willing to drive across town to shop at these stores," says Brown.
Translation: grocers in Ballantyne, University City, and other far-flung Charlotte neighborhoods may also be affected by the arrival of Whole Foods. But SouthPark, with its high concentration of high-end supermarkets, is bound to feel the biggest impact. That crowded market has existing upscale supermarkets looking for new ways to attract and retain their customers.
"You'll see other retailers stepping up their game," Lempert says. "The opening of Whole Foods won't provoke price wars, which you would see if Wal-Mart moved in, but it will promote service wars."
Harris Teeter began renovating its Morrocroft flagship store last September. The 3,000-square-foot addition, scheduled for completion this month, features new wine tasting stations, an event planning office, remodeled departments, and prepared foods bars. It's the first major renovation since 2006.
Earlier this year, Earth Fare remodeled its Morrison store, adding a bakery, charcuterie, Mediterranean bar, and freshly prepared carryout items.
At Phillips Place, Dean & DeLuca is in the midst of a significant transformation. Adding 3,000 square feet will allow the gourmet grocer to bring the market and wine room together into a single specialty food-and-wine destination. Changes include a striking exterior update complete with a glass rotunda and water feature.
"We wanted to give the store more exposure to customers driving down [Fairview Road]," explains Don Burns, the store's general manager. "Before … it was just a big orange wall."
Construction will wrap up this summer—around the same time Whole Foods Market plans to open its doors.
Burns brushes off the suggestion that Dean & DeLuca timed its updates to coincide with the arrival of the upscale supermarket. Instead, he cites the pending expiration of leases as the deciding factor for pursuing renovations. Leases on both the Dean & DeLuca Wine Room and the fine foods store expire in 2012, giving the grocer the opportunity to combine two businesses into a single location with an expanded footprint and more prominent presence in Phillips Place.
"It's just luck, how it turned out," says Burns.
Catherine Reuhl, spokesperson for Harris Teeter, also denies a connection between upgrades and the arrival of Whole Foods. "Capital spending plans are scheduled years in advance, and it just happens that several of our Charlotte stores are in that cycle now," she says.
But Horgan isn't surprised that several neighborhood supermarkets are in the midst of renovations. "We shop the competition, check each other out, know what other stores are doing," she says. "Competition is good for the customer; it gives them more options for pricing and selection."
Whole Foods has its own competition. In addition to fighting for market share with Earth Fare, Harris Teeter, and Dean & DeLuca, the natural foods retailer, like other supermarkets offering organic produce, is in competition with local farmers.
"One of the biggest competitors in the organic foods [industry] is not a brick-and-mortar store—it's a farmers market," says Brown. "A lot of local farmers markets have loyal followings; shoppers often prefer interacting with their farmer because it's a more personal shopping experience."
While the upscale grocery market may seem crowded, Brown believes Charlotte has the population to support several fine foods retailers. "As long as we still have a modest pace of population growth, there should be more than enough business to support all of these upscale grocers," he says.
In the meantime, the competition could be good for the local economy.
Whole Foods plans to hire up to 170 full-and part-time employees, and, as Brown notes, the arrival of a new gourmet grocer in SouthPark will lead to an increased demand for skilled butchers, fishmongers, bakers, and other specialized workers.
That increased demand could prove problematic for existing grocers in the SouthPark area, according to Lempert. "It's to be expected that a lot of the employees Whole Foods hires will come from other supermarkets in the area," he says. "[Those] stores could lose customers as well as employees when Whole Foods moves in."
Lempert believes the competition will play out in the virtual world, too. Whole Foods, he says, is "brilliant" when it comes to social media, often offering time-sensitive specials to Facebook fans and Twitter followers that further enhance the store's consumer appeal.
"That will force retailers who are perhaps not as adept at social media into that space, where some will succeed and others will fail," says Lempert. "So the grocery wars won't just play out in the stores but on social media, too."
Jodi Helmer is a writer in Charlotte.