Grooming Efforts
Get your guy involved in wedding planning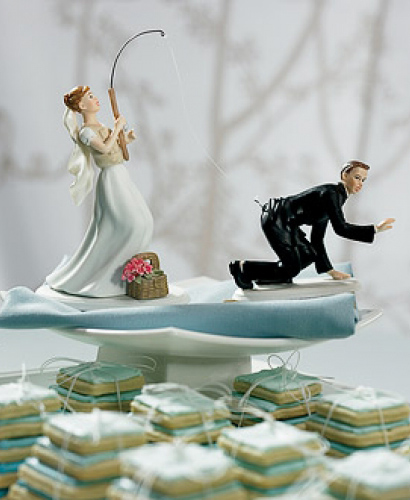 Long-standing tradition that the bride's family foots the wedding bill set the precedent for who plans the event. Romantic comedies, eager-to-please vendors and a girl-centered industry feed off the notion, reinforcing this single-sided approach to nuptial preparations. And yet few and far between is the instance where the bride's family is the only paying party. More often than not, couples are funding their own I dos or both the bride and groom's families will chip in together. That said, it's so important to pave the planning road as a two-way street. When the groom and his family become funding parties, a vested interest in the little details is only natural. On top of this, the fact that putting together every aspect of a wedding requires a great deal of time outside of work means that, by involving the groom and allowing him to be an equal planning partner ensures you don't lose important together time during the engagement. Of course some grooms will make clear the aspects they wish to remain far removed from, but I can assure you there are plenty of planning points for which they'll be happy you asked their input.
Be specific. While it may be entertaining to you when you have the world as your oyster when it comes to color schemes or save-the-date designs, but that's not the case for the groom. Narrow it down to your top two picks and then enlist his advice.
Plan a boys night. Make the rehearsal dinner all about him. Ask him his opinion for all planning aspects or do your research and make it a surprise.
Talk finances. Especially if the two of you will be footing the bill alone, he will absolutely have an interest in frivolous details such as flowers–especially since such items can often be the most costly. Present the wallet-friendly alternatives with your favorites. He will be pleased that you took the work out of researching for him and appreciative that you're looking out for his best interests before your own penchants.
No-brainers. Before you enlist your MOH or parent to attend the cake tasting or caterer appointment, get the groom to come solo. Food will forever be the way to a man's heart, so these appointments should most definitely be saved for his schedule. Make it a date, just the two of you.
Business man. For negotiating with vendors, Cc him on the emails or give him the option to negotiate costs himself. Especially for grooms in the corporate world, this gives him an opportunity to be in his element within your wedding world.
{photo}