Groupie
5 Tips on Choosing a Reception Band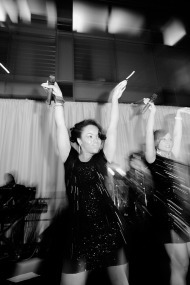 If you've at least resolved to hire a group for live music after 'I do,' there are a few things every couple should consider when researching bands. Like any wedding vendor product, there are always ways around budget needs and ways to get the sound you're seeking within your means. Never discount a live band if your heart it set on such. And if your dream band is a top priority, simply set other item costs low to compensate. After all that's the whole point of a budget. So here they are: a few additional tips to help make the most of the process from hiring to dancing the evening away, come wedding night.
Early Bird
Don't delay on researching bands. Even the less popular groups have busy calendars with weddings and tours. The more notice you can give, the more likely it is that you will be able to secure the band. Let this be a top priority on your planning agenda.
The Real Deal
Don't let an album or website playlist dictate your final decision. Contact the band and ask about a nearby upcoming wedding they'll be playing. Ask the bride and groom if you can pop into the reception for a few minutes to see the band in their element. They will more than likely oblige.
The Tipping Point
When the wedding day arrives, go ahead and deliver gratuity to the band members in the morning. It's perfectly proper etiquette to do so following the event. However a tip ahead of time gives a bit of incentive to go the extra mile at your reception. ALso keep in mind, should the band have to travel far to your venue, a travel expense will be added to their cost.
Matchy Matchy
When thinking about the type of band you'd like to hire, think first about the level of formality of your event. Your band should not only match the design aesthetic of your reception, but should also be in keeping with your style as a couple. If you're the let-loose couple who will be out on the dance floor cutting a rug for the duration of the evening, you'll want to steer away from a traditional wedding band. Choose an upbeat group to get everyone moving. Jazz bands can translate across many levels of formality and are always a crowd pleaser.
Venue Stipulations
Occasionally a venue will have a law against live music. Be sure to check ahead of time with the venue owner on this one. Further some venues have sound level limiters set which will cut off power to a band, should it exceed a certain sound decibel. Ask your venue about this feature and, if they have it, just be sure to inform all band members of such.