Growing the Winterfield/Sheffield Garden
Just around the bend in a neighborhood off Albemarle Road, you can find the Winterfield/Sheffield Community Garden. What was once a plot of rocky construction dirt across from an east Charlotte elementary school has now evolved into a lively garden where students and residents of the neighborhood are stewards of the land—tending to not just the plants and soil, but to the health and well being of the community.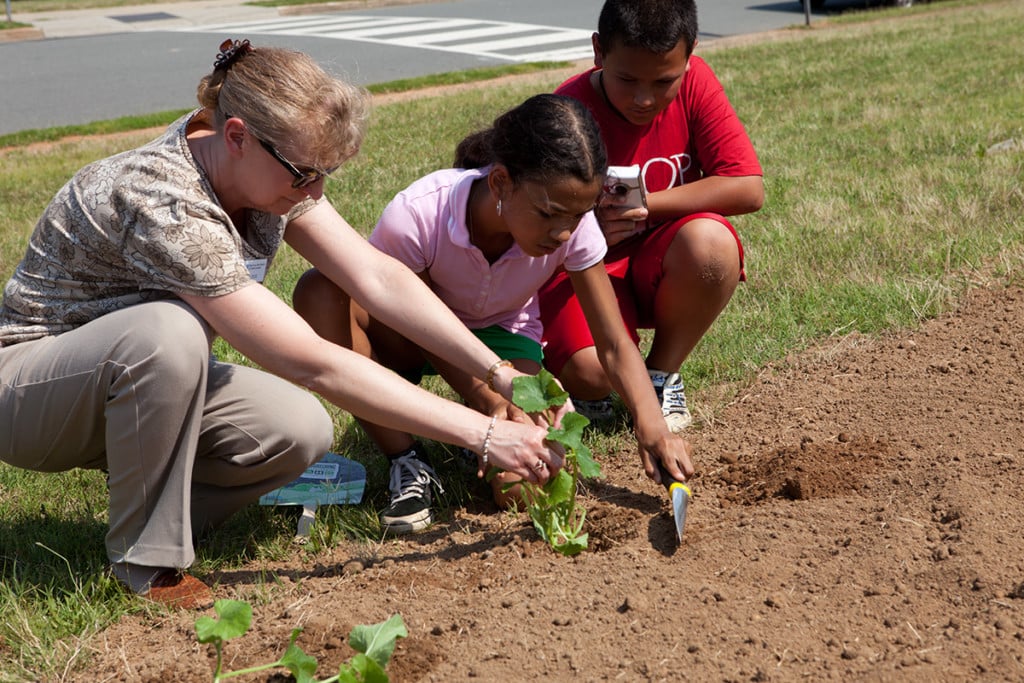 The Winterfield/Sheffield Garden is located near one of the County's "food deserts", or areas where healthy, affordable food is not easily accessible. John and Margaret Bott, who live on Driftwood Drive, rented a plot back in April when the garden first opened. There they grow purple tomatoes and radishes. "We saw it as a great opportunity to get fresh vegetables; you can't find anything good in the stores around here," Margaret Bott says.
Research has shown there is a correlation between health issues and diet. More than thirty-one percent of children ages two to four in North Carolina are considered overweight or at risk of becoming overweight, and two-thirds of the state's adults are obese or overweight. And an estimated $57 billion worth of avoidable medical expenses, workers' compensation, and lost productivity is connected to unhealthy eating and physical inactivity.
To help combat this growing epidemic, Blue Cross Blue Shield of North Carolina announced its partnership with North Carolina Recreation and Parks Association on June 7 at the Winterfield/Sheffield Garden to launch Nourishing North Carolina, a statewide community garden program that aims to make local, healthy fruits and vegetables accessible to underserved and at-risk populations, including that of the Sheffield community.
Over the next three years, Nourishing N.C. will provide resources such as mulch, tools, and water meters to create or maintain gardens in all 100 counties in the state. Its vision is to yield at least 190,000 pounds of fruits and vegetables, which will improve the nutritional value of more than 149,000 meals; support food pantries and homeless shelters with at least 20,000-pound donation of fruits and vegetables; and provide 17,000 hours of physical activity through garden maintenance.
In a press release, Brad Wilson, BCBSNC president and CEO, expressed how the long-term benefit of increasing access to healthy food will "ultimately lessen the impact of unhealthy lifestyles on our health care system."
But it was because of one woman's vision that the project at Sheffield took root. Carla Vitez, a Selwyn Elementary parent and a Mecklenburg County Master Composter, came across that land three years ago. She saw what could be fertile ground for a community garden – a place where students and residents could participate.
Through what the stewards of the garden refer to as passion and sweat equity, a sense of pride and ownership has burgeoned in the neighborhood. About 25 Sheffield residents and 80 students from the elementary school care for the garden weekly.
Not only do these community gardens promote healthier eating and physical activity, but it also bolsters community development. The Winterfield Elementary School, which is located across the street from the garden, uses some of the plots for its students' science projects. Maxine Raymer, who has lived on Winterfield Place since 1957, says she doesn't have a plot at the garden, but says she comes out to show her support. "I'm here because it's my neighborhood, and it's great for the children," Raymer says.