Growing Up Green
FoodCorps members teach Gaston County kids to eat local, healthy foods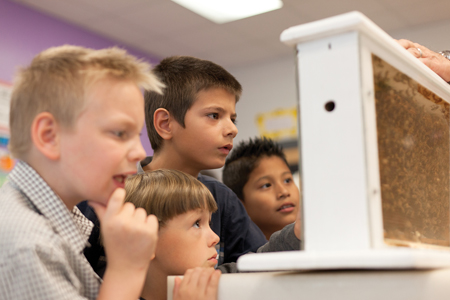 In the garden of Edward D. Sadler Jr. Elementary School in Gastonia, third graders sit on picnic benches surrounded by beds of leafy vegetables. Each student holds a piece of radish, harvested just minutes before.
"Don't eat it yet!" calls Sarah Dixon, the FoodCorps service member running the garden program. The kids squirm and a few steal a nibble. From the anticipation on their faces, you'd think they were waiting to tear into a pile of chocolate chip cookies.
As they pop the morsels into their mouths, some kids squeal and others grimace, but Dixon's rule is to give every food a chance.
"Now, raise your hands when you think of a word to describe what you taste," Dixon says. Hands fly up and words go down on a poster board. "Spicy!" "Juicy!"
"Mild!" the kids say.
This is one of six elementary schools in Gaston County benefiting from FoodCorps, a nonprofit, nationwide service organization launched last year to combat childhood obesity. Similar to AmeriCorps, which provides some funding for FoodCorps, service members receive a stipend and educational funds in exchange for a year of teaching kids about healthy eating, building school gardens, and bringing high-quality, local food to cafeterias. Due to its rich agricultural resources and relatively high childhood obesity and food-scarcity rates, North Carolina was one of ten states originally chosen to participate in the program; two more states joined this year.
Locally, FoodCorps members work with the Gaston County Cooperative Extension's Harvesting Healthy Youth program and Master Gardener volunteers—horticulture specialists trained by the Extension—in the classroom.
They create interactive lesson plans that align with the science and nutrition requirements in the state-mandated core curriculum for third graders. Much of the hands-on learning happens in the garden, which students help to build, plant, and maintain. Yet one of the biggest successes this year has been in the lunchroom.
"Before [last] fall, no cafeteria in Gaston County had ever served a fresh, local sweet potato," says Allison Marshall, last year's FoodCorps service member and the current horticulture program assistant at the Extension.
Schools had served produce from around the state, she says, but not vegetables purchased directly from a local farmer.
So Marshall and Dixon created the Harvest of the Month program, in partnership with the county's school nutrition program. Now every school in Gaston County will aim to feature a fresh, local fruit or vegetable in the cafeteria each month.
"Since so many young people get a majority—or at least a large portion—of their calories from school food, I think it is incredibly important to make systemic, institutional changes where possible," Marshall says.
And the impact has been measurable. Across the nation, in the first two months of this school year, FoodCorps said it has served 17,924 children, launched 112 garden projects, and harvested 14,191 pounds of produce for kids.
"To work with a student only once a week for fifteen weeks, and watch them go from completely opposed to eating any fruit or vegetable to being willing to try some—and actually liking a few—feels like a huge success," Marshall says.