Growler fills in N.C.: What you need to know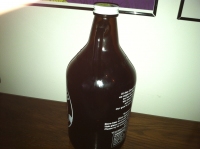 Friday is the first day local bottle shops, stores and other establishments can officially begin filling growlers and selling them to customers in North Carolina. (Midnight to be exact, but we'll get to that later.)
I've gotten a number of questions from storeowners and customers alike, and wanted to address as many as I could to clear everything up before the law is officially enacted. Over the weekend, I spoke via e-mail with Robert Hamilton, deputy administrator of the N.C. ABC Commission (which just passed the temporary rules regarding growler fills) regarding said questions.
Before we get to that though, here's a quick primer. Under the temporary rules, a growler is defined as "a refillable rigid glass, plastic, aluminum or stainless steel container with a flip-top or screw-on lid that is no larger than 2 liters (0.5283 gallons) into which a malt beverage is prefilled, filled or refilled for off-premises consumption."
Now, a few notes here. One of the delays in adopting the temporary growler rules was the addition of the word "plastic" as far as the construction of the growler. So you'll have a number of options to choose from, depending on what the store is providing. Most growlers are glass, but the stainless steel ones are becoming more popular (though they are more expensive).
Also, the two-liter maximum is pretty standard. That's around 64 ounces, and what you'll already find at most breweries. And as is the case with prefilled growlers from breweries (which have been sold at stores for some time now), once the growler is filled and sealed, you can't open it on the premises of the establishment.
The two major issues the temporary rules address are labeling of growlers and cleaning them. Per the former, here's what every growler in North Carolina that is being filled must have on it (Note when it speaks to "malt beverage," that means beer; I'm just keeping it as is per the rules):
• Brand name of the product
• Name of the brewer/bottler
• Class of the product (is it a porter, lager, stout, etc.?)
• Net contents (how many ounces?)
• If the malt beverage is fortified with any stimulants from the original manufacturer, the amount of each (in milligrams) per container
• Name/address of the business that filled/refilled the growler
• Date of fill/refill
• If the malt beverage is more than 6% ABV, the ABV percentage will need to be on there
• The following statement: "This product may be unfiltered and unpasteurized. Keep refrigerated at all times."
• The alcoholic beverage health warning statement as required by the Federal Alcohol Administration Act
I'm sure the reaction of many upon looking at all that the first time will be similar to mine: "Wow, that's a lot of information." But keep in mind that the rules also state that this information can be via labels or tags (the only major requirements being the type, which can't be smaller than 3 millimeters in height and no more than 12 characters per inch). So establishments will be able to provide stickers or hangtags with the information; it's not like all of that will have to be etched onto the growler.
One question I've been asked is a lot the last week is, "Can I bring in my own growler or a growler from another brewery/store to be filled?" The answer: yes and no. Just as each store has the right to refuse growler fills (thereby allowing the rarer kegs to last longer on draft), choosing to fill growlers from other places will be a discretionary choice that varies from store to store.
From my exchange with Hamilton, here's what he said: "It would depend on the establishment's policy. I know there will be establishments that will only fill and refill their own growlers, there will be establishments that fill and refill other establishment's growlers and there will also probably be patrons that purchase their growler off of the Internet and will want to get them filled. All of this depends on the establishment's policies."
As far as the cleaning rules go, a word of note first. A point I'll continue to drive home is this: your best bet with growler fills (at least initially) lies within the established bottle shops/beer stores. They'll have the most education on cleaning and sanitizing, which will lessen your chances of getting a bad fill.
Per the temporary rules, growlers (and their caps) must be sanitized and cleaned by a store employee by either manually washing it in a three-compartment sink or via a mechanical washing and sanitizing machine. In the sink, the first compartment is used for washing the growler in detergent and water, second for rinsing and third for sanitizing. The mechanical machine must be equipped with chemical or hot water sanitization and regularly serviced.
Christian Staples, a local attorney who has been following the growler law/rules for some time, also put together an in-depth article and delves further into the sanitation requirements/compliance issues.
One final note: Earlier this week on Twitter, I floated a marketing idea (always thinking) since I knew many are anticipating being able to fill growlers here in Charlotte. Thursday night happens to be the Panthers/Buccaneers primetime game, so what better way to celebrate a hopeful above-.500 Panthers team (crazy, I know) than getting a growler fill after the game? Since technically, stores and shops can begin legally filling growlers at midnight.
Well, Sankey's Grille in Matthews agreed this is a great idea and they'll have the game on and fill growlers at midnight. And next door at Custom Home Pubs, there's a RJ Rockers tap takeover from 6 p.m. to 9 p.m. for your pregame pleasure. You'll get eight drafts for $10. Not a bad deal.
If anyone else decides to capitalize on the midnight fill, I'll update this post and will also keep people informed via Twitter.