Guess Who's Coming to [White House Correspondents'] Dinner
Plus, DNC Host Committee seeks entertainment management company for media welcome event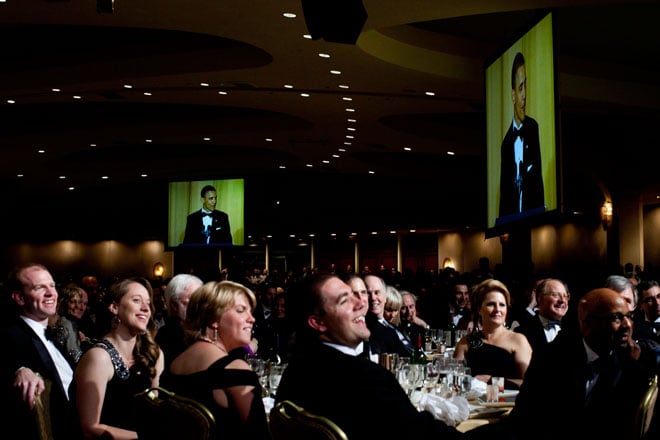 You hear often of the many benefits in Charlotte resulting from the Democratic National Convention taking place here later this year. Wanna hear another one? The editor of our city's largest newspaper and our mayor are having dinner this weekend. In Washington, D.C. Surrounded by celebrities.
The Charlotte Observer's Rick Thames and Mayor Anthony Foxx are attending the 98th Annual White House Correspondents' Association Dinner on Saturday. It's one of the hottest social events of the year in D.C., broadcasted live by several news outlets. The WHCA dinner will be attended by President Barack Obama and the First Lady, as is custom, as well as many top government officials and members of the press corps. But the main reason folks tune in is to see the A-list celebrities in attendance and to witness the president deliver a monologue of jokes like a late-night talk show host (perhaps Jimmy Fallon gave him some tips). There is actually a late-night talk show host hosting this event, Jimmy Kimmel.
Thames and Foxx will be in the same room with dozen of celebrities, including George Clooney, Sofia Vergara, Eva Longoria, Steven Spielberg, and Charlize Theron. There will also be celebrities with Charlotte TV and movie-making ties—Claire Danes, star of Showtime's Homeland, which is filmed here, and Josh Hutcherson and Elizabeth Banks from The Hunger Games (several scenes filmed here, too).
You can watch broadcasts of the WHCA dinner Saturday at 9:30 p.m. on CNN and MSNBC, among others. Also, Politico has an entire section on its website dedicated to covering the event, including a list of parties and social events being put on by major media organizations (Time, The New Yorker, Google) from today through Sunday.
The Charlotte guys, Thames and Foxx, will likely run into some of the national reporters who are planning to attend the Democratic National Convention in September. About 15,000 journalists from around the state, country, and world are expected here.
Entertainment Manager Sought by Host Committee
Speaking of media and the convention, this week the Charlotte in 2012 Convention Host Committee released a request for proposal seeking an entertainment management company for the Media Welcome Event that's taking place September 1 at NC Music Factory. The entertainment manager will work with the Host Committee to secure entertainment for the event and will be responsible for booking, communicating with, coordinating, and stage managing all entertainment acts for the event. People interested in bidding for this contract must be registered with the Charlotte in 2012 Vendor Directory (charlottein2012.com) to be considered, and proposals must be submitted to events@clt2012.com by May 7 at 5 p.m.