Guest Book Idea: Wall Art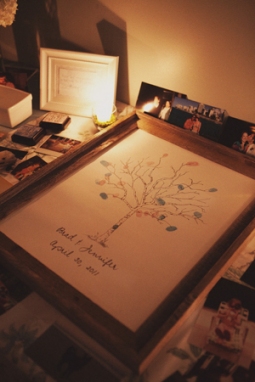 Good news brides! You can have a guest book that also serves as a beautiful piece of art for you and your beau's home. Of the many weddings I have frequented, two of my favorites were those that used a piece of wall art for their guest book.
The first couple put a picture of themselves in the center of a white mat that guests could sign. To this day, they have that framed and hanging in their house, reminded daily of the many people that came to share that special day with them!
The second couple had a friend paint a tree onto beautiful beige canvas. Then for the wedding, guests pressed their thumbs into different shades of green and put their thumbprint on the tree. They also signed their name in their thumbprint. When everyone was done, the tree was covered in leaves that symbolized each guest that attended. So pretty!
I think wall art as a guest book is a great idea… remembering your loved ones that shared your day with you is important, why not make it a pretty piece of artwork as well?