Guide: New Frequencies' Fall Season at McColl Center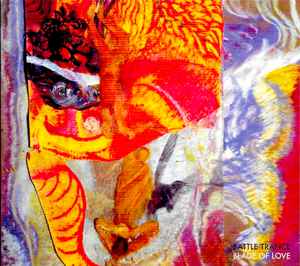 EARLIER THIS YEAR, McColl Center for Art + Innovation's New Frequencies nabbed our Best of the Best Award for "New Arts Programming." The series, founded by writer Jeff Jackson, musician Brent Bagwell, and filmmaker Ross Wilbanks, focuses on musicians, dancers and choreographers, filmmakers, and authors who push their respective forms forward. Or as our BOBs issue put it, with New Frequencies, "the future of art is on display."
This upcoming season is no different. Starting Monday (Sept. 12), four fall programs embody the charge of the series. Below, you'll see what we mean, as we've added a multimedia component to each description:
MUSIC: BATTLE TRANCE+ JACOB WICK
Sept. 12
Blade of Love, the newest release from the New York-based quartet, is a blend of the primal and the elegant. The instrumental configuration of just four tenor saxophones may sound like a gimmick. But both the recorded and live experience of Battle Trance transcends the "avant-garde" moniker for something wholly new and hypnotic. Check out the first movement from the record below. (It gets real around 4:48.)

Trumpeter Jacob Wick, known for mixing straight performance and mindbending listening exercises, opens with a solo set.
LITERATURE: ROBERT LOPEZ + SAMUEL LIGON
Sept. 15
This Thursday reading, sponsored in part by Charlotte Lit, features two fiction authors with recent, lauded releases. Lopez's Good People, a new collection of stories, was recognized by Publishers Weekly and the New York Public Library (which called it "one of the most stylish and urgent books" of the year). Ligon's second novel, Among the Dead and Dreaming, received this nod from the New York Times Book Review: "Ligon is firmly in control, laying out the elements of the story like the pieces of a giant jigsaw puzzle."
See Lopez read an excerpt from novel Part of the World below, in which the author's knack for dark humor is on display.
FILM: LEWIS KLAHR'S SIXTY SIX
Oct. 14
After premiering at the prestigious Museum of Modern Art, Lewis Klahr's new film, Sixty Six, is screened at the McColl Center. The Pop Art-influenced, collage-style work is a 12-part anthology. Components are influenced by pulp tales of the 1960s and '70s and classic Greek narratives, with the animation using found images like cut-out comic strip characters, magazine layouts, advertisements, and more.
See a clip below.
Sixty Six // Clip from San Francisco Film Society on Vimeo.
DANCE: CHANCE ENCOUNTERS
Nov. 18
With Chance Encounters, viewers find differing artforms in conversation. Each of these dance pieces are influenced by a different work out art. "Dwellings like a Mirage in the Heat" is a world premiere, and it reacts to methods originally crafted by John Cage and Merce Cunningham at Black Mountain College. This piece comes from dancers Eric Mullis (of Charlotte), Brian McGinnis, and Jennifer Sydor. The latter two hail from Chicago and New York, respectively. Music for the piece is composed by Charlotte's Brent Bagwell, adding to sprawling collaborative nature of the work.
Charlotte's Megan Payne performs "Magnificent Mirage," which is influenced by fashion photographer Deborah Turbeville. Also: McGinnis and Sydor perform "Whether One," inspired by a Haruki Murakami novel.
See a recent piece by Mullis at Goodyear Arts below.
. from Eric Mullis on Vimeo.