Gulliver's Revenge
Running down a week among Mecklenburg County's governing pygmies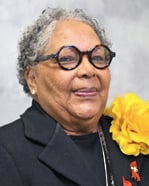 This seems like a great time to review the past week or so in the sterling governance of your Mecklenburg County Board of Commissioners!
May 7: Board fires 13-year County Manager Harry Jones, not even letting him go upstairs to his office to pack his things.
May 8: Board Chair Pat Cotham defends Jones' brusque treatment: "At that moment, (Jones) was no longer an employee of the county. It would not have been appropriate for him to speak."
May 9: Cotham is quoted in a Charlotte Business Journal story: "Harry was just part one. This is the big part. I see a lot of waste and I see a lot of people who are under-challenged. Why are we paying somebody $60,000 to do a $30,000 job? This is what I'm seeing (at the county) and I'm going, 'What the hell are they doing?' "
May 10: Commissioner Dumont Clarke, a fellow Democrat, calls on Cotham to "seriously think about stepping aside" as board chair. "If you want to alienate the county's entire work force, you could not do a better job than to keep up what you are doing," Clarke writes. Cotham shrugs it off. Also, former Gov. Jim Martin comes to Jones' defense, writing in a letter to the Observer that Jones was a "scapegoat" for a dysfunctional board and a "giant among Lilliputian pygmies," which pygmy experts will tell you are itty-bitty people indeed, far smaller than standard, full-sized pygmies.
May 14: It all hits the big ol' fan! George Dunlap refers on Twitter to Harry Jones' "crucifixion!" Vilma Leake (who's black) calls Clarke (who's white) a racist before alleging sexism as she sides with Cotham (a white woman) against Dunlap (a black man) during an argument over what, you ask? The hiring of a consultant to help with the transition to a new county administration! Then Leake says she wants extra security because she's afraid of Dunlap! And they're all Democrats! (For once in his life, Bill James is quiet. He doesn't have to say a word. Think about that for a second.)
I'm sure time will reveal all the assorted ramifications of this low nonsense, but for now, consider this: How many good county manager candidates from around the region and country do you think are keeping their résumés holstered behind this mess?