Guys with No Ties
In Charlotte, even the bankers don't wear ties anymore. So what does that say about us?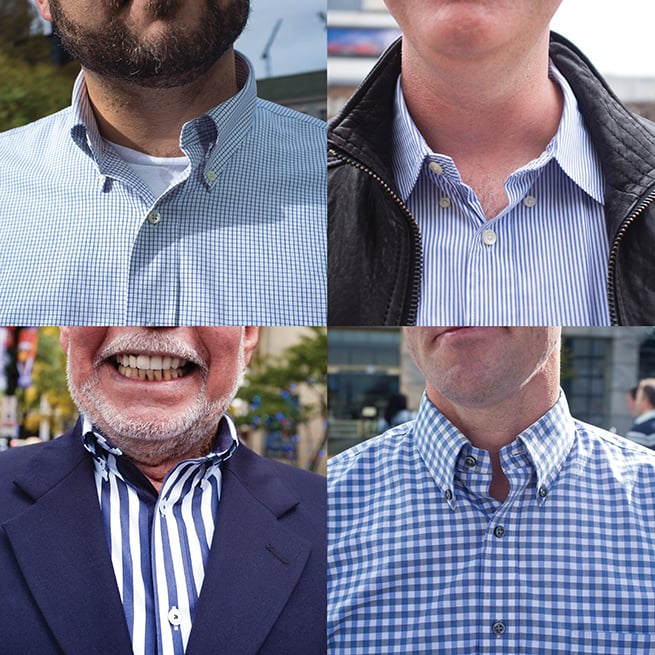 On a Friday last fall, three guys were walking down Tryon Street holding their lunches in plastic bags, and wearing pants and button-down shirts, without ties. They didn't look any more important than all the other guys on the street without ties, so I tried to stop them.
Hey, guys, I have a question.
"We have to get back for a meeting," one of them said.
I just want to know why guys in Charlotte don't wear ties anymore.
"We do wear ties sometimes," he said. "Like when we have meetings."
Even though they were clearly lying to me about this "meeting," I kept talking to these guys because they seemed to know something about Charlotte style. They were, after all, in the uptown uniform.
"The outside-facing people have to wear the ties," Frank Lietke, one of the men, said of Ally Financial's dress code. "But in our jobs, we're mostly just looking at each other."
Charlotte's relationship with the tie has confused me since I moved here last spring. I showed up on my first day wearing one, thinking other men in the office would be doing the same, but they weren't. I walked uptown later that day, and I felt ridiculous. I felt out of place. I felt "like a banker," as the old saying goes. Only, I wasn't. Because all these people were bankers. Not me.
Before I fell too deep into this looking-glass world, I did the only thing any self-respecting, overdressed journalist would do: I took off my tie and called Wells Fargo and Bank of America. The two big banks don't have company-wide dress codes. Generally, if a man's job is to interact with the public—if he's a teller, for instance—he will wear a tie. And if he's a top-floor executive who has regular meetings with other top-floor executives, he'll wear a tie. But if he's a mid-level accountant and his job is to work with other mid-level accountants all day—well, buddy, take it down a notch.
American businesses aren't requiring ties anymore. We can blame California. Paul Simon, who's owned a men's clothing store in Charlotte since 1975, told me that people started dressing down in the 1990s, when internet-based businesses out west began letting employees wear whatever they wanted.
Simon said he still sells plenty of ties—he talks about Ferragamo ties like he's talking about sports cars—mostly to executives.
"Everybody has a blue suit, but a blue suit doesn't say much," Simon said. "The tie carries a message."
And when you don't wear a tie?
"It creates a dilemma," Simon said. "There used to be some lines of demarcation. But it's not always easy to identify who does what anymore."
Keary Cavin does IT work. He just moved here in October, taking a job at Wells Fargo. He wore a suit and tie to his interview, but hasn't worn a tie since.
"It's a signifier of respect. But it's funny, once you go through your interview, you default back to normal," Cavin said, wearing light-blue vertical stripes, green pants, and a leather jacket, while holding a Subway bag. "Part of it, too, is fitting in with everyone else."
Ben Latorre knows about that. Born in Colombia, he moved to Miami in the 1970s and worked as an auto mechanic. He spent 25 years there, before moving here to be closer to his son.
Latorre remembers trying to start conversations with people on the streets when he was younger. Many of them dismissed him because of his accent: "I'm sorry, I don't speak Spanish," they'd say.
When he wore dressier clothes, though, they didn't do that. So every night after he got off work at the auto shop, he'd go home and shed his greasy jeans for another outfit, similar to the one he was wearing when I met him on the streets of Charlotte. A blue suit. A collared shirt. No tie.
A dressed-up auto mechanic looking as snappy as any banker.