Hade Robinson Talks Belles and Bright Colors
It's his job to know Charlotte's style. So we asked him: How do we look?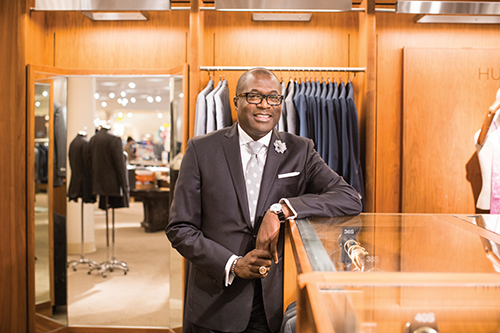 Nordstrom, launched in 1901 as a Seattle shoe store, has hundreds of stores across the United States. So we turned to a style expert from the SouthPark store to ask the question: How are Southern customers different from customers in other parts of the country?
Hade Robinson started in the men's department at the store when it opened in 2004 and quickly developed a loyal client base. As his reputation for warmth, candor, and talent increased, so did his customers. In 2010, he became the personal stylist manager, leading a team of four full-time stylists. In four years, the team has grown to 13 stylists.
Originally from Pageland, South Carolina, Robinson, 47, earned a bachelor's degree in television communication at Winthrop University with a minor in fashion merchandising and interior design—you may have seen him dishing advice on WCNC's "Charlotte Today" show.
CM: Nordstrom has stores throughout the United States. How would you describe the Charlotte market?
HR: The Charlotte market, as I see it, falls into two categories: professional and casual. We are a banking city, and the business professional look is still the law of the land. As for the casual group, so many folks—women especially—don't have to work. They are stay-at-home moms, trust-fund families, or just wealthy. Working a regular job is something they don't have to do.
CM: Are certain types of clothing important to Charlotte women?
HR: Women in Charlotte love dresses. This is the heart of the Bible Belt. Besides church, this is a community of women who lunch and go to galas galore—which wraps up to be the true Southern belle.
CM: In our market, is color popular? What about color versus neutrals?
HR: This is not New York City, where black and gray rule. Southern women love color, hence Lilly Pulitzer, Tory Burch, Kate Spade—all have stores in the mall.
CM: In terms of jewelry, what distinguishes the Southern woman?
HR: Women in the Charlotte market wear more real jewelry than the costume stuff. If a woman puts aside her diamonds, pearls, and gold, then she tends to wear David Yurman, John Hardy, and some solid sterling silver—of course, all with the enhancements of the diamonds and other precious stones.
CM: Are there store events that are especially popular at the Charlotte Nordstrom, such as trunk shows or beauty events?
HR: Any type of store event is always popular; it's something to do! This is a city that loves its events. There are so many galas, balls, parties—having in-store events adds to the social calendars in this city. Besides, any reason to dress up makes it fun!
CM: If you divide up your business, how much are you working with women, how much with men?
HR: I currently have on my team 13 full-time stylists, three stylists in training, and an assistant personal stylist manager. Our business right now is divided about 50-50. Just as many men come in and use our services as women. And I think men love the service because they don't have to roam around the store—they don't have a lot of time. Men are very decisive. They know what they want, when they want it, and they're done. They just want someone to tell them what to wear.
CM: What other insights can you offer about the Southern customer?
HR: We like to look good. Our grandmother [or] our mom would say, "Always leave home with clean underwear," but I think it's beyond that—we just want to look our best. You never know who you're going to meet. We've just been raised to always look like ladies and gentlemen when we leave home. I don't care if you're going to the mall, going to the grocery store—you still want to look your best. Women might have on their yoga outfits or workout clothes, but their hair is done and their face is done.
This interview was edited for length and clarity.