Hair-Splitting
Why North Carolina politics are, for once, simpler than they appear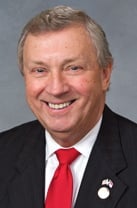 This is an amazing quote. It's from Republican N.C. Rep. Craig Horn of Weddington. He's referring to the American Legislative Exchange Council (ALEC) and its influence on the current North Carolina General Assembly:
"I'm not aware that it's driven any agendas on the House side. Some folks have agendas, and certainly there's no end to groups with agendas. Some of the big issues tend to move around the country."
That is bullshit — the kind of rich, loamy bullshit your grandparents used to spread around the back 40. ALEC's influence on the far right's takeover of North Carolina is, of course, incalculable, regardless of how many bills its staffers literally wrote.
The underlying philosophy renders such distinctions irrelevant. It's all coming from the same right-wing place, although the Observer's Jim Morrill tries to sketch out a large and varied cast of characters in his Sunday story from which the above quote appears. The nut graf:
But the Republican agenda was, in fact, many agendas.
Some came from think tanks. Some from the corporate-funded American Legislative Exchange Council. Some from conservative ideas that had taken root nationally. Some came from business lobbyists or from partisan politics.
"The voters elected a conservative majority, and they got a conservative agenda," Republican consultant Marc Rotterman says. "And I don't think anybody should be surprised by that."
To distinguish between ALEC, "think tanks" such as Art Pope's Civitas Institute and the John Locke Foundation, "conservative ideas" and business lobbyists strikes me as a big exercise in carving slices of hair. These are not "many agendas." These are different names for the same agenda, one whose contours should be beyond obvious by now, as Jane Mayer's landmark 2011 piece on Pope — the story that introduced the nation at large to North Carolina as far-right bellwether — showed:
Pope, in addition to being on the board of Americans for Prosperity—which David Koch founded, in 2004—served on the board of its predecessor, Citizens for a Sound Economy, which Koch co-founded, in 1984. Charles Koch recently praised the Popes, along with other donors, for providing financial support for the 2012 election effort, and tax records show that Pope has given money to at least twenty-seven groups supported by the Kochs, including organizations opposing environmental regulations, tax increases, unions, and campaign-spending limits. Pope, in fact, helped fund the legal center run by James Bopp, the lawyer who made the initial filing in the Citizens United case.
In pursuit of his goals, Pope, like the Kochs, has created a network combining a family fortune, the resources of a large private company, and family-funded policy organizations. Of the forty million dollars that his network has spent in the past decade, thirty-five million has gone to half a dozen ostensibly nonpartisan policy groups, which he has been instrumental in creating and directing. Pope claims that these organizations are independent of his control, but, on average, the Pope family foundation supplies them with more than eighty-five per cent of their funds. Though these groups are officially defined as philanthropic, almost all parts of the Pope enterprise push the same aggressively pro-business, anti-government message. Because Pope funds the groups through his family foundation, he is able to take tax writeoffs. "I am careful to comply with the law," Pope says. "And I keep my personal activities separate from my philanthropic, public-policy, grassroots, and independent expenditure efforts." But, by taking full advantage of recent changes in tax and campaign-finance law, he has created a singular influence machine that, according to critics, blurs the lines between tax-deductible philanthropy and corporate-funded partisan advocacy.
Marc Farinella, a Democratic political consultant who was Obama's 2008 campaign director in North Carolina, and is now an adviser to the state's Democratic governor, Beverly Perdue, says, "In a very real sense, Democrats running for office in North Carolina are always running against Art Pope. The Republican agenda in North Carolina is really Art Pope's agenda. He sets it, he funds it, and he directs the efforts to achieve it. The candidates are just fronting for him."
There's no need to make things more complex than they are. They're really not complex at all.