Half United Trunk Show and Summer Sale at Revolution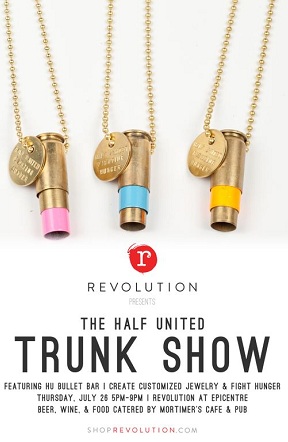 There's lots going on at Revolution right now, but today's shotout goes to the HALF United Trunk Show, which runs from 5-9 p.m. tonight.
Here's the skinny:
The jewelry/apparel company HALF United is based out of Wilmington, N.C., and its name carries great weight. Half of the profts from every purchase go to charities that fight world hunger. And that cause is reflected in the brand's famous "bullet" necklaces and key chains; the bullet is a symbol for that fight against hunger. As part of today's trunk show, HALF will host a mobile "Bullet Bar," and here, shoppers can create their own trinkets, contributing to the cause. Fashion for a good cause? We like it!
Of course, we can't forget about Revolution's incredible Summer Sale, which means:
-30 percent off everything in store now through July 30
-50 percent off everything in store July 30-August 12
-75 percent off everything in store August 13-August 27
*restrictions apply on select jewelry, watches, and items already marked for sale
PS: check out Revolution owner, Brandon Viebrock, in our August issue, where we recgonized him for his style witts.
210 E. Trade St,; Ste. E-280 (2nd floor of Epicentre); 704-971-1990