Halloween 2016 Parties in Charlotte
We've compiled nearly two dozen costume contests and Halloween parties for you to choose from this weekend. Happy Halloween, Charlotte!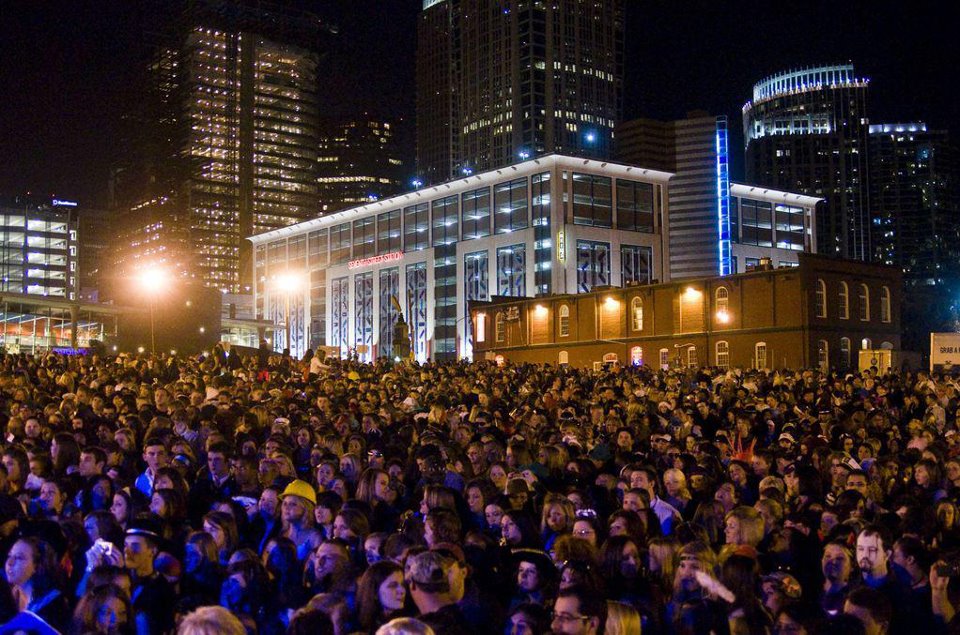 It's been a scary last few months, but the real fright fest is here: Halloween weekend in Charlotte. Put on your best costume and prepare for these 20 trick-or-treat parties. Happy Halloween! See y'all out there!
Thursday, Oct. 27
InstabeerupCLT
The monthly networking event is, of course, Halloween- and costume-themed this month. Grab your business cards and get ready to mingle with a few ghouls and goblins at Abari Game Bar, 1721 N. Davidson St. There is no admission fee t this party that starts at 6 p.m.
Label of Thrones: Halloween is Coming
Label is throwing a Game of Thrones-themed Halloween party, so assemble your best Thrones costume and prepare for winter, err, Halloween. There's, of course, a costume contest along with a DJ and dancing. Doors open at 10 p.m. at 900 NC Music Factory Blvd., and tickets cost about $12. Buy one here.
Friday, Oct. 28
Sexy Superhero Halloween Party
Superman gets risqué tonight at this costume contest and party. This party features $3 Corona, Corona Light and Modelo and, of course, a costume contest and prize for the evening's best sexy superhero. The party starts at 9 p.m. at Ice Martini Bar, 9525 Birkdale Crossing Drive, in Huntersville. There's no admission fee.
Ballantyne Boofest
Blackfinn Ballantyne puts on a scarefest tonight with its costume party. There's no admission fee, but the party does feature drink specials on Corona and Corona Light. The doors open at 9 p.m., and the DJ starts at 10 p.m. at 14825 Ballantyne Village Way.
Halloween Bash
Wearing a costume gets you free entry to Howl at the Moon, 210 E. Trade St., tonight. This Halloween party features a costume contest, of course, and 86-ounce black widow buckets. The party starts at 6 p.m.
If You Got It, Haunt It Halloween Party
Get it—if you got, haunt it? This event invites you to flaunt your best and most "boo"tiful haunts with complimentary appetizers, networking and prizes for the best costumes. The party's special cocktail is a $6 Drive Me Batty margarita. There's no fee to the to this party that begins at 7 p.m. at Chima, 139 S. Tryon St. Register here.
Boos and Booze
The amount of puns happening with the event descriptions this weekend is scary. A $17 ticket to this costume party gets you four samples of Whisky River's spooky treats and 1 sample of a spooky cocktail. There are prizes for the most creative costume and the crowd favorite costume. The party starts at 8 p.m. at 210 E. Trade St. Buy your ticket here.
Saturday, Oct. 29
Rich and Bennett Annual Halloween Pub Crawl
This is the big-ticket event of the weekend, so plan accordingly. The duo who brings Charlotte its annual St. Patrick's Day bar crawl return again for the 16th-annual Halloween crawl. The crawl takes you to 23 Uptown spots plus earns you free entry to the Grave Diggers Ball (more on that below). Tickets cost $25 online or $30 at the crawl and include entry into all the bars. We shouldn't need to say it, but it's a costume-themed crawl with a contest for the best costume, so dress accordingly. Registration is from 1 p.m. until 3 p.m. at the corner of North College Street and East Eighth Street. For more information and to buy tickets, go here.
Grave Diggers Ball
The massive annual Halloween concert takes Uptown by fright again tonight. This year features Afrojack. In addition to the music and street fest, there will be contests for best costume, sexiest costume and best group costume. The event begins at 6 p.m. at 500 N. College St. Tickets cost about $23, and you can buy them here. Or you can buy a ticket to the pub crawl, which also includes admission to the Grave Diggers Ball.
Costume Dash
We normally wouldn't include races in our lists, but, c'mon, it's Halloween! And this is a costumed race! The five-kilometer race starts at 5:30 p.m. at Inside Out Sports, 1514 S. Church St. Entry to the race costs $45, and there's a costume contest at the end of the race. Register here.
Haunted Brewery Tour
Birdsong Brewery helps turn the Queen City into Scream City this weekend as it offers free "haunted tours" of its brewery tonight. The tours run every 45 minutes from 6:30 p.m. until 9:30 p.m. Enter if you dare at 1016 N. Davidson St.
American Horror Stories Halloween Party
Fans of the FX show "American Horror Story" will love this frightfully fun party. Dress up as your favorite character from the series (The Butcher, anyone?) and sip spooky cocktails made especially for the evening. There's a $20 admission fee at the door. The party is at City Lights and Craft City Social Club, 555 S. McDowell St.
Friends and Beerfest: Harvest Edition
This family festival from 2 p.m. until 6 p.m. features pumpkin painting, cornhole, live music and a combination of area brewers. The festival is at Legion Brewing, 1906 Commonwealth Ave., and there's no admission fee.
Spooktacular Costume Party
From 4 p.m. until 11 p.m., there's a costume contest for the best couple, scariest and most creative costumes at Red Clay Ciderworks. A tarot card reader will also be on hand at the party. There's no admission to this party at 245 Clanton Road.
Halloween at the Brewery
Add Sycamore Brewing to the list of places offering prizes for the best costume this weekend. Along with its regular brews, this party features live music, a DJ and a costume contest with a $100 brewery gift certificate to claim. There's no admission fee to this party that starts at 6 p.m. at 21616 Hawkins St.
Labelween
Take your costumed crew to the Music Factory tonight if you feel like dancing in your witch hats and Superman capes. Tickets to this dance party cost about $12. The evening starts at 10 at 900 NC Music Factory Blvd. Buy your ticket here.
BarkHappy Howl-O-Ween Party
Halloween isn't just for the people. From 4 p.m. until 7 p.m. today, Lucky Dog Bark and Brew, 2220 Thrift Road, hosts this pawty for the pooches featuring giveaways, raffles and prizes. Dogs and people who come dressed in costumes receive an extra raffle ticket. A ticket costs about $12. Buy one here.
Sunday, Oct. 30
Dog Day Howl-O-Ween
Red Clay Ciderworks didn't forget about the dogs either. From noon until 5 p.m. today, the cidery hosts this dog costume party with a costume contest for the best costumed canine at 4 p.m. There's no admission to this pawty (c'mon).
Carved
Lenny Boy Brewing hosts this annual pumpkin-carving contest featuring Piedmont Culinary Guild members tonight from 4 until 7. Tickets cost $22 at the door and include a Lenny Boy cup and drink. The contest is at the brewery's new location, 3000 S. Tryon St.
Monday, Oct. 31
Halloween Bar Crawl
It may be Monday, but it's Halloween! Forget about work tomorrow! Join the EpiCentre, 210 E. Trade St., in its Halloween night bar crawl tonight, as you barhop to Blackfinn, Bubble, Rooftop 210, StrikeCity, Suite, Vida, Vida Vida and Whisky River. The crawl starts at 8 p.m. which means you can still be home before bedtime. Tickets cost about $9. Buy one here.
Verify dates, times, prices, and other info at the web addresses listed for each event.
Be sure to bookmark www.charlottemagazine.com/Blogs/Dusk-Till-Dawn to stay plugged into Charlotte's nightlife and social scene. Click here to sign up to receive the weekly Dusk Till Dawn e-newsletter.
Want your event featured in Dusk Till Dawn? Follow me on Twitter @Jared_misner and let me know about your event, or send me an email at dusktilldawnblog@gmail.com.