Handmade Birdhouses Built in Dilworth
When Mark Ellis lost his furniture job, he scaled down his woodworking talents and created a new business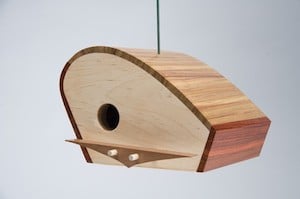 If you drive by Mark Ellis' house in Dilworth, you may see a dozen birdhouses hanging in his front yard at one time. Ellis uses his front yard as his showroom.
When a local customer calls and wants to pick from his array of handmade, wooden birdhouses, he brings up a selection from his basement workshop and puts them on display outside. If the customer doesn't see one he likes, Ellis will dig out more options.
Ellis, 62, is beginning his fourth year as a full-time birdhouse builder. He estimates he's made more than 300 since he started his business called Kool Bird. He moved to Charlotte in 1987 for a furniture job. Before the move, he had a boat-repair shop back in Michigan. So when he was laid-off from his furniture job a few years ago after 20 years in the business, he knew he wanted to continue working with wood.
Birdhouses made sense. They're small enough to construct in his 15-by-15 workroom. They ship easily. And the wood is readily available. Ellis uses mostly scrap wood from a tropical-hardwood-flooring manufacturer. The wood comes in about 20 varieties.
Ellis' time in the boating and furniture business influenced his houses' design.
"The curviness of the birdhouses, there's some sailboat throwback stuff there," he says. "The same with midcentury, modern furniture; you can see where I'm coming from."
A couple of his designs resemble teardrop pull-behind campers. Ellis incorporates different woods into a single birdhouse, mixing light and dark hues. Many people think the stylish houses are just for looks. But Ellis encourages people to hang them outdoors. He uses waterproof glue and coats them with a polyurethane stain. Like any other wood furniture, he says, they should be brought in from time to time and recoated with polyurethane. A customer sent him a picture of a wren nesting in one of his houses. Wrens, finches, and bluebirds are all potential residents.
Ellis has about eight different designs. It takes him six hours of active time to make a house, with time in between steps to allow for drying. Each one costs $140.
"I work seven days a week, and it's really nice," he says. "I'm so glad that … I'm doing my own thing."
Ellis is preparing for his busy time, starting in March and continuing through Christmas. During his off-season, he's returned to boats. He is restoring a 1956 Norwegian boat that he sailed on 30 years ago in Michigan. A friend found it for him; it was deteriorating in a woman's backyard. He hopes to have it back in the water by the spring. And then he'll return to his birdhouses.
He sells the houses on Etsy. People from all over the world have found his site. He has a birdhouse in Stratford-upon-Avon, England, the birthplace of William Shakespeare. And one in Milan, Italy.
"With Milan being such a design center, I was really impressed that someone bought a house and liked it," Ellis says.
Etsy provides pictures and descriptions and the PayPal option. But if you're in the area, it's worth a drive to Dilworth to see the birdhouses and their creator in their natural habitat.