Happily Ever … After: Brides Share Their Experiences
Here's what seven Charlotte brides had to say about their big day, for better or worse. Learn from the experiences of these wedding veterans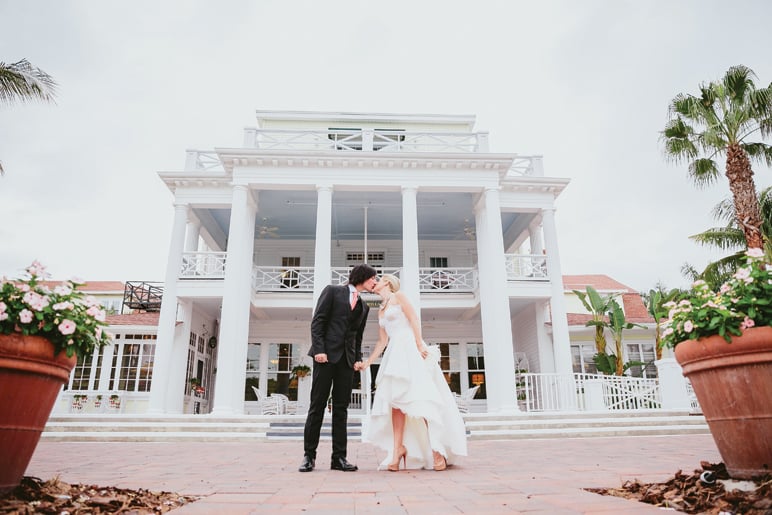 YOU'VE HEARD IT a million times—"Embrace every moment! It will be over in the blink of an eye." Getting advice from professionals, friends, and your bridal party is wonderful, but sometimes it helps to have an objective opinion from someone who has been there. Seven recently married Charlotte brides discuss all the pretty (and not-so-pretty) details of the big day.
What do you wish someone would've told you before your big day?
Megan: I wish that somebody would've told me how incredibly exhausted I would be the next day, and the next. With us not going on our honeymoon right away, we actually went back to work right after the wedding. I wish somebody would've told me to take some time to emotionally regroup and to just decompress. Eighteen months of stress and planning can take quite the toll, and once it is all over, having some time to mentally adjust will do you well.
Kali: To not get hung up on the details. The day goes so fast, and nobody is going to remember what color napkins were on your tables.
Kathryn: Be flexible and have fun. I also wish I considered all the extra "small" costs in my budget. I only focused on the big things. Things I didn't think about in terms of my budget and time were cost of stamps on both envelopes, calligraphy, accessories, linens, chairs, hair and makeup, lighting, decor, fees for cake and dessert stands, license, transportation, gift bags in the hotel (literally the bags, not what went in them), sparklers, thank-you cards (and the stamps I bought to not rewrite our address over and over).
If you could do it all again, what would you do different?
Megan: If you asked me this before the wedding, I would have said that I wouldn't have scheduled my wedding the same weekend as the NASCAR All-Star Race, the Wells Fargo golf tournament, and graduation. Leading up to the wedding, I was so stressed about the number of events in the city that were happening the same weekend as our wedding (more so I was worried about hotel costs, traffic, volume of people), but now it actually was a great thing. With so many people traveling from out of town, many people made a weekend out of it and actually went to all of the events that were happening. It really gave people a glimpse into the Queen City.
Stephanie: I had a kids' table at the reception and a nanny in a hotel room for the babies. All of the parents wanted to use the nanny, however, so the kids' table was empty and my nanny was unprepared for that many kids. I would've planned for just the nanny and skipped the kids' table had I known none of the kids would stay.
It all seems to go by in the blink of an eye. What was your favorite part of your wedding day?
Krysta: My favorite part of the reception was DJ Breez and how simply elegant the wedding and reception felt. We aren't stuffy people and wanted everyone to have fun. Comfort food, twinkle lights, good music, and our closest friends and family made it perfect.
Megan: I think that my favorite part of the wedding and the reception was how we took a very popular venue and made it so unique to us. For instance, Adam and I both come from military families, so instead of a favor, we made a donation to the Wounded Warrior Project. We actually found and displayed pictures of all of the people in our families and guests of the wedding in their military uniforms across the generations. It was such a neat thing to see, and people loved looking at the pictures.
Tell us about a special moment the cameras didn't capture?
Jenny: The rain started just as we fin­ished our couple shots on the golf course under the banyan tree, where our ceremony was originally supposed to take place. The gray sky finally opened up, and I kicked off my shoes and we all ran—my husband and I, and both photographers—across the green to shelter. The weather held out until just the last second under our intended "altar." Everyone kept telling us rain means good luck and fortune on the wedding day, so for it to start at that moment was pretty special.
K.C.: We opted to not have a videographer, and this one moment makes me regret it: My husband and I have an almost 2-year-old daughter who was one of our flower girls. As soon as the doors opened at the church, she yelled, "Daddy!" And went running down the aisle and gave him a big hug and kiss. Everyone was laughing and talked about it the rest of the day. People still talk about it being one of the best moments of the day, and I didn't even get to see it. We do have some great pictures, but I wish I could have seen it happen.
Was there one part of your wedding you splurged on more than others?
Krysta: We splurged on flowers, food, and dessert. I got so many compliments on my flowers and am glad I chose modern, fun, and fresh flowers. As far as food, we went with a catering company that teaches men and women with troubled pasts a culinary skill that they can take into the real world. We splurged on that because we felt that giving back to our hometown was important. Dessert was a splurge because we had a whoopie pie bar instead of one traditional cake. There were five flavors and they were very popular. People started to grab them before they were instructed!
Jenny: Our photographers were amazing. My husband and I were not with the traditional, obligatory—and usually boring—posed, family-a-hundred-ways arrangements. We were hoping for unusual, artistic, once-in-a-lifetime moments that capture the flavor of the wedding day and of us. And that's exactly what we got. Definitely worth the splurge.
How did your groom make the wedding day extra special?
Krysta: When we were up at the altar of the church reciting our vows, Jonathan realized they forgot to hook him up to a mic, so he "projected" (yelled) his vows. I whispered, "Geez, you're yelling!" and started giggling.
Kali: He got me a bunch of funny little gifts and had the photographer there when I opened them.
With the stress of a wedding day, not to mention speaking to hundreds of guests, eating sometimes gets overlooked. Did you get to enjoy dinner?
Megan: We did, but barely. The Ballan-tyne was so wonderful about making sure that we had a plate of food, but to be honest, with everybody coming up to you and just the feelings of the day, it was very hard to concentrate on eating. We didn't realize until after the wedding how starving we were. Apparently the food was amazing though, so we were kind of sad that we didn't get a chance to chow down.
K.C.: We did! Our reception coordinator elected one person to stand by our table for 15 minutes, so we were able to eat. She was pretty much a guard and asked people to give us a few minutes to eat if they tried to come to our sweetheart table. If we needed more of anything, she went to get it for us. It was incredibly helpful.