Happily Ever After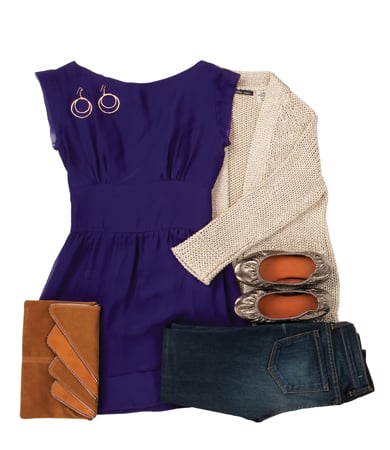 There are plenty of questions surrounding your first date — what to wear shouldn't be one of them. This month, we've got you covered. With simple bright colors for her and fashionable cuts for him, these styles were made to impress. Less is more on this first foray, so keep each part of your ensemble effortlessly fabulous.
For Her

Earrings, $59, Cottage Chic, 704-375-1888. Isabel Marant Etoile Alcoa

Gunmetal flat, $436, poole shop, 704-553-8868.
Linq cardigan, $188, Fresh, 704-343-9071.

Luna by Josandra Pilar dress, $294, Scout & Molly's, 704-817-7009.

J Brand "The Deal Skinny" zipper jean, $198, Luna, 704-554-6000.

Ebisu clutch, $44, K. La, 704-643-7800.

For Him

Salvatore Ferragamo Livius chocolate buck suede shoes, $460, Taylor Richards & Conger, 704-366-9092.

Fairclough & Co. button-down shirt, $165, 704-331-0001.

Tag Heuer Aquaracer chronograph watch, $1,700, David's Ltd., 704-364-6543.

Davidson Oxnard straight fit jeans, $186, Black & Blue, 704-366-9339.

Avian rib button Tuscan sweater, $195, J. McLaughlin, 704-332-1191.

For Her (Web Extra)

Bettye Muller Avalon Patent Peep Toe with Platform, $410, Step by Sloan, 704-376-1275.

Envi Scoop Dress, $169, Fresh, 704-343-9071.

Ebisu Clutch, $44, K. La, 704-643-7800.

Velvet Janet Cardigan, $267, Fresh, 704-343-9071.