Happy Birthday, Romare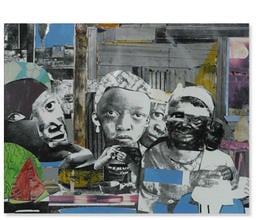 If you haven't noticed it's Romare Bearden's birthday, then you probably don't make it uptown much. Billboard-size banners proclaim the news that The Greatest Artist Charlotte Has Ever Produced would be one hundred years old this month.
Why the fuss? Because Bearden really was that great. He documented, through his art, the African-American experience and especially that of the Southern African-American. The New York Times called him "the nation's foremost collagist." His works are in the permanent collections of MoMa, the Metropolitan Museum of Art, and our own Mint Museum.
To mark the occasion, the Mint has organized a major retrospective of Bearden's prolific career. Romare Bearden: Southern Recollections opens Sept 2, amid much fanfare, and will be on view until January when it travels to two other museums. Learn more.
Look for more on Bearden this fall from The Gantt Center and even a musical tribute courtesy of Knight Sounds.