Happy Hour (and Later) at Vivace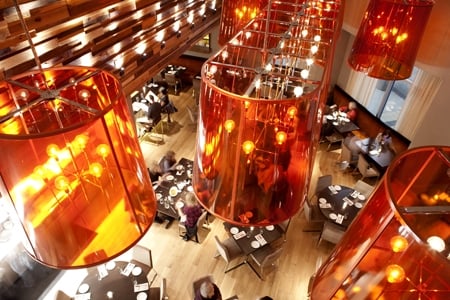 Thursdays are great for happy hour. Because if you end up hanging longer (and drinking more) than you planned, you can probably muster up the strength to drag yourself into work for one more day before the weekend. If you want a hip, sexy vibe for your happy hour hangout, go to Vivace on Thursdays.
Open for a little more than a year now, Vivace is a hotspot waiting to happen. It draws good crowds, but there are plenty of locals who don't know about this stylish Italian restaurant located in the Metropolitan. (The Metropolitan, by the way, is the epitome of city chic and is one of the best mixed-used complexes—condos, retail, dining, office space—in Charlotte.)
Vivace's general manager Karen Pence has been tinkering with the offerings to entice both an after-work and late-night crowd. Monday through Friday, 4-7 p.m. and 9 p.m.-close features half-price appetizers. And well drinks are $5. Thursday is by far its most popular night of the week, and is when you should go to be a part of the in-crowd.
Beautiful assortments of city dwellers begin filing into the restaurant in the evening. On the left side of the first floor are booths and pub tables, where you'll often find groups of friends and co-workers. On select Thursdays, a DJ begins playing around 8 p.m., exuding a perfect decibel level from the back of the room. On the right side are traditional dining tables, where couples tend to get cozy.
Upstairs has a vibe all its own. A large bar dominates the space, beautiful multi-colored woods line the walls, and a row of windows offers a spectacular view of the uptown skyline. Step out onto the balcony, where couches await, to get a better view (overhead heaters help keep it warm in the winter) and you'll see the light show that is the Duke Energy Center. Look below and take in the beautiful Midtown stretch of Little Sugar Creek Greenway.
See you Thursday.
Vivace, 1100 Metropolitan Ave., 704-370-7755, vivacecharlotte.com.
Click here to read Sarah Crosland's review of Vivace's food.