Happy Hour
One drink and three appetizers for your next cocktail hour soiree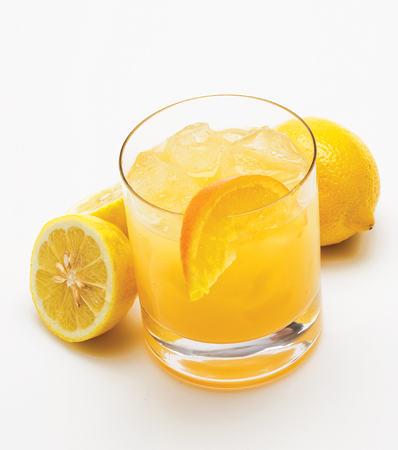 'Tis the season for cocktail parties, pre-dinner drinks, and evening festivities. At your next party, as your guests mix and mingle, let it be over these savory appetizers and this sweet cocktail.
1 ounce Hendrick's Gin
1/4 ounce Grand Marnier
1/4 ounce Campari
1/4 ounce VS cognac
1 1/2 ounces fresh orange juice
1 to 2 lemon wedges, squeezed
1/2 ounce honey
Simple syrup or sugar, to taste
Shake well and serve on the rocks. Garnish with orange peel.
Crispy and deep-fried, these fritters are stuffed with buttery-flavored pecorino cheese and soft risotto.
1 medium onion thinly sliced and diced
2 tablespoons of olive oil
4 tablespoons of butter
3 minced garlic cloves for additional flavor
6 cups chicken stock
1 box arborio rice
5 ounces of vermouth or white wine
2 cups pecorino cheese
½ cup fresh chopped parsley
Salt to taste
Vegetable oil for frying (about 1 cup)
1 cup all purpose flour
1 ½ cups panko bread crumbs,
or as needed
2 eggs
Marinara sauce (store bought
or homemade)
Sauté onions and minced garlic in a medium-size saucepan with the oil and butter until onion is translucent. Then pour in the rice and lightly toast (don't brown or burn) as you mix with a wooden spoon. Deglaze with the vermouth or white wine, before adding just enough stock to cover the rice. Let the mixture simmer and stir frequently. As the rice absorbs the stock, continue to add stock and stir constantly until the rice is cooked through (you have to constantly stir at this point or it will burn). When the rice is finished add 1 ½ cups of pecorino cheese, salt, and ¼ cup of chopped parsley.

After the risotto is cooked, seasoned, and cooled, scoop the risotto out with a spoon and make two-inch balls. Push your finger in through the center of each ball and stuff with shredded mozzarella cheese. Then ball them once more into perfect spheres. Mix eggs with a few drops of water in a shallow bowl and mix flour and panko in additional bowl. Dip balls into the beaten egg and bread with the flour and panko mixture. Flash fry and season once more with remaining salt, pecorino, and chopped parsley. Serve warm with marinara sauce.
This classic Southern dish is the perfect warm appetizer for cold nights. Sautéed shrimp rest on grits, thick with corn and onions.
1 cup stone ground grits (whole heart)
2 cups chicken stock
4 cups heavy cream
1 Spanish onion-diced
4 tablespoons of butter
6 sprigs of fresh thyme (with sachet)
1 ear of fresh yellow corn, off cobb
Salt and pepper to taste
In a large heavy bottom sauce pot sauté the onions and corn until the onion becomes translucent. Add the stock and cream together and bring to a simmer. Drop in the thyme tied into a sachet and allow this to steep for ten minutes. Remove the thyme sachet and add all of the grits slowly while whisking. Cook over very low heat for 40-50 minutes. Stir in butter and season to finish.
Sauce for Shrimp & Grits
3 cloves fresh garlic, chopped
3 shallots, chopped
4 Roma tomatoes, seeded and diced
2 tablespoons of olive oil
½ cup white wine
3 cups heavy cream
8 ounces Andouille sausage
1 tablespoon corn starch
Salt and pepper to taste
Sauté the shallot, garlic, and sausage together in olive oil until the shallot just starts to caramelize. Deglaze with the wine and add cream and tomato. Return the pot to a simmer and thicken with a corn starch slurry (1 tablespoon corn starch mixed with 1/8 cup of cold water). This sauce is added to the grits just before serving.
Tender slices of spice rubbed beef are drizzled in a slightly sweet honey steak sauce for this tasty and filling appetizer.
3 pounds beef tenderloin
Kosher salt to taste
Steak Chili Spice Rub
2 tablespoons ancho chili powder
1 tablespoon paprika
1 tablespoon ground coriander
1 tablespoon dry mustard
1 ½ teaspoons oregano
1 ½ teaspoons cumin
1 ½ teaspoons chili de arbol
Steak Sauce
2 cups ketchup
1 cup drained horseradish
6 tablespoons honey
4 tablespoons Dijon mustard
4 tablespoons molasses
12 teaspoons Worcestershire
4 tablespoons ancho chili powder
Pinch of salt and pepper
Cut 1-ounce cubes of the beef tenderloin and season with kosher salt. Coat all beef with plenty of chili rub. Grill quickly until desired doneness. Finish with steak sauce. Makes sixty 1-ounce cubes.