Happy National Burger Day
It's time to celebrate the bun, patty, and toppings we love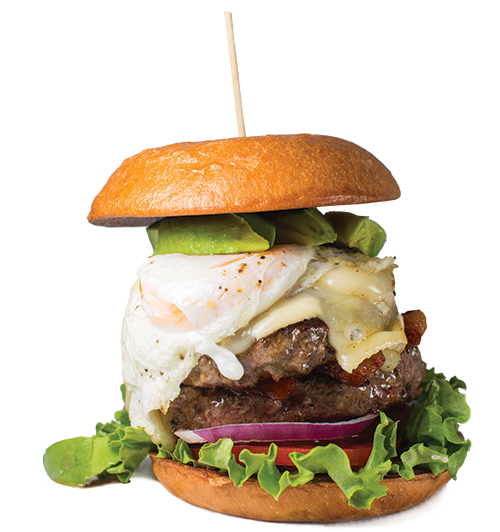 Last June, we rounded up some of the best burgers in the city and covered everything from the small slider to the animal-friendly veggie burger. We have a few additions for the list, but here's a recap of some of the absolute tastiest, gut-busting burgers you can celebrate with around the Queen City:
Plain and Simple: The classic burger at Brooks Sandwich House – featuring only a burger and bun – has stayed the same since the restaurant opened in 1973. You can, of course, top it with chili, cheese, and the usual suspects. Want another no-frills option? Opt for the hamburger or cheeseburger at Zack's Hamburgers. With ketchup, mustard, pickles, onions, and special sauce, this is a classic.
_________
Decadent: We featured the Cowbell Burger & Whiskey Bar's burger, offering a blended chuck and short rib patty topped with arugula, prosciutto, apricot marmalade and more. Another decadent sandwich? Try the lamb burger at 5Church which features red onion marmalade, gorgonzola fondue, and arugula all snug on a house made sesame seed bun.
_________
Everything and Anything: The Bad Daddy's Burger Bar's creations are endless, with diners able to choose anything from beef to bison and top with bacon, Brie, pineapple, eggs, and whatever else they can imagine. If you're on a quest for "everything but the kitchen sink," try Kickstand Burger Bar's build-a-burger, where you can choose from beef, veggie, turkey, grilled or fried chicken topped with 10 choices of cheese along with toppings like roasted red peppers, smoked ham, corn relish, and chili.
_________
Sliders: Cowfish's bento box comes with a juicy mini-burger topped with American cheese, pickles, and red onions. If you're looking for a more adventurous, yet, still delicate burger, try the Korean pork belly sliders at The Liberty. The mini-burgers are topped with sriracha, sesame, and kimchi slaw.
_________
Very Veggie: For those seeking out a more animal-friendly option, the crispy beet burger at Nan & Byron's offers a crispy fried beet slice topped with Boursin, avocado, and red onion. For a different take, try the Nature Boy burger from Pinky's. It marries a pinto bean and chickpea based patty with roasted red peppers, provolone, lettuce, tomato, red onion, and mayo. You can even order it Ding Dong style and add crunchy peanut butter, honey-cilanto slaw, and sriracha.