Happy National Chicken Wing Day!
Obviously, we're celebrating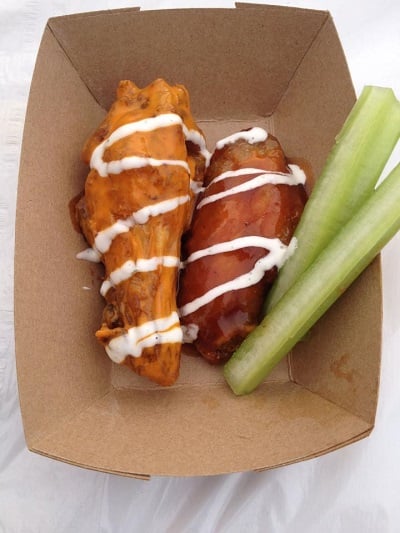 When you head to a bar, what's one of the most likely side dishes you NEED by your side? Chicken wings!
Today, July 29, we celebrate the noble chicken wing, be they buffalo, Caribbean jerk, barbecue, or plain. There are also plenty of places in Charlotte to score our favorite morsel of chicken to help ring in this festive day. Check them out below (in no particular order):
Angry Ale's: They're all about anger at this Montford joint; try the Mofo Wings, served with choice of hot ranch, bang bang, Santa Fe lime, and many more. Grab 10 for $9.95, 20 for $18.95, or 50 for $45.95.
Leroy Fox: The delicious Fox Den Wings are tossed in your choice of cajun, buffalo, honey buffalo, hot, or barbecue then finished on the grill. Six for $8 or 12 for $15.
Jack Beagle's: The Bone Yard Wings definitely win for most creative names. You can choose from neutered (mild), leg humpers (extra hot), Jack's (hot garlic parmesan), and many more. Six for $5.99 or a baker's dozen for $9.99.
RiRa: For something a bit different, head to this Irish pub for their wildflower honey ginger wings with house pickled veggies. You can, of course, order classic Buffalo-style, too.
East Coast Wings & Grill: Head to the location on Northlake Centre Parkway and get six free wings with every adult entree purchase in honor of the holiday.
T.MAC: The award-winning wings come in a variety of flavors from hickory honey barbecue to fiery chili citrus. They're also available original, roasted, or boneless.
Flip'n Chicken: Lauded as some of the best wings in Charlotte, Flip'n Chicken never freezes their wings. You can choose from lemon pepper, tangy barbecue, teriyaki, buffalo, and more.