Hard Choices
Charlotte's city government wrestles with a financial crisis it never made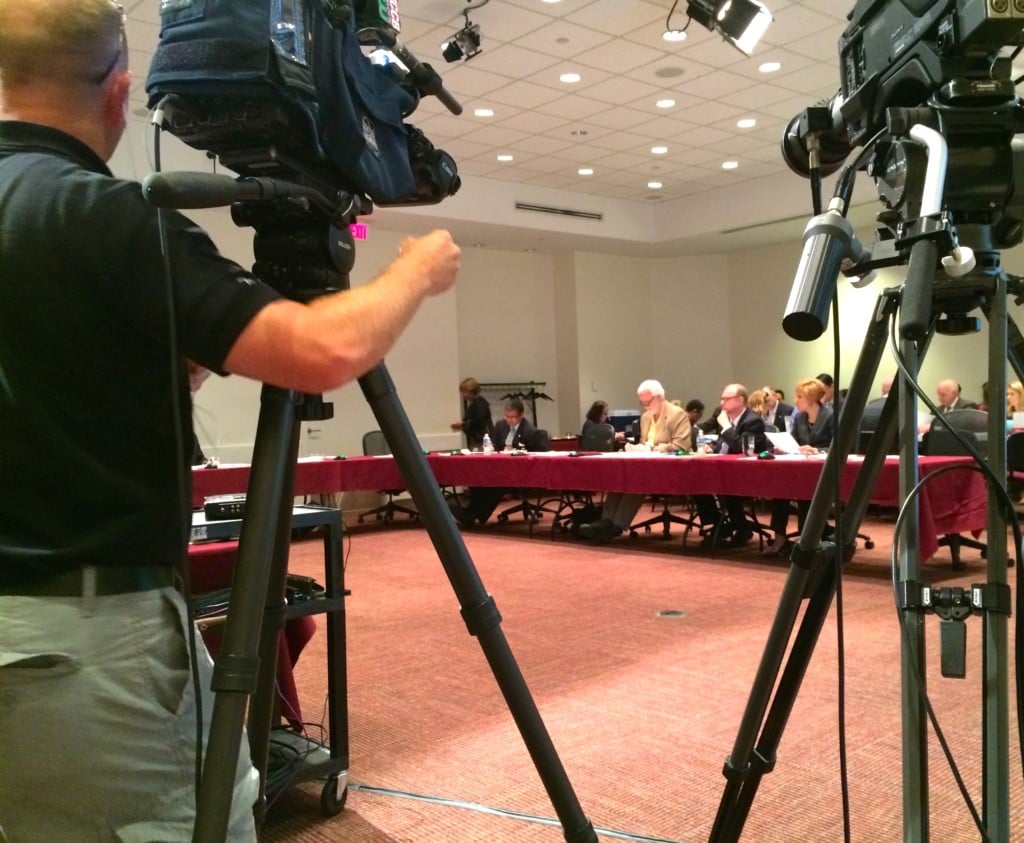 Charlotte City Council members started wrestling in earnest today with its sudden budget crisis, which is not the city's fault and which city officials learned about only a month ago. The city has two months—until June 8, when the council plans to vote on the 2015-16 budget—to figure out how to close a $21.7 million gap between planned expenses and expected revenue.
I spoke one-on-one earlier with Randy Harrington, the city's chief financial officer; and the council held a budget workshop this afternoon at the Government Center. As matters stand, city staffers aren't even recommending solutions to council members, just floating possibilities.
Five points I took from both:
1. For now, everything's an option. That includes increasing the city's 46.87 cents-per-$100 property tax rate and cutting city employees. Both would be last resorts, Harrington told me, but city budget staffers can't rule out either.
2. But the city really doesn't want to raise taxes or lay people off. City Manager Ron Carlee showed council members a list of fee increases, spending cuts, and general fund transfers that would wipe out as much as half of the $21.7 million shortfall without personnel cuts or tax hikes. Carlee specifically told the council he wanted to avoid any "premature" discussion of either during today's workshop.
3. The crisis is forcing the city to re-examine how it works. This might not be a bad thing, as Carlee mentioned in a memo to city department heads. Example: A change that would pay for equipment through a different fund, which would save $2 million and represents a more efficient financing method. "We're not going to see many one-time changes," Carlee told the council today. Any changes would likely be technical and administrative, but they could add up to significant savings.
4. The city wants answers from the county. The first 20 minutes of the workshop were basically a City Council group therapy session, with members venting about one of the two major causes of the crisis: Mecklenburg County's underestimating the value of property within its borders, resulting in a projected $9 million loss for the city this fiscal year.
Councilwoman LaWana Mayfield wondered aloud why the county isn't facing a similar budget crisis. Councilman Ed Driggs said he wanted assurances that the county Tax Assessor's Office, the source of the inflated figures, wouldn't make that mistake again. Councilman and council Budget Committee Chairman Greg Phipps admitted, "There needs to be some post-mortem evaluation of the process."
Those are good questions. The public deserves answers from the county, too.
5. The city needs answers from the state. City officials throughout North Carolina know how much they stand to lose from the General Assembly's elimination last year of the Business Privilege License Tax (it's $62 million statewide, $18.1 million in Charlotte). What's not known are the effects of proposals to shift millions in sales tax revenue from cities to rural areas; and to exempt builders from property taxes before sale. City officials can't even gauge how much money those bills would cost if they became law.
Carlee will present his budget recommendation to the City Council on May 4. We'll assess the damage then. In the meantime, if you care deeply about something funded by city tax revenue, now's the time to contact your council member.