Hark! Didst Thou Say "Free"?
Charlotte Shakespeare Festival returns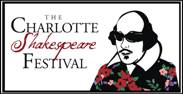 The Charlotte Shakespeare Festival, the region's only free performing arts festival, returns in May for a seventh year. The 2012 festival will feature two full-length productions, a pre-show performance series, and educational workshops for young people.
The season kicks off with The Tempest, showing for more than one fortnight (from May 31 – June 17) at The Green uptown (400 S. Tryon Street). Picnic under the stars and enjoy one of the greatest rom coms ever written. Performances take place outdoors Wednesday through Saturday nights at 8 p.m. and Sundays at 6:30 p.m. The Tempest will be directed by guest artist Matt Cosper who is back in town from New York and, suddenly, everywhere (Tales of Edgar Allan Poe at Children's Theatre, Starving Artists' Don't Cry for Me, Margaret Mitchell).
Next up: The Merchant of Venice. Jewish moneylender Shylock makes a loan to the Christian merchant Antonio and later demands to be paid a "pound of flesh." Betrayal, love, revenge, and forgiveness come to the McGlohon Theatre. Performances run Wednesdays through Sundays from August 15 – 26. Wednesday and Thursday performances are at 7:30 p.m.; Friday and Saturday performances are at 8 p.m. Weekends plays happen Saturdays at 2 p.m. and Sundays at 3 p.m. Elise Wilkinson will direct.
The festival's pre-show performance series Festivities will return for a third year. Local musicians, performing artists, storytellers, and poets will entertain audiences beginning 45 minutes prior to each main stage performance.
And the free stuff rolls on. Free educational workshops will be offered during the run of each show. These family-friendly events provide a hands-on experience for kids ages 8 and up. The workshops help kids understand the play and give them a first-hand experience performing The bard. During The Tempest, workshops happen at 5 p.m. on June 3, 10, and 17 at The Green. Workshop dates and times for The Merchant of Venice will be announced in May.
While admission is free, a donation of at least $5 per person is suggested. (Prithee, thou really should give.) For performances at The Green, you can bring food and bevvies. Seating is on a first-come, first-served basis.
For more information, visit www.charlotteshakespeare.com or call 704-625-1288.