Harvest Party
Three delicious recipes for seasonal squash to serve at your next party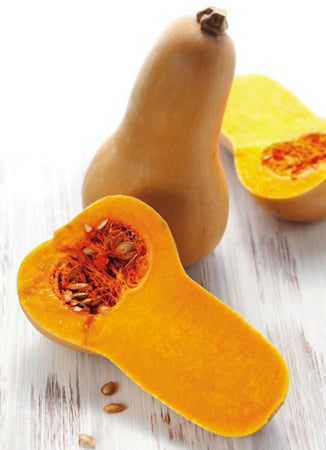 Celebrate the return of crisp weather at your next party by serving up hors d'oeuvres that highlight seasonal squash
HONEYED BUTTERNUT SQUASH SOUP
(Makes 4 1/2 cups)
1 1⁄2 tablespoons butter
4 cups cubed butternut squash
1⁄2 large yellow onion, diced
1 large carrot, diced
1 quart chicken or vegetable stock
2 tablespoons honey 1⁄2 teaspoon ground ginger
1/3 cup light cream
1 tablespoon lemon juice
Jumbo lump crabmeat
Cayenne pepper
Kosher salt and black pepper to taste
Melt butter in a large pot over medium-high heat. Add squash, onions, and carrots and cook until onions are soft but not brown for about 5 minutes. Add stock and simmer uncovered until squash is soft for about 30 minutes. Using an immersion or stand blender, puree the soup. Stir in honey, ginger, cream, and lemon juice. Season well with salt and pepper. Mix crabmeat with cayenne pepper and salt to taste. Serve soup in small bowls or shot glasses and garnish with crabmeat.
SQUASH FLATBREAD
(8 slices per flatbread)
7 to 8 ounces homemade or defrosted frozen pizza dough
2 cups cubed squash (butternut, acorn, or kabocha)
1⁄2 yellow onion, sliced thin
1⁄4 cup shredded mozzarella
2 tablespoons crumbled
Gorgonzola Olive oil
Kosher salt and black pepper
1 ounce prosciutto, sliced thin
2 tablespoons arugula pesto
Preheat oven to 425 degrees. Grease a baking pan with olive oil. Roll out dough into an oval, brush it with olive oil, and then pierce all over with a fork so bubbles don't form during cooking. Toss squash and onion with olive oil, salt, and pepper. Layer cheese on dough and top with squash and onions. Bake until squash is cooked through for 15 to 20 minutes. Remove from oven, top with prosciutto, arugula pesto, a drizzle of olive oil, salt, and pepper. Cut and serve.
For arugula pesto (makes 1⁄2 cup):
1 clove garlic
1 1⁄2 tablespoons pine nuts
2 tablespoons grated Parmesan
2 cups baby arugula
Juice from 1⁄2 lemon
1/8 cup plus
1 tablespoon olive oil
Kosher salt and black pepper to taste
In a full-size or mini food processor, chop garlic. Add pine nuts and Parmesan, and then pulse. Add arugula and lemon juice and chop, scraping down the sides if necessary. Add black pepper and 1/8 cup olive oil and blend until well combined. Pour into a container and stir in remaining olive oil by hand. Adjust seasoning.
SQUASH FRIES
(Serves 4)
1 small acorn squash
2 tablespoon canola or vegetable oil
1/3 cup sour cream 2 tablespoons mayonnaise
1⁄2 garlic clove, minced
1 chipotle pepper in adobo sauce, diced
2 teaspoons lemon juice Kosher salt and black pepper
Preheat oven to 425 degrees. Cut off the top and bottom of squash so it sits flat on a cutting board, and then cut it in half vertically and peel each side using a vegetable peeler. Scoop out the seeds and discard. Cut into half-inch wide fries and toss with oil, salt, and pepper. Roast, stirring often until brown and soft, for about 25 minutes. Turn off the heat and let fries crisp in the oven for about 10 minutes. Check and season. To make the dipping sauce, combine sour cream, mayo, garlic, chipotle, and lemon juice. Season to taste.