Harvey Gantt Has a Great Story (Even if It Is Attached to a Plea for Contributions)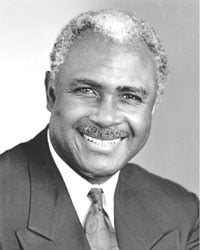 There are plenty of Charlotteans who will see their profiles raised when national media shines the spotlight on the city next year for the Democratic National Convention. One of those people, undoubtedly, is Harvey Gantt.
He's well known in this region as Charlotte's first African-American mayor (in the 1980s) and in his current role as a partner at Gantt Huberman Architects. And not to mention there's an impressive building named after him in Charlotte: Harvey B. Gantt Center for African-American Arts + Culture.
But how many of you know how he rose to such prominence and achievements? (He's being honored this evening at the Charlotte Chamber Annual Meeting with their prestigious 2011 Citizen of the Carolinas Award, by the way.)
Gantt is a co-chair on the Charlotte in 2012's Steering Committee, and if you don't know his story, he shared it in an email this morning that asked us to "join the grassroots movement" by contributing money to the 2012 Democratic National Convention. Most emails I receive soliciting funds (I'm sure you get them if you're on any campaign's email list) have heartfelt notes attached to them. Gantt's is no different, and his story is one you can anticipate the Democratic Party sharing in months to come. The letter is below.
Dear ,
The first time I saw Charlotte I fell in love with it.
Even though my story starts in South Carolina, Charlotte has been my home for forty-six years. I was born in Charleston, South Carolina to parents that were salt of the earth working people — dad working sometimes two or three jobs from carpenter to rigger at the naval shipyard and mom staying home to raise my four sisters and me. We believed in this country and believed in the goals of the middle class that I think is the stuff that America is made of – working hard, pulling yourself up by your boot straps, and getting an education.
These beliefs were instilled in me at home and I went on to graduate high school second in my class while also winning a National Achievement Scholarship to attend college. In 1963, following a long battle in court, I was the first African-American student admitted to Clemson University and received a degree in architecture. Later on, I earned a Master's Degree in City Planning from MIT.
Activism was always important to my family. My father was a proud member of the NAACP and my parents were always talking about politics around the dinner table. Throughout high school and college I was active in civic and political issues. In 1974, I was appointed to a seat on the Charlotte City Council, and later won election to three terms. In 1983, I became the first African-American elected Mayor of Charlotte and served two terms in that office.
The story of Charlotte is the story of America. From textiles to banking to new energy, Charlotte continues to reinvent itself. It is a tale of the American spirit. The 2012 Democratic Convention exemplifies the American dream. We are building a grassroots effort that is unprecedented for any convention. We are asking every person from Charlotte to Charlotte [sic] to be a part of this historic week. We are collecting names, emails, donations of every size, and volunteers to engage Americans in a way that has never been done before.
But I am not in this alone. I need your help.
Will you join our grassroots movement by giving $25, $50, or $100 today?
With your help, the 2012 Democratic National Convention will be full of firsts. It is the first time a convention relies on its citizens to make small donations instead of getting corporate funds and it will be the first time the Carolinas will host a convention since the 1860's. To me, this is what the American dream is all about.
Will you be a part of this historic convention? Please give today.
Sincerely,

Harvey Gantt
Charlotte Mayor 1983-1987