Hawkers, Barcelona Wine Bar, Indaco Bring More Global Flavors to South End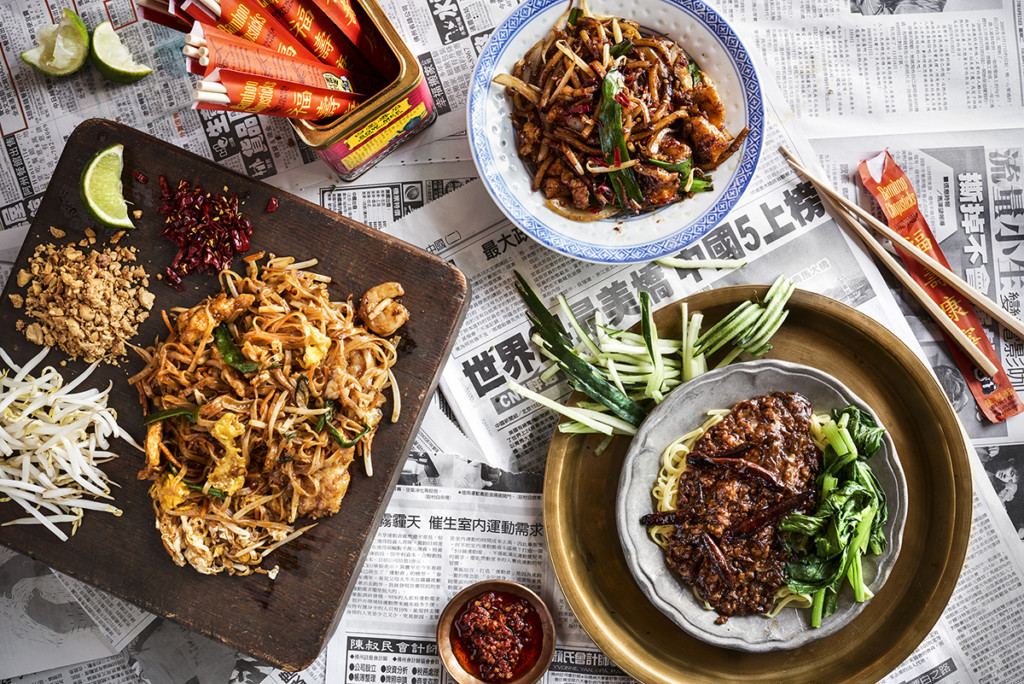 WHEN KALEB HARRELL began scouting locations for Hawkers Asian Street Fare in Charlotte over a year ago, he noticed a void in the city's culinary landscape. "People here have adventurous palettes, but there was a huge disparity in Charlotte with restaurants serving adventurous cuisine," he says. "I think we're in the middle of a foodie transformation in the Southeast."
Take a walk through South End today, and you'll see what he means. Seoul Food Meat Company, Superica, and Futo Buta are just a few of the neighborhood's most popular restaurant tenants, and residents are eating it up. Charlotte diners are craving international flavors, and restaurant owners are paying attention.
Harrell says his concept for the Orlando-based Hawkers is based on traveling to Asia. "Traditionally in the U.S., Asian food is Kung Pao Chicken, but if you've ever traveled to Asia, you know the best food is in hawker stalls, where people will stand in line for an hour." Hawker Centers, he explains, are like outdoor malls where street vendors "hawk" their specialized dishes. "It's like barbecue in the U.S.," he adds. "Everyone has their favorite, and its very regionalized."
So what exactly is Asian street food? "Roti Canai is on every table," Harrell says. "It's a Malaysian flatbread served with a side of our signature curry sauce." And if you follow their Yelp reviews, you'll see it referred to as "curry crack" by their regulars. "For our beef skewers, we use wood charcoal instead of gas to give it a smokier aroma. Traditionally this is how items are cooked. Our Seoul chicken boa is a play on Nashville hot chicken, but with Korean barbecue instead—it's our version of chicken sandwich."
Similar to a tapas-style restaurant, Hawkers' menu offers shared plates to allow guests to try multiple dishes. Some popular picks include the coconut shrimp, steamed buns, and Korean twice fried wings. "Fun fact: every time your palate is introduced to a new flavor, it releases endorphins in the brain," Harrell says. "So with a small plate eating style, you're scientifically having a better experience because you're introduced to so many new flavors."
This is the same approach you'll see at Barcelona Wine Bar, which will focus on Spanish and Mediterranean-inspired tapas. We're told it will open at the intersection of Tremont and Camden before the end of the year. Other details on this new spot are still under wraps, but we do know Executive Chef Nicolas Daniels (formerly of Loft & Cellar) will spearhead the menu. Favorites at the Atlanta location include the charcuterie board, which guests can customize with meats and cheeses from different countries and regions in Europe. And based on the name, the menu will also feature plenty of European wines.
Just a few blocks away at the corner of Church Street and West Summit Avenue, Ilios Crafted Greek will bring authentic Greek flavors to a fast casual setting, and as we reported last month, they're targeting a December opening. Similar to Yafo Kitchen and Seoul Poke Bowl, customers will order at the counter and build their own dishes beginning with their choice of roasted chicken, lamb, or pork. Side dishes will rotate throughout the year, but some staples will include chickpea salad, Aegean slaw, and zucchini fritters.
Early next year, Atherton Mill will add some diverse restaurant tenants as well, beginning with Indaco, which serves authentic Italian cuisine. Italian for "indigo," Indaco has a flagship location in Charleston that offers wood-fired pizzas, handmade pasta, and a selection of salami and cured sausages. We'll share more details on this spot as we get them, but if Indaco is anything like its sister restaurant, O-Ku, their menu will be on point.
Atherton Mill will also be home to Cava's second Charlotte location, as well as The Eagle Food & Beer Hall, in early 2019. Cava, the fast-casual Mediterranean eatery, offers customizable salads and grain bowls with traditional Greek dips and spreads. And while it's not exactly international cuisine, The Eagle Food & Beer Hall will specialize in a regional favorite—authentic fried chicken and southern sides, along with 100-plus craft beers and cocktails.
As for Hawkers, Harrell is looking forward to a mid-February opening, and its space in the Design Center is fitting, given the foodie transformation he predicted when he first came to Charlotte. "We look for character above all else, and South End has it," he says. "It has roots, culture, artistic flair, street art…it's highly walkable, and we love that urban feeling. This is spot on with the experience we want to create."