Head brewer Alexa Long leaving Legion Brewing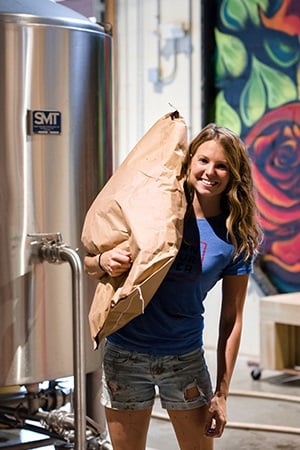 One of the top local craft brewers is moving on to another life chapter.
Alexa Long, who has been Legion Brewing's head brewer since the Plaza Midwood brewery opened in 2015, will be leaving at the end of June.
"It's just the right timing for me personally," she says. "Brewing can be physically exhausting and it takes a toll on your body, especially as you get older. I love Legion so much, and I want people to know I would never leave to take another job in Charlotte. But I've been here for the past 20 years, so I'm excited for a change."
Scott Griffin, currently the assistant brewer, will take over the head brewing job while Daniel Mitchem will be the head of operations (a position Long also held at the brewery).
Long says Legion's staff was very supportive of her decision and adds the brewery is in good hands with Griffin and Mitchem.
"Scott's been here since the very beginning with me," Long says. "He absolutely loves hops and is also really creative and experimental."
An avid rock climber, Long's immediate future is a three-month road trip to Kentucky, Wyoming, Utah and Colorado for some "world-class climbing destinations." After that, she plans to move to Chattanooga. Currently, Long doesn't have a future job set up but hopes to stay in the brewing industry.
"Chattanooga is a really cool city and only has 10 or so breweries," she says. "There's a lot of potential, so I'm hoping to get on the ground floor (with one of the breweries there), whether it's brewing, marketing, sales or behind the scenes in operations."
Long adds this was a bittersweet decision, especially given the people who surround her at the brewery every day.
"I'm really going to miss the staff and whole culture we have here," she says. "(Co-owner and managing partner) Phil (Buchy) is a great boss; I can't say enough about him. Giving creative control to a brewer is so huge, and he invests in all of the staff, personally and professionally. He always encourages us to go to seminars and conferences so we can learn more and get better at what we do."
Long is a UNC Charlotte graduate who has held numerous positions in the local craft scene, from working in restaurants to her job at homebrew store Alternative Beverage to assistant brewer at Heist, her last position before being brought on as head brewer at Legion.
She immediately made a name for herself at Legion, most notably with the brewery's Juicy Jay IPA (which recently captured a Charlotte Magazine Best of Best award for year-round IPA).
"I'll always be proud of Juicy Jay," she says. "To this day, when I go out, it's still really cool to see it around town on tap handles."
Other popular beers created under Long's watch include Legion's Carolina Sparkle Party (a Berliner Weisse) and numerous seasonals such as Juan Direction (a margarita Gose) and Komrade Shokolad (an imperial stout).
Through the years, Long says it's been fun to watch the local craft beer scene evolve to its current state.
"It's been crazy," she adds. "I remember when I started at The Liberty, at the time there was only Olde Mecklenburg and (the since-closed) Four Friends. And several of us who got a start at the homebrew store are now head brewers so it's been fun growing up with them.
"I certainly don't think we've hit a bubble; you're seeing things like multiple expansions (including Legion's second location in SouthPark coming this fall). It's an exciting time and honestly makes me sad to leave."
While Long was Charlotte's first female head brewer, she always held firm that she'd just like to be known as a brewer – "that's just the way I feel, like a brewer." At the same time, Long acknowledges that Charlotte is one of the more inclusive craft beer communities when it comes to females.
"I think it's inspiring for women to see other women in unconventional and more powerful roles – that's always great to hear and great to see," she says. "And Charlotte has a local beer industry that's really receptive to that.
"We've got some bad-ass chicks doing some great things with craft beer."