Health Care Comes to You
Too busy? Uneasy? Dentist phobia? Providers eliminate excuses and break down barriers to care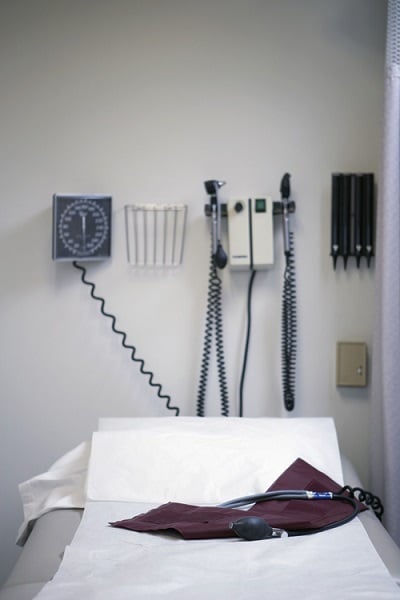 A VISIT TO THE doctor's office was once a standard experience: booking appointments far in advance, taking time off from work, waiting weeks for test results. Even the waiting rooms looked alike. But gradually, customization has come to health care. Three Charlotte providers target segments of their patient base with innovation and creativity.
For The Techie: Convenience
Minor illnesses are rarely considerate. They appear before a critical deadline at work or in the middle of the night. It's as if they just know they're wreaking havoc. For these situations, Carolinas HealthCare System offers Virtual Visit, which allows patients to see a medical provider without an appointment via computer or smartphone. With a web camera, users can get a consultation and—if necessary—a prescription. A physician assistant, nurse practitioner, or physician staffs the service around the clock, and the system ensures a secure, HIPAA-compliant exchange. Parents can get care for sick children while kids stay in bed; workers can get a prescription without leaving their desks; flu sufferers can stay home in pajamas without sniffling in a packed waiting room. There is a stipulation: Patients must be in North Carolina at the time of a Virtual Visit.
"People have busy lives, and you can't really plan for getting sick," says Dr. Charles Rich, medical director of Carolinas HealthCare System's HEALTHWORKS Division. "[Virtual Visit] makes medical care available at the patient's convenience, when they need it, where they need it, and with no appointment necessary."
The service is available to Carolinas HealthCare System patients who have seen a provider in person during the past three years. Virtual Visits have a flat fee of $49 and cover a variety of minor illnesses, including allergies, pink eye, and flu. The feature has been well received by patients, Rich says. "They can't believe they can really get care anywhere they have an Internet connection."
For The Traditionalist: Relationships
Sometimes new trends return to old ways. And in some aspects, Novant Health Hallmark Care is a new offering that harkens to the old days of medicine.
For an annual fee of $2,400, Hallmark Care members join a concierge medical practice that stresses a close patient-physician relationship. Membership entitles patients to priority appointments, personalized preventive care, and unrushed exams. An annual exam may take as long as two hours. Treatment is not limited to the office. Patients have 24/7 access to physicians via phone and email. If a patient is hospitalized, a doctor visits daily to coordinate care. When necessary, physicians make house calls.
"We offer a one-on-one relationship with patients who realize the benefit of continuous care," says Dr. Lillian McKay Teigland, Hallmark Care's lead primary care physician. "I really get to know [patients] in-depth. The trust that's established is something that a lot of patients seek to find."
The secret to this service? Time. While the typical primary-care doctor serves 2,000 to 3,000 patients, Hallmark Care physicians are limited to 350.
The reduced patient load gives the doctors the luxury of time, patients the perk of access, and both parties the benefits of a personal relationship. While electronic health records have allowed patients to receive quick treatment from urgent-care centers and pharmacy clinics, the Hallmark model provides that same convenience but with a physician who knows patients by name, knows their history firsthand, and becomes a personal ally in their long-term medical care.
"It's like I've combined 19th-century medicine with 21st-century medicine," Teigland says. "We have all this knowledge and technology, but I'm able to be the kind of doctor that people know and trust like they did in the past."
For The Patient Who'd Rather Be Anywhere Else: Comfort
While a dentist appointment rarely offers cause for celebration, it can spark severe anxiety in some. Ballantyne Center for Dentistry offers a creative solution to overcome that fear.
To attract anxious patients, Dr. Christian Yaste and Dr. Joseph Hufanda made their office seem less like a dentist office and more like a spa while keeping costs competitive with other dental practices. Sunlight fills the waiting room, patients wait in leather chairs, and a coffee bar offers refreshments. Instead of a television blaring cable news (the very sound track of anxiety), soft music plays. It even smells different: Essential oils conceal that dentist office smell. It's warm. Hospitable. Comfy, even. The front desk is the only fixture that betrays the truth: you are, indeed, in a dentist office.
"I think almost all of our patients are surprised," says Donnie McMaster, operations manager. "They say that this is [a] totally different atmosphere, a different feeling."
The comfort extends past the waiting room. Tempur-Pedic cushions top exam chairs. Sedation dentistry allows anxious patients to relax, sometimes drifting to sleep and forgetting a procedure even occurred.
These details are not only meant to pamper but also to soothe. They're details borne out of sympathy. While in dental school, Yaste smashed his teeth in a bicycle accident. It was the subsequent dental visit, not the crash, that became one of his most horrific experiences.
"[After my accident,] I almost quit the industry," Yaste says. "But I stuck it out, and it paved the way for what I do today."
The dentist who nearly quit dentistry out of anxiety has created a practice dedicated to ensuring his patients never feel that way.