Heeeere's Jackie!
Charlotte designer Jackie McFee reinvented an industry and launched her own brand by just doing her thing. And saying the word "luscious" a lot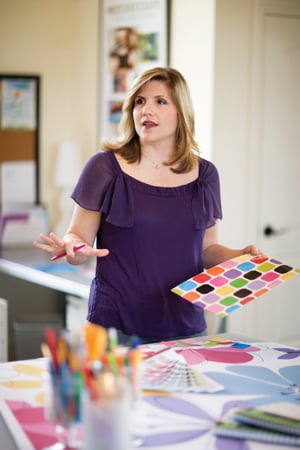 In 2004, Carolina Pad CEO Clay Presley and his design and sales consultant Jackie McFee gave a presentation to Walmart. It was part of Walmart's annual Big Picture Meeting, where the corporation's buyers select a high school in the United States at random, gather students after school, and then gauge the students' reaction to sales pitches from their suppliers. Large paper office-supply companies NOR and Mead, in addition to Carolina Pad, a small Charlotte-based stationery and paper office-supply maker, were among the presenters this year.
"We were the last ones on for the day," Presley recalls. "By the time we got there, they had forgotten about us completely and had already dismissed the kids."
"They had to call all the kids back into the auditorium and sit down to listen to us," McFee adds, throwing her head back and rolling her eyes at the memory.
"The kids did not want to listen," Presley continues. "Jackie got up there, and before the end of the presentation, had all the boys in the room repeating the word 'luscious.' "
McFee remembers it well: "I was so incredibly nervous. … I had all these notes, and I just trashed them," she says. "I just said, 'Be yourself.'"
McFee parodies herself in (maybe) hyperbolic fashion. She tells how, in front of seventy-five uninterested teenagers, she turned a presentation of her latest plaid and floral designs and her idea for an elastic band to close notebooks and journals into a standup routine. "Literally, they were all sitting like this"—she slumps in the couch of her studio, splays out her feet, and lets her tongue droop from her mouth—"and I said to this kid, I was like, 'I know you're a boy, but isn't this stripe so cute?' I told another kid who was slouching that he could have a Coke as soon as I was done. They thought I was crazy, which I was."
Presley chuckles at McFee's antics during what was, after all, a sales pitch to one of the world's largest retailers. Then he remembers the standing ovation the tired, antsy students gave her afterward.
He also probably remembers the four collections Walmart bought from Carolina Pad that year. And how since that meeting, the pens, notepads, pencil cases, journals, and binders printed with Jackie's Hot Chocolate design, a bubbly, brown-themed pattern with splashes of fuchsia and pastels, have sold 60 million units.
"That was really a turning point," says McFee, forty, now the consulting signature designer with Carolina Pad. "I got to see how the kids reacted to me and my art, and that's what put us on the map. Walmart really got on board after that, and started buying a lot of collections."
But as she says, McFee was just "being herself." And this is what happens when Jackie McFee, designer and south Charlotte mother of three, is herself: she blasts open the dull and the stagnant, and injects them with her own infectious energy.
Recently, she did this to her garage. The McFees ripped off the roof of their Waxhaw home's garage and built a spacious, sunny office and studio on the second floor complete with a kitchenette. McFee's desk, piled high with color swatches, tear sheets, and, of course, notebooks, overlooks the strollers and children's bikes that have collected in her driveway.
McFee has neat, shoulder-length blonde hair, energetic brown eyes, and a warm, sunny complexion. Today she's wearing fuzzy slippers beneath her professional black slacks and is darting around the studio, pulling out early notebook designs, samples of the athletic-wear line she launched in 2009, and sketches for her upcoming bedding collection, spreading all of them out onto the enormous design table around which she, creative director Gail Peterson, and business manager Lorraine Garden work each day.
This week, she and the Jackie McFee team are playing catch-up in preparation for her trip to a Paris trade show the following week, where she'll investigate emerging color, pattern, and style trends for her 2012 collections.
"I joke that our motto is 'Bringing lickable back,' " she laughs, looking at Peterson. "We used to say, if we printed out something really, really fabulous that it was just"—she holds up a notebook, jams out her tongue, and, wide eyed, pretends to lick its cover—"lickable, you know?"
She puts down the pink, floral-printed notebook with gold-stamped circles (tasteful indeed), and ducks behind her desk, where she pulls out a couple trend boards. One, titled "Purple Reigns," which was one of the inspirations for her 2010 collection, is plastered with purple-toned magazine ads and runway shots.
"It's not just clothes, too; I try to include nail polish, furniture, and things like that to show that the trend is prevalent in more than one market," she explains, holding up a board in each hand.
"Ten years ago, no one did trend research for notebooks or stationery. Everyone figured, 'Why would you care that much?' I remember buyers at Target and Walmart being like, 'You want to give us a trend presentation?' "
Molly Barker, founder of Charlotte-based charity Girls on the Run, worked with McFee when she designed a back-to-school line of Carolina Pad stationery that benefited the organization, and she remembers how the entire line's design took shape when Jackie saw a pair of pajamas she liked.
"The colors just jumped out at her, and that began the design process. The name of the line was Dreamsickle, and she decided on that from some quote of mine that had the word 'dream' in it," Barker says. "Things just emerge out of what's already there, but she expresses them in a totally different way."
It's easy to think of McFee as a high priestess of style—someone who effortlessly creates fabulous artwork that seamlessly translates into high-demand products. All she touches turns to cute, covetable gold. But "effortless" hardly describes what she does.
"I've missed all my kids' birthdays this past year," admits McFee, who was recently featured in Working Mother magazine. She is married and has three kids, ages eight, five, and two. "It takes a real commitment to do that. If I'm sacrificing time with my family because I think that sales call is going to be worth it, it's going to be worth it."
McFee laughs about her and Peterson putting their kids to bed and then staying up until 3 a.m. rearranging color samples on the carpet or about her painstaking struggle to find the exact right pink to go with the perfect green.
But as much as the striking color palettes and eye-catching patterns intrigued buyers from Target and K-Mart in the early 2000s, it was her authority and confidence that, as she says, "took Clay's vision and brought it to fruition."
The story is old hat around the Carolina Pad offices. In the summer of 2001, McFee decided to turn down an offer from Hallmark to be the art director at its New York headquarters, and instead take up Presley's offer to help him with a small paper supply company he had just purchased in Charlotte.
McFee and Presley had met years earlier at a Nashville company that designs and manufactures gifts like scrapbooks, invitations, and novelty napkins. It was McFee's first job after earning her degree from hometown Syracuse University in illustration and surface pattern design. Presley worked in marketing. "She was a young, energetic designer that had great personality and a great ability to understand the science of the marketplace," he remembers.
McFee and her husband visited Charlotte during that summer, while she was still a designer and trend developer at Amscan, a company that manufactures party goods like paper plates and balloons. They went to see Presley at what would become McFee's office: a doublewide trailer in the parking lot of the Carolina Pad headquarters.
Presley told McFee that he had a vision for the company's new direction. He wanted to flush out the tired, dry paper goods traditionally marketed to male office workers and turn them into fashionable, trendy accessories for young women and girls. McFee would partner with him as a trend consultant; there would be neither salary nor benefits, but she would collect royalties from whatever revenue the company brought in—an uncertain number.
"I think both of us just realized that we had this passion and desire and, even though we may not have seen it at the time, entrepreneurial spirit that just made for the perfect match," McFee says. "The thought of what could be was just wide open. At Hallmark, everything was laid out before me. Just corporate America. I realized that this could just be the best thing."
McFee and her husband, Matt, then a Wall Street banker, drove to Charlotte from New York City on September 10, 2001. They woke up the morning of the eleventh in their new apartment with no television. It wasn't until late in the morning when Jackie went to the apartment complex's main office to ask about the washer and dryer that she learned about the attacks. "We still had our cellphones from New York City, and we just thought no one was calling us. … I told Matt that if there ever was a sign, this was it," she recalls. "I said we are gonna do Him"—she points one finger to the ceiling—"so right."
During her first few years with Carolina Pad, McFee, in addition to creating all the designs for the company, traveled internationally on sales calls, many of which, she recalls, were dead ends. Eventually, though, with enough of McFee's peppy trend presentations, wherein she revealed the latest fashions and justified Carolina Pad's interest in this untapped stationery market, Walmart bought its first collection of notebooks, called Plaid Magic.
"Everyone said that no one would buy a notebook for $2.25," she says. "I said, 'I disagree. Try it.' Now, everyone and their mother is mimicking the kind of styling we did for our products."
McFee, while continuing to create designs for Carolina Pad with names like Eye Candy and Poppies Please, is also busy launching her own brand, called JACK!E Studios.
In 2009, after she hired Peterson, she began to focus her energies on partnerships other than Carolina Pad: "It's like Carolina Pad is growing up and going off to college. They don't need me as much. … I'm ready to face new challenges."
She's expanding her athletic line with Skirt Sports, releasing her first bedding line with Pem America, working on the early stages of a scrapbooking program, and has even toyed with the idea of handbags. "I can feel the momentum building. I'm getting on the radar," she says.
The meetings haven't lost their flair, either: "We went and pitched the new line to different markets," says Barker, remembering a few of the corporate meetings they attended together, "and there's always this turning point. Everything starts out staid, and then there's a switch that gets flipped. When she starts talking, it's like zero to sixty. She uses the word 'luscious' a lot."
Even though McFee is on the precipice of a huge expansion, it's not likely she'll change her style. In signature McFee fashion, she'll match her designs to her personality, highlighting sweet quirkiness with splashes of fuchsia, brown, and baby blue, and underlining irreverent confidence with white stripes and metallic gold rings.
McFee is, after all, always the coordinator.
Annie Monjar is a contributing editor for this magazine.