Heirloom: The Story of a Meal
A raw nut, a chef, and a vision that could transform Charlotte's food scene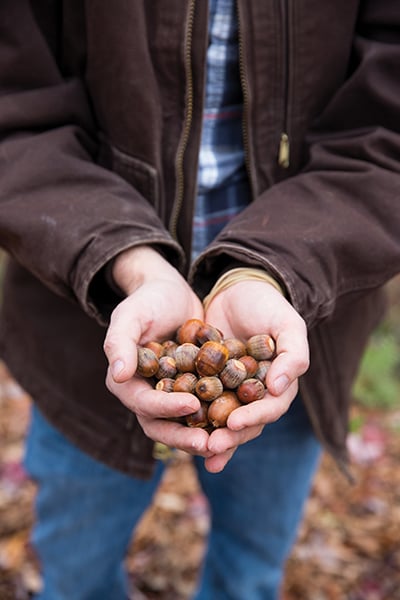 IT STARTED as a game. A challenge.
A riddle. Clark Barlowe's penchant for identifying plants took root because, when he was a child, his father regularly took him into the woods. As they walked the uneven terrain of Caldwell County, Barlowe's father put his hand against tree trunks, prodding: Can you name this one?
Barlowe would then call out: White Oak! Maple! Dogwood!
Now, he estimates he can name about 90 percent of the trees he encounters in North Carolina. "It's always the gums that get me," Barlowe says, shaking his head. But when it comes to edible species on the forest floor, hardly anything escapes him.
The 27-year-old chef and owner of Heirloom in Charlotte believes that a chef is only as good as his pantry. And if that's the case, you'd be hard-pressed to find a chef better than Barlowe. As a forager, his pantry has no walls. It is bound only by the state line and Barlowe's pledge to use North Carolina ingredients—with a level of dedication that necessitates sea salt from the Outer Banks.
If Barlowe's ability to find fiddleheads and chanterelles isn't likely to impress you, his resume will. He's not yet 30, but he's already worked at two restaurants that have been No. 1 in Restaurant magazine's annual world rankings—The French Laundry in Napa Valley, California; and elBulli in Spain, a now-shuttered establishment famous for turning away about two million potential reservations in a single year. Before that, he attended Johnson & Wales and worked at Mama Ricotta's in Charlotte. Barlowe has been stationed at restaurants of note in Washington, D.C., Rhode Island, and Bermuda. He's also appeared on The Food Network's competitive cooking show Chopped, where he performed admirably. And it's a safe bet that if contestants had been forced to personally source their ingredients in some sort of culinary-based Survivor remix, he'd have won.
No contest.
Barlowe's interest in wild edibles took an earnest, professional turn when he was living in Washington. He spent a lot of time sitting in traffic back then, studying unkempt areas alongside the parkway.
As he inched along, he couldn't stop thinking: Look at all those untapped ingredients!
In Bermuda, he became known as the crazy guy who wandered roadsides looking for loquats.
In Napa, he foraged greens and grape leaves.
"They were different culinary scenes," he says, "different landscapes."
Ultimately, familiarity lured him home. To Barlowe—a tenth-generation North Carolinian who grew up fishing and farming and foraging—the best ingredients have always been associated with the sweet smell of river water, the breathlessness caused by high hills, the Southern mud caked in the grooves of hiking boots. And Charlotte, a mid-sized city that isn't far removed from the mountains and foothills he adores, seemed a good base.
Barlowe, who opened Heirloom last February, is excited to be part of Charlotte's food scene. "We're on the tipping point of what was and what could be," he says. "It's been a steak-house restaurant scene for a long time, and I think that's why it often gets overlooked. I just want the city to be great. There are a lot of talented people here. But I do think Heirloom's doing some things that nobody else is doing."
Here's the crux of what makes the restaurant unique: Heirloom takes the farm-to-fork trend further afield.
Heirloom is farm-and-forest-to-fork.
The concept of incorporating foraged ingredients into high-end cuisine has long been lauded in other parts of the world, especially Europe and Asia, but restaurants in the United States have been slow to join. That's likely, in part, because few chefs are trained at sourcing ingredients in the wild. But Charlotte—with Barlowe leading the way—might be poised to spearhead an emerging movement.
"Foraging," he says, "is the next big thing."
***
BARLOW PULLS HIS SUBARU onto the shoulder of a road near the town of Lenoir, where he grew up. Nearby, a path drops into steep woods. The acreage is private property, but he recently secured permission to forage here.
Fallen leaves make the ground slippery. Barlowe—a spritely guy with a dark, manicured beard—hops over a matrix of branches and begins his descent. But he doesn't get far, his eyes catching on red orbs that seem knitted to the ground. He pinches one in his fingers, pops it in his mouth.
"Partridge berries," he says. "Sort of pithy, but they're good to cook with." The berries are too small to be contained by the loose weave of his basket, so he slips some into the pocket of his khakis.
When hickory nuts appear in his path, he's giddy. "We got to them before the squirrels did. That's amazing! Last year they somehow knew something we didn't. They knew to stock up. It was a rough winter." He puts his basket down and holds a single nut in each hand. One is heavier than the other.
"Meal worms," he says, tossing the lighter one. "It's already been eaten."
Foraging makes up only a small portion of the ingredients used at Heirloom. The rest comes from local farmers. Every day the Heirloom menu changes, depending on what's available. You could have dinner at the restaurant five nights a week and be surprised each time.
Barlowe nods toward the growing stash in his basket. "With that amount of hickory nuts, I could put them on the menu," he says. "Whoever comes in that night gets that dish. It's something you wouldn't be able to try many places." Farther along, he spots a patch of acorns. "I bet my grandmother has a ton of these this year. She can forage me under the table," he says. "It's somewhat ridiculous how much we've lost in just a few generations. In my grandmother's day, this was all common knowledge."
He stoops to grab a particularly large acorn. Holding it up, as if it's a diamond that might catch the light, he lets out a low whistle: "Look at this one. It's beautiful. Each tree has different acorns. This is an awesome tree!"
Crouched among leaves, he finds an acorn that's already started to root. It's no good for cooking because its sugars are already being used for growth. But still, Barlowe marvels over it. "It's cool to see acorns in action," he says. "Some root. Some are eaten by squirrels. There's an abundance of them here. We never take what's not in abundance. The animals depend on these. The forest depends on these. We take just what we need."
And whatever the land provides is always exactly what Barlowe requires.
Because, as a chef, he's following nature's lead.
Already, in his mind, he's working out what the items in his basket could become, how he might incorporate these fresh acorns with some previously harvested ones that have already been dried and crushed into powder. He remembers that he has a bit of foraged Hen of the Woods mushroom back at the restaurant. Barlowe admires the way Moroccan cuisine uses nut powders to encrust things. Maybe he could coat that Hen of the Woods with acorn powder somehow?
Using locally foraged nuts to re-create a northern African dish is the sort of thing that confuses people trying to get a handle on what he's doing at Heirloom. "People say, 'Oh, you're doing Southern food.' And I say 'No, we're doing global food with Southern ingredients,'" Barlowe explains. "We're making kimchi with cabbage grown in Chatham County. We're using rice that's grown in Burke County."
Barlowe darts around, filling his basket. "I'm always learning," he says. "The more knowledge you have, the more ingredients become available to you. I laugh when I think about all the amazing stuff I probably walked past when I was playing out here as a kid." This is, of course, something most of us still do—passing up an entire world of gourmet ingredients because we've been culturally conditioned to see woodlands as static backdrop rather than horn of plenty.
Before Barlowe turns away from the tree that's given him an especially good harvest, he presses a hand against its bark. Out of reverence. Out of habit. As if the mighty, acorn-producing oak might imprint itself on him.
Then, he walks out of the woods.
***
HEIRLOOM IS LOCATED on Bell­haven Boulevard, in an expanse of blacktop that connects it to a bank and a drugstore. It's not in a trendy neighborhood.
But it's a straight shot out of town from here, and that's important to Barlowe. He's decidedly against working in New York or Chicago. Or even uptown Charlotte. Because, at any given moment, he aims to be able to get out of a city in 10 minutes or less. "I need to be able to see trees," he says.
That sentiment is surely shared by the bees that reside in the three brightly colored hives on the roof of his restaurant. Barlowe erected the hives not to keep the restaurant in honey—his father, an avid beekeeper, takes care of that—but because he's concerned about colony collapse disorder, which is threatening the health of honey bees across the country. Scientists are struggling to figure out why it's happening, but to Barlowe the cause seems obvious: The bees are simply exhausted.
"The majority of our bees are migratory. They start out in almond groves. Then they're trucked around to citrus groves. Then they're sent north for berries. And they're being fed high fructose corn syrup to keep them going. When you stress a population like that, there are going to be repercussions," he says. "Bees take care of us. It's our job to take care of them. And we need to do a better job. I have these because I want to know there are three hives in this area that are doing well."
His bees have a permanent perch. They go into the wild to collect the nectar they need to survive. But they always come home to turn what they gather into honey. Barlowe, whose foraging efforts give his life a similar home-and-away pattern, sees them as life-supporting kindred spirits. He doesn't even wear a protective suit when he goes up to check on them. "They get acclimated. They get used to your scent," he says. "I don't like to wear the suit because I want them to get to know me."
When Barlowe put the hives in, he replaced the building's generic blue roof with rusted metal, salvaged from an old dairy barn. He used the same barn's boards to create a rustic interior. Heirloom's dining room is decorated with his grandmother's biscuit-making bowl and other family items. And, although his kitchen is sleek stainless steel, a quick tour reveals stockpiles befitting an old-school root cellar. Like his ancestors before him, Barlowe depends on preserves to carry him through leaner seasons.
Ginger and peppers are drying in the kitchen. A stash of tomatoes, canned earlier in the year, is hidden in a cabinet. There are freezers of chicken stock. Pickled bamboo and pickled potatoes. There is also a bin full of applewood branches—furnished with a small hatchet, to ensure that the wood used to smoke meats at Heirloom is freshly chipped.
Barlowe picks up a container of okra seeds and gives it a shake. Awhile back, he noticed that they resembled Israeli couscous. So he collected and prepared them as if they were Middle Eastern pasta. They still tasted like okra, but they had the texture of the Israeli couscous—a coup, considering how difficult it is to find locally made Israeli couscous. Okra powder thickens better than cornstarch. So, he has that, too. Along with carrot powder, watermelon powder, and powders made from various foraged ingredients. And, because local canola oil isn't easy to come by, Barlowe has stores of pork fat, duck fat, every kind of fat.
The restaurant is closed today. Barlowe often comes in during off-hours to experiment. If his employees were here, they'd likely groan to see him delivering foraged nuts. It's laborious to turn a bunch of acorns into a world-class dish. Barlowe starts by smashing them with the side of a knife, like a clove of garlic. The meat of the nut, still intact, is then sliced until it resembles slivered almonds.
He tosses a bit of raw acorn into his mouth. It's an acquired taste. Before they're cooked, the nuts are so bitter they can make your mouth pucker at the mere memory of tasting them. But sampling foraged ingredients is a near-ceremonial action. The acorns will soon be blanched to perfection. Then they'll be braised with Hen of the Woods.
The rest of the mushroom strips Barlowe's prepared are plunked into a tempura batter made from local flour and house-made acorn powder. When they're dropped into a fryer, their smell mixes with that of the smokers sitting out back, making the air taste earthy. There's sizzle and smoke. And then, at the flick of a switch, the whirl of a fan. "I love doing this," Barlowe says. "We've all had fried mushrooms before. But few people have ever had fried Hen of the Wood[s]!"
He pulls a bunch of freshly clipped pine needles from his foraging basket and slips them into a French press. "A pitcher of pine needle tea has as much vitamin C as five cups of orange juice," he says. "It's a great pick-me-up." He lets the tea steep for a few minutes before pouring it into a handmade mug. Steam swirls like snow caught in an updraft, carrying a hint of evergreen.
Barlowe closes his eyes, inhaling. "It smells like Christmas, doesn't it?"
Sometimes guests tell Barlowe that a dish he's served reminds them of something they had as a child. He considers those moments of nostalgia among his greatest compliments. Because Barlowe is not just cooking locally sourced food; he's resurrecting a nearly forgotten way of experiencing place. "A lot of people told me I was crazy to open a restaurant that used only North Carolina ingredients," he says. "But the quality is here. Why wouldn't I?"
When the tempura is done, he takes one last sip of pine needle tea, whispering under his breath: So nice. Unable to resist the impulse to supplement his daily finds, he grabs a few lilac Malabar spinach pods. They're not something a supplier would typically drop off at a restaurant, but farmers who work with Barlowe know he'll take all parts of a plant or animal.
On his plate-in-progress, fresh garden buds mingle with the smell of trees and the flavors of fungi. He tops the dish with a pinch of salt and a 62-degree egg. To finish, he adds slices of a late-season, house-grown cream sausage tomato and garnishes it with the spinach pods.
"It needed a little color and a little bit of acid," he says. "So that did the job."
But maybe it needs a touch of something else?
He slips outside to survey the garden planters that line the restaurant's walkway. Dried pine needles have been spread between them in a halfhearted attempt to discourage weeds. But it isn't what's in the planters that catches Barlowe's eye, it's the uninvited growth that's popped up underneath. To him, these life forms are not an annoyance. He doesn't even refer to them as weeds. They're citified versions of his forest-gathered ingredients.
"Look!" he says, "more wild edibles!"
As commuter traffic streams by his restaurant, Barlowe uses an index finger to probe a tuft of wood sorrel and pulls off small, torpedo-shaped seed pods. They taste of citrus, bursts of sunshine exploding against his tongue. The plant's leaves look like clover. He cups some of them in the palm of his hand. "These are going to look great on that dish!" he says, opening a door leading back into the kitchen.
When the wood sorrel is in place, he steps back to admire his creation. It is, in a way, as gourmet as a singular meal can be—expertly prepared with unusual ingredients, exotic by way of redefinition. "I've never made a dish like this before. I've never fried mushrooms in acorn flour tempura," he says. "This was totally inspired by today's walk in the woods!"
He singles out a forkful of acorns plucked just hours earlier from a patch of earth that has nourished him for all his life. In Heirloom's kitchen, they've been transformed from something impossibly raw and cutting into something refined and pleasingly meaty. The bitterness of the uncooked acorn he tasted earlier took some time to clear his palate. But Barlowe thinks even that less-than-delectable part of the process was worth experiencing. After all, the beginning of any story is as important as its ending. "You have to know where acorns come from," Barlowe says, "to understand what they have the potential to become."
Heirloom
8460 Bellhaven Rd., 704-595-7710,
heirloomrestaurantnc.com
Leigh Ann Henion is a writer based in Boone. Her debut book, Phenomenal: A Hesitant Adventurer's Search for Wonder in the Natural World, will be released by Penguin Press on March 24. It's available for pre-order wherever books are sold. Learn more at leighannhenion.com.