Heist releasing Cataclysm III bottles Saturday morning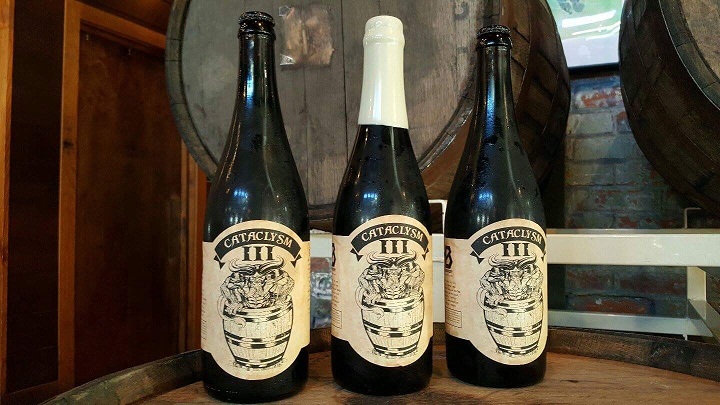 ONE OF THE MOST anticipated beers in some time for Charlotte's local craft scene finally has a release date. The latest in Heist's Cataclysm series, Cataclysm III will be available Saturday morning (tomorrow) at the Canteen Taproom, and will also feature a variant for the first time.
Cataclysm is Heist's Russian Imperial Stout, and each time it has been brewed there have been different ingredients and barrels. In December 2015, Cataclysm II was Heist's first-ever bottle release, aged in a blend of Elijah Craig 12-year and Rittenhouse Rye Whiskey barrels .
If you've been to Heist in recent months, you've seen the boxes of Cat III bottles stacked up, waiting to be filled. The beer has been resting in barrels for the proper state and was finally bottled over the past couple of weeks for its proper release.
For the latest version, it was aged in a mix of Whistle Pig Rye barrels and Jefferson Rye barrels, and then dosed with primarily Ugandan vanilla beans with some Madagascar vanilla beans added in as well. The variant this year is a vanilla coffee bottle, as Heist used a blend of coffees that were personally selected by the brewers and team over at Magnolia Coffee Co.
There are two ways to purchase Cataclysm III. The allotment per person will be made up of two regular Cataclysm III bottles, one coffee Cataclysm III variant and a special Cataclysm-branded teku glass for $100 total (including tax). Bottles will not be sold individually; you have to purchase the full set and glass. Also, while Cataclysm II was in 500 mL bottles, the Cataclysm III bottles will be 750 mL.
There will also be a limited amount of Cat III bottles (both the vanilla and coffee vanilla) available from the Canteen Taproom bar for onsite purchase and consumption Saturday. It should be noted this beer will not be available on tap. As Heist head brewer Eric Mitchell told me, "we bottled every last drop."
Doors open at the Canteen Taproom at 7 a.m., and breakfast will be available for the early arrivers. Of course, all of the taps at the Canteen Taproom will be flowing bright and early as well, and Mitchell said there will be a few special Heist beers available to celebrate the release. Bottles will officially go on sale at 9 a.m.