Herb
That's what everyone calls Charlotte's best known and most accomplished artist. But the simplicity of those four letters belies the complexity of the professor, provocateur, and painter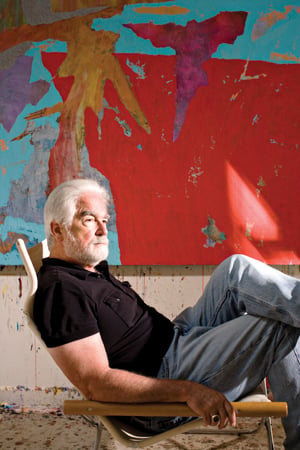 When Herb Jackson was a young art professor at Davidson College earning about $14,000 a year, he decided to build the $100,000 studio of his dreams in his backyard.
"I was scared to death because I didn't really have the money to build it," Jackson says. "But I just figured somehow it'll work out." He took out multiple loans, and construction was underway in 1978 when he got encouragement from a much more famous artist.
Don't worry, said Romare Bearden, the late collage master who was at Davidson to receive an honorary degree. One good show will pay for it. Jackson recalls responding: "Maybe one of your good shows would pay for it, but not mine."
Yet more than thirty years later, Jackson also is an internationally known artist and a professor whose contributions to Davidson still stun faculty and administrators. When he retires from teaching in spring 2011, he will leave a legacy of fulfilled dreams that stack up like the dozens of paint layers in his own abstract works.
For starters, his works are in the Smithsonian Institution, the British Museum in London, the Chicago Art Institute, the Museum of Fine Arts in Boston — the list goes on. He was one of thirty-three artists chosen for a show of contemporary American artwork in Moscow in 1989. His New York City dealer, Claire Oliver Gallery, will present a solo show in February, and when his local dealer, Christa Faut Gallery in Cornelius, hosts his ninth solo show in September, buyers likely will call from around the country.
He's also certain to be a campus legend, a six-foot-two polar bear of a man who inspires fear in freshmen and draws praise from seniors. Painting students learn quickly that a Jackson critique can be terse ("It's not working") or enigmatic ("It's your painting, not mine"). But by graduation, they say, he has changed their lives.
Then there's his role as campus provocateur. It is widely presumed at Davidson, says Dean of Faculty Clark Ross, that without Jackson, there would be no $9.1 million Katherine and Tom Belk Visual Arts Center, no 2,600-piece art collection, and certainly no Auguste Rodin sculpture. Who besides Jackson would have dared to secure that seven-foot bronze naked man for the heart of this Presbyterian enclave — without asking first?
And time after time, colleagues call Jackson a visionary. It was Jackson who in 1978 organized the first exhibit of Bearden's work in the Charlotte area, two years ahead of the Mint Museum's 1980 show. There's more to Jackson: he's husband and father, world traveler, voracious reader, volunteer auctioneer, and Bechtler Museum board member. But it's not just the accomplishments; it's the relentless and confident way in which Jackson pursues his goals that is the most striking lesson this professor imparts to his students. Or to his co-workers. Or anyone else who sees him in action.
"I pity the poor person who has to fill his shoes," says Jessica Cooley, who was the Visual Arts Center's assistant curator until August. "I'm still baffled by how he did it all. I asked, 'Herb, did you sleep?' "
"Welcome."
Jackson intones one sonorous word as he opens the door to the studio behind his house. Voice and room invoke reverence. Vast white walls rise eighteen feet to a row of skylights. Just four paintings hang here: two in progress on one wall, one centered on the far wall (for a potential collector to view) and one on the third wall, where Jackson considers whether it is complete. The fourth wall contains shelves for hundreds of acrylic paint tubs.
He offers his visitor the "African throne" -— really a carved stool -— which he picked up on travels. He takes the taller stool, which places this already-towering man slightly higher than his guest. His shirt is black; his thick hair is white; he's as striking as a Franz Kline painting.
This summer Jackson completed the 200th work in his Veronica's Veils series. Although he's created more than 800 smaller works, the Veils are his signature; works from the series sell for about $18,000 at Christa Faut Gallery. Each is a five-by-fourfoot canvas, on which Jackson has brushed up to 100 layers of acrylic paint mixed with pumice. Even as he applies them, he scrapes areas back as if digging through an archeological site. He uses knives, fingernails, even nails to explore where the scraped shapes take him. The result is a mesmerizing surface that invites the viewer to return again and again. The title refers to the legend of a woman who wiped Christ's face with her veil during the procession to Calvary, creating an image of Christ's face on the fabric. Jackson likens his spontaneous creative process to swimming in the unconscious, going inward. "You're essentially lost, which I love," says Jackson.
To really know Jackson, however, it helps to be an art student at Davidson, where Jackson has taught for four decades. The typical student here is a high achiever: most score 600-plus on each section of SAT tests, and 85 percent are in the top 10 percent of their high school classes. The school has graduated twenty-three Rhodes Scholars. Yet, for all their intellectual strengths, Jackson says, his students still write on class evaluations: "He scares me."
"They say I'm intimidating, which I've never understood. … I'm a pussycat," Jackson says. "I'm demanding, but I'm always demanding with a hug on the other side."
Grant Clark was one of those wary art students when he entered Jackson's basic painting class in fall 2008. He had heard this tale: one day Jackson looked over the shoulder of a student who had just finished a work. The student could not come up with any thoughts about it. Jackson deadpanned, "There are monks in Nepal who spend their whole lives trying to get to the point where they aren't thinking anything." Ouch. True story, Jackson says, "but I don't think I said Nepal."
Clark came to expect that Jackson would never offer answers to his painting problems; he only raised questions. Yet a transforming moment occurred when Clark was taking an independent study his senior year and needed ten paintings to get an A. Clark decided his third painting would be a triptych, a painting comprising three panels, and he asked Jackson if the triptych might count as three paintings instead of one. Jackson refused to answer. "Don't worry about it," Jackson said. "Just be happy you can make art." Clark says from that moment he stopped painting to get his professor's approval, and the episode changed his approach to learning at Davidson. "I can't imagine encouraging them to work in a particular way," Jackson says. "They chart their course. Whatever they want, I try to be their guide. If they ask me, 'Herb, how do you paint a wave,' I say, 'I don't paint waves. I don't know. You paint one, and we'll talk about whether you like it and why.' "
Jackson was ruthless about students taking responsibility for their work, says Kesler Woodward, a 1973 graduate. "Any time I was afraid I might ruin a piece by taking a chance on a change that might make it better, I absolutely must take that chance. … It was this kind of ruthlessness, about values and choices and responsibility that I responded to more than anything."
When Jackson found the committed, courageous student, like Woodward, he poured forth knowledge. "Herb encouraged me to enter juried competitions, from the time of my first painting class, and to price my work seriously," says Woodward, now professor of art emeritus at the University of Alaska, Fairbanks. Jackson helped him find studio space on campus, introduced him to the carpenter who built his canvas stretchers, and recommended his work to galleries.
Yet Jackson has a vulnerable side, says Cort Savage, chairman of the Art Department, and he remembers the day he discovered that. They were visiting caverns in India that contained a giant Buddha sculpture. Suddenly, amid a gathering of tourists, Jackson sang out a melody. "Imagine yourself spontaneously breaking into song in a larger group," Savage says. "You're setting yourself up; people could make fun of you."
Perhaps Jackson is tough on students because his own college days demanded self-reliance. When Jackson graduated from Davidson in 1967 there was no art major (he chose German) and no one to guide him into a serious art career. He applied to graduate schools but wasn't accepted. He followed his bride and fellow artist, Laura Grosch, to Philadelphia for her graduate program.
"It was an emotional blow," Jackson says. "There was no sugar coating it. All of a sudden I was in a strange city with no job, no school." He and Laura rented a row house in a rough neighborhood and didn't even have money to buy a beer that summer. For three weeks he felt frozen, then he said to himself, "If you don't stop just sitting and watching daytime TV, you're going to be finished. You will never make art again." He says he "sucked it up," started painting again and hasn't stopped since. He even says the experience helped him. "You have to reexamine the bedrock of why you do what you do," says Jackson. "And to what extent does the acceptance of other people provide the motivating factor."
In autumn of that same year he got another lesson in his own bedrock. As their parting gift to Davidson College, the senior class of 1967 had commissioned Jackson to paint a mural on the inside of the student union building. For more than three weeks Jackson labored over the fifty-foot abstract. Just months later, while pulling himself together in Philadelphia, he learned a campus group had organized a pie-throwing event in front of the mural.
"People who make abstract art ultimately have to get used to that," Jackson says.
"Ridicule goes with the territory." How does an artist cope? "You just make the next one."
Even as a child growing up in Raleigh, N.C., Jackson says, he was headed for a contemplative life. He wandered in the woods, wrote poems, and explored a trash dump near his home. He also watched his older sister draw pictures. "My father would compliment her," he says. "I thought, 'Well if I draw better than she does, maybe he will compliment me, too.' … He didn't."
No matter. By age twelve, he had moved into the basement, where he slept in a bunkbed, so he could paint in oils until 2 a.m. Jackson's parents, Walter and Virginia, "had no idea how late I stayed up," he says.
Nor did they stop him from taking a city bus several afternoons a week to the N.C. Museum of Art. He was determined to learn why some paintings were considered good and others weren't. He filled notebooks with diagrams of every painting, and rated the paintings on a scale of one to ten. He finally concluded all artwork can be seen as abstract. Back in his basement, he began painting abstracts to sell to classmates for $2.50 each, and when a waiting list developed, he raised the price to $25. Jackson's father, a municipal bond rater, might not have understood Herb's need to paint, but Jackson had his father's economic sense.
Recognition came in a big way when Jackson was just seventeen. He won a firstplace award in the 1962 N.C. Art Museum's annual juried show, an honor that usually went to seasoned pros. Jackson says the timing was critical. "That gave me a certain courage that I needed in my family structure to assert myself."
Jackson went on to college at Davidson, where he studied art as much as possible and had seven one-man shows before graduation. He was in graduate school at UNC-Chapel Hill in 1969 when Davidson called him back to fill in for a departing art professor. After two years, Jackson wanted changes. In those days, there was only one other art professor and all classes met in one room of the Cunningham Fine Arts Building. The school's art collection was about seven paintings kept in a coat closet. No one majored in art. Jackson wanted the nation to know Davidson was serious about art; he wanted the school to offer an art major and to acquire a significant art collection.
For all those reasons, in 1971 he launched the Davidson National Print and Drawing Competition. Jackson sent out 10,000 mailings and 20,000 posters to advertise in all fifty states. The response thrilled him. More than 2,500 submissions came in and were piled in towers taller than the judge; it was the biggest competition of its kind in the nation.
After five years the work was too much for the full-time professor. The competition ended, but fifty purchase awards became the seeds of a collection. Jackson also saved a small part of his budget each year to buy art. If he had an extra $500, he flew to New York, slept on friends' couches and waited for bargains to come up at Sotheby's auctions. His best coup was a Rembrandt etching for $150, but as his own art career and connections flourished, he convinced collectors and dealers to donate valuable works. Today the collection contains works by Edward Hopper, Bearden, Dalí, Matisse, Picasso, and Whistler.
Jackson's more elusive dream was getting the 43,000-square-foot Katherine and Tom Belk Visual Arts Center. "There were forces against it," he says, and he wants to be clear: he didn't start out asking for a building. All he wanted was more space. Throughout the 1980s presidents Sam Spencer and John Wells Kuykendall offered various campus spaces to rehab. "My colleagues and I would spend hours designing how we could use that space," says Jackson. "Everyone would get all excited, and then some other group would take priority."
You have to understand Davidson back in those days, says Laura Foxx, who started as a major gifts officer at the college. She says "the culture liked science buildings" and "supported a brand new sports complex." Furthermore, the Art Department had fewer than ten majors most years, compared with fifty or sixty each in English, biology, and history. Jackson argued the art classes were always full. "We're not there to serve just our major," he said.
Tenacity prevailed. By 1989, Davidson's administration had agreed to a new $7 million building plus a $2 million endowment, and wrapped the amount into a $150 million fundraising effort called the "Campaign for Davidson," which included money for faculty endowments, scholarships, the Baker Sports Complex, a new college union, and other buildings. But with so many projects competing for money, Jackson knew he had to break out of the fundraising rulebook. He contacted every big-name artist he knew, and asked for a "lifetime favor" — the donation of one piece of artwork for a fundraising auction. He acquired twenty-two works by seventeen artists. Only fifty couples
were invited, and "they had to be armed and ready," Foxx says. A tuxedoed Jackson played auctioneer, and checks totaled more than $250,000 that night.
One artist who responded to Jackson's plea was Kenneth Noland, an Asheville native who gained fame as a color field painter and who had been given a retrospective at the Guggenheim Museum. When the $9.1 million Visual Arts Center at last opened in 1993, it featured Noland's work in the opening exhibit. It also featured a four-story central atrium, sculpture and printmaking facilities, individual studios for senior art majors, two galleries, and a red brick and limestone exterior to match older buildings. But Jackson didn't stop there. He had long known of an Auguste Rodin statue owned by one of his collectors, William Van Every. Knowing that the sculpture was in the Van Every estate, Jackson contacted James Pepper and asked him if he would consider acquiring it for Davidson College. Pepper agreed. The problem was, Jackson did not get the school's backing first, again ruffling administrators, who might have preferred a different use of the money. Jackson says the objections were "fear of sensuality; it is a nude figure."
"Herb got his hands slapped for that," says current Art Department chair Savage.
Jackson says he doesn't regret asking for the Rodin. And, he adds, "I don't think they regret that it's here."
Jackson's close friendship with the late Romare Bearden might best illustrate how his passion for art, savvy ability to negotiate, and his vision for Davidson merged into a powerful force. He and Laura were stunned when they first saw work by the Charlotte native in 1971 at the Museum of Modern Art, and Jackson immediately began to dream of a show in Mecklenburg County. So few people here knew of the great collagist then. "It was kind of a stretch," Jackson says. "Here he'd been in museums around the world." But Bearden's dealer agreed to work with Jackson, and eventually twenty-one works were gathered for an exhibit at Davidson. The Mint Museum's much-heralded first Bearden show also was in the works at the same time, but did not take place until 1980, with fifty-six works.
Jackson, who believed Bearden's works were undervalued, also worked behind the scenes to motivate collectors. "I called a number of people in Charlotte and said, 'You really ought to buy something because the man is an amazing master, and his prices are subdued,' " says Jackson, who bought one for the college. Jackson also encouraged Davidson to give Bearden an honorary degree, and only then, when Bearden arrived for the exhibit and degree, did the two men begin a friendship that would last until Bearden died in 1988. Five years later, Bearden's wife, Nanette, endowed art scholarships at Davidson.
It would be hard to overestimate Jackson's impact on Davidson, says Brad Thomas, arts center director. "If I had to define 'Davidson-ness,' what makes Davidson Davidson, it would be Herb Jackson." Thomas marvels at his accomplishments. "He must find twentyeight hours in every day."
"It's no secret around campus that I've tried to talk Herb out of retiring," says Faculty Dean Clark Ross, an economist who says he converses with Jackson on everything from stocks to wine.
On top of all he's done for the school, he's completed the Veils paintings, plus some 800 smaller works. Davidson College will honor him in March with a nineteen-painting retrospective covering fifty years.
Jackson's father never appreciated his son's artwork. "He liked one painting, and I gave it to him," Jackson says. "By the time I was achieving more national and international recognition, he was lost to Alzheimer's," Jackson says. "He didn't know who I was." When Jackson drove his elderly father for haircuts, Walter Jackson thought his son was his valet.
But Jackson says he accepted his father's lack of interest when he was twelve. "It was the only way to survive. … They didn't prevent me from [making artwork]. I'll give them that."
Former student Grant Clark, who graduated in May, does understand the passion. During the fall of his senior year, Clark was so caught up in painting he went to the studio every day and stayed so long his roommate worried and urged him to ease up. Finally, after fall break, Clark agreed to spend a Saturday hanging out with friends. Back in his studio the next day he found a note scribbled on a paper plate next to a painting. "Bingo! Your best yet!" Herb Jackson had been there.
Clark was so excited he snapped a cellphone photograph of the words to send to his roommate. But, Clark adds, in a way the praise didn't matter. He already knew what the life-changing Professor Jackson wanted him to know: take risks. Trust yourself. It's your life, not Herb's.
"By the time I graduated," Clark says, "I didn't need Herb anymore."
Miriam Durkin, former arts editor of The Charlotte Observer, is a freelance writer in Charlotte. Her 2009 profile of artist and teacher Andy Braitman won best profile from the Magazine Association of the Southeast.