Here Are Your Charlotte Pride 2018 Must-Dos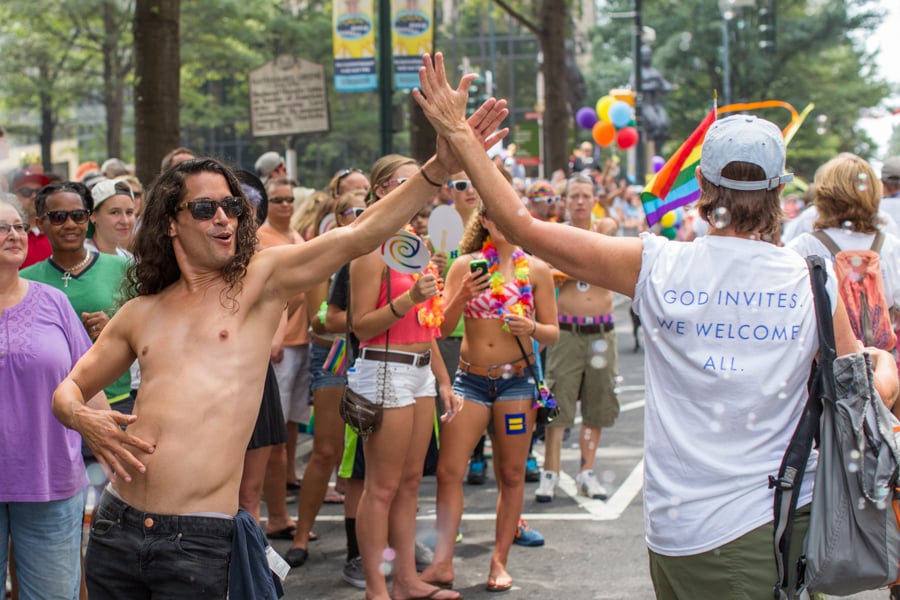 LAST WEEK, I was talking to someone (this queen will go unnamed for purposes I'm about to explain) about my jam-packed Charlotte Pride schedule. He sneered at me and said he'd be out of town for the weekend. Pride just wasn't his thing.
"Half-naked men walking around everywhere?" he said. "That isn't something to be proud of."
I hope your teabags are steeping well, ladies and gentlemen, because let's get right down to it.
First, sign me up for a front-row ticket to that show.
Second, the self-shame and unnecessary self-debasement this man feels is exactly the reason Pride exists. I pity him and a there's a deep hole in my heart for why he feels such shame.
Third, and most importantly, Pride is and will always be, about shirtless men and women, celebrating their sexual liberation and the ongoing battles against oppression and heteronormativity from society at large.
So, please, Charlotte, whether you're a bear, a twink, a femme queen, a lipstick lesbian, trans, or an ally of any kind, celebrate the diversity within the LGBTQ community this weekend as we all come together for a weekend of parties under the rainbow. These are dire times, and we need to stick together. That, indeed, is something to be proud of.
---
Thursday
Gaychella
LoSo, 6:30 p.m., Free
Start Charlotte Pride weekend tonight at this event, featuring the "ultimate playlist of divas and drag queens." The event at Sugar Creek Brewing, 215 Southside Drive, benefits the Regional AIDS Interfaith Network.
PRIDE in the Sky
Uptown, 6 p.m., Free
This ultra-exclusive party has been sold out and on a waiting list for a while, so if you're not yet waiting in the queue, cross your fingers. The party's at Ascent Uptown's rooftop, 225 S. Poplar St., and includes free drinks and appetizers as well. To get on the wait list, pray and then email your name, your mobile number and your guest full name to dan@takeoverfriday.com.
---
Friday
Pride Weekend Kickoff "Over the Rainbow" Drag Show
Uptown, 8 p.m., $12
Sashay on over to this party celebrating Charlotte's best drag queens in preparation for Charlotte Pride. The event includes drag shows, music, comedy, fashion and more while benefiting Campus Pride. The party is at Rooftop 210, 210 E. Trade St.
---
Saturday
CANDYLAND Just Twirl PRIDE Party
Uptown, 10 p.m., $23
Just Twirl presents its latest party, and this all-out blast is Candyland-themed, so dress as sweet as can be. A portion of the proceeds benefit Charlotte Pride and Twirl to the World Foundation, so know your slaying on the dance floor is going to a good cause. The party transforms Flight, 314 N. College St., into Candyland tonight.
Pride Fest – Vanity House Drag Show – Featuring Alyssa Edwards
Uptown, 7 p.m., $30
Billed as "THE social event of the season," which is bold to say the least, this after-Pride party features Alyssa Edwards for a show that begins at 10 p.m. The fun at Rooftop 210, 210 E. Trade St., doesn't end until 2 a.m.
RAINBOWTOPIA
Dilworth, 9 p.m., $18
With half a dozen DJs, two stages, body painting and more, this is shaping up to be a thumping evening. The party is at the Bassment Nightclub, 911 E. Morehead St., which is below Dilworth Neighborhood Grille. According to the event organizers, this party typically attracts more than 700 people each year, so expect a big crowd.
---
Sunday
Charlotte Pride Parade
Uptown, 1 p.m., Free
It's the big she-bang. You know the drill. More than an hour of floats all celebrating everything totally gay. It's a big party, but the real deal (trust us) is by buying a VIP Pass. That ticket, which costs $119 for the entire weekend, includes free beer, wine and food both Saturday and Sunday; a mimosa brunch before Sunday's parade; access to the air-conditioned VIP lounge that also has private bathrooms (On a weekend where rain is likely and the thermometer will hit 90 degrees, this is the best perk.); gift bags and more.
GLORY- Pride T-Dance
Uptown, 3 p.m., $24
For those unfamiliar, a tea dance, as so eloquently defined by Urban Dictionary, is "a term for happy hour used among men and women in the gay community. Not necessarily just one hour." Put special emphasis on that last part, as this party has you on the dance floor from 3 p.m. until 9 p.m. The party at Rooftop 210, 210 E. Trade St., features a DJ, go-go dancers, drag queens and drink specials.
Drag Me To Dinner
Uptown, 7 p.m., Free
Featuring at least half a dozen drag queens, including Coco Montrese from "RuPaul's Drag Race," this drag dinner is a perfect way to end your Charlotte Pride weekend. The party is at Vida Cantina, 210 E. Trade St.