Here's the Champion of Charlotte Magazine's Summer Sips Beer Bracket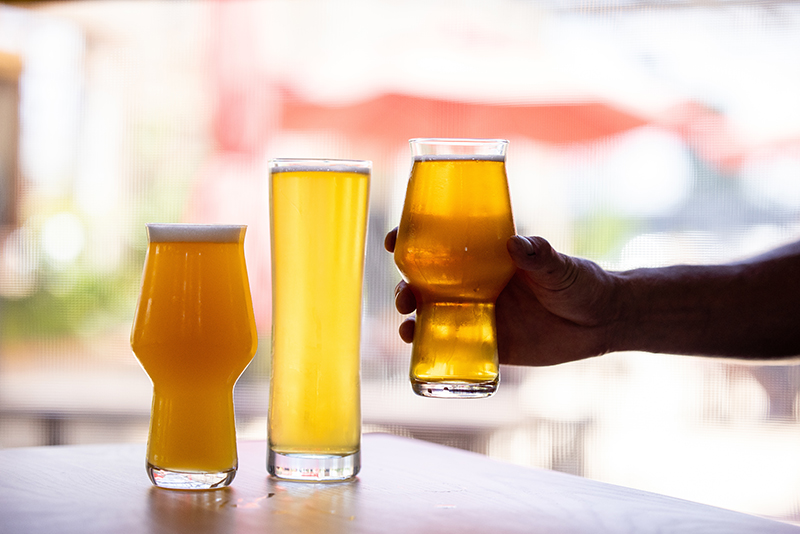 THE METHODOLOGY:
This is our third annual Beer Bracket. It being August and still generally unbearable outside, we went with a theme of "Summer Sips." As always, we want to explore and celebrate the Charlotte area's ever-expanding roster of breweries. The basic rules, modeled on March Madness, remain the same: We act as selection committee, set up head-to-head matchups within "regions" (beer styles), and you vote until we end up with two that face off for the championship. We don't repeat previous years' contestants, lest we end up with a beer equivalent of Duke.
What's new this year: No full-bodied, dark beers like porters and stouts. It's too hot. We're going light: lagers, Kölsch, wheat ales, and tropical and hazy IPAs. We thought Kölsch deserved its own region because it's tough to beat a cold Kölsch in summer and because Charlotte-area brewers have made some outstanding, award-winning Kölsch lately. Another first-time twist: We included Lake Norman breweries. Enough have opened to merit their inclusion, and we know y'all are taking some out there on your pontoon boats.
---
MEET THE CHAMPION: Free Range Brewing's Therapy Session IPA
ABV: 5.3%
IBU: None
Available in cans and on draft.
The label, designed by Charlotte artist Dustin Harbin, offers the ideal summer setting to have a Therapy Session IPA: a lawn chair on lush green grass. The Carolina Hazy IPA itself embodies this year's theme, as a crushable brew that doesn't sacrifice flavor and substance for drinkability. It's part of Free Range Brewing's "Love and Devotion" series of IPAs, for which co-owner Sarah Alexander offers this description: "To brew is to dedicate one's time to a labor of love. To share that labor of love is an act of unconditional love. Our goal is to share our life's pursuit with the ones we love and ride the ride together."
The brewery considers Therapy Session the "foundation" for that series, its lightness and juiciness intended to "bring a smile to your face and some peace of mind."
Thousands of voters agreed that this beer does just that.
---
The Other Three in the Final Four
Devil's Logic Brewing's Komunity Kölsch
ABV: 4.7% I
BU: None
Available in cans and on draft.

Its light body and sweetness lives up to the brewery's "Clean, Crushable Beers" tagline.
Divine Barrel Brewing's Czech Pils
ABV: 5.1%
IBU: None
Available in cans and on draft.

With its toasty biscuit notes, this is as clean and drinkable as a lager should be.
Midnight Mulligan Brewing's Wheat's Taken
ABV: 5.5% I
BU: 20
Available in crowlers and on draft.
Hints of peach and honeydew lift this wheat beer into the stratosphere.
---
THIS YEAR'S STARTING BRACKET: