Heroes Among Us
Shelton Drum, owner of Heroes Aren't Hard to Find, is the ringleader of Charlotte's thriving comic book scene, which comes together this month for the thirtieth annual HeroesCon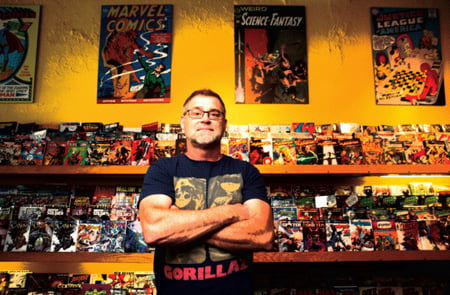 It is a dreary night, rainy and damp, and the streets of Charlotte's Elizabeth neighborhood are mostly empty. Between the moon and the street lamps there is plenty of light, but it is eerily quiet. The only sound is the occasional car splashing through the puddles—just the kind of night a comic book writer might dream up to introduce his villain to the audience.
Not to worry, citizens, Spider-Man is just a few feet away. He is perched atop a glass cabinet, his hand outstretched, unleashing a web of fishnet wrapped in metal that reaches up to the ceiling. Spidey's arch nemesis, Dr. Octopus, hangs nearby, his tentacles menacing the air. The two seem poised for an epic battle.
The seven-foot fiberglass and polystyrene foam installations are the main attractions at Heroes Aren't Hard to Find, the comic book store on Seventh Street with a national following. The store, which sells around 6,500 books a week, is the epicenter of Charlotte's thriving comics scene. Shelton Drum started it in 1980, and you can still find him there most days. He's also the founder of the annual Charlotte HeroesCon. This June, between 15,000 and 20,000 people are expected to attend the convention, now in its thirtieth year. It is the oldest continuously running, privately organized comics show in the country, and attracts the industry's top artists and writers. This year, there will be 250 vendor booths spread over 100,000 square feet. Drum is known for walking among the exhibits at the Charlotte Convention Center, greeting as many people as he can. Most have been to his store over the years, where they come to browse, talk shop, and of course, to check out the hero and the villain that were specially crafted to watch over Drum's empire.
The idea for the iconic display came in 2001 from Drum's then ten-year-old son during a visit to Home Depot. Father and son were trying to figure out how to run power from the ceiling to the center of the new store. "We were looking at different materials to use as a conduit. My son saw a piece of dryer duct and said 'This looks like Dr. Octopus's arms.' A light went off and I said, 'Yeah, it does!' So we designed this thing to be a conduit running out of Dr. Oct's arms." (Dr. Octopus literally has power running through his veins.)
Drum is embarrassed to admit how much he paid for the two custom-made men, and he's never told anyone. "I'm still paying it off," he jokes. But it's worth it. "When people come to the shop, that's what they're talking about," says Dustin Harbin. He is a thirty-seven-year-old Charlotte-based full-time illustrator who worked at Heroes for more than a decade. A high school dropout, he says being at the store was his school. "It's a family-oriented, kind of safe comic book shop, rather than a dusty, musty place," he says. "Comic book shops can get a bad rep for being, um, well, almost sleazy, like an adult book shop."
Not Heroes.
It's a less commercialized, more lived in, slightly grittier version of the gift stores Disney drops you in at the end of a ride. There are fun things to look at and even cooler things to buy. From the posters on the walls to the books on the shelves, everything feels like it has substance and history.
"It reminds you of when you were a kid," says Reggie Holliday, a computer tech who stops in Heroes two or three times a week.
"Hey Reggie!" Drum says as Holliday walks in, still in his work clothes. He's made the trek on this rainy night because Wednesday is when new comics hit the shelves. Another regular, Matt Hunt, has come for the same reason. He has about a dozen books on hold, including editions of Batman, The Justice League, and Nightwing, all well-known titles in the Heroes world.
Hunt, too, gets a special hello when he dashes in out of the rain. "We work out at the Y together," Drum says. Now thirty-four and living in Charlotte, Hunt has been coming to Heroes since he was a kid, when he would beg his mom to drive him from Lincolnton. "I feel like it's an institution at this point. They treat their customers great, there's a great selection," Hunt says. Holliday adds, "This was just your dream spot growing up. It's got a million comics and toys." He smiles. "Coming here just takes you out of the real world."
"Spider-Man was my number-one comic, my holy grail."
Drum, a father of five and grandfather of six, says that's been the goal since he was twelve and realized he could spin his love of the webbed hero into cash. It was 1967. He latched onto Spider-Man because he could relate to the character's nerdy alter ego, Peter Parker. Drum grins and says, "I got glasses in the seventh grade! Spider-Man was my number-one comic, my holy grail. I loved the art and when I started reading them, I got invested in the characters and the stories.
"I still remember that first issue I owned," he says. "It was the introduction of this scientist villain, the Vulture, and it turned me into a collector." It cost him 12 cents. He got a catalog and realized there were back issues. He wanted them all. He found the first Spider-Man for $7. "A couple of months later, it was $10, and I was like, 'Wait a minute, there's something going on here.' Even my little preteen mind was thinking, 'There's some money to be made here!'" Once he figured out the books came out in series, his future quickly took shape. "I thought it would be really neat to have them all. That's how a collector thinks." That $7 book is now worth up to $100,000, though Drum says his copy wouldn't net that because it's not in mint condition.
At Heroes Aren't Hard to Find, Spider-Man and Dr. Octopus do battle over the racks of comics. The characters double as the city's most entertaining wiring conduits.
Now fifty-eight, with shaggy gray hair and an easy smile, he still wears glasses but gives off more of a laid-back hippie vibe than the nerd look he embraced as a teen. He is on his third marriage and walks to work every day. Drum lives just a block from the store and says he is there, for one reason or another, seven days a week. He has plenty of staff, yet he is often the one behind the building, rolling out the recyclables. One of his daughters is the store manager, and his youngest son travels with him to conventions twice a month. (Always the collector, he says they never leave without buying something.)
"My dad was a hoarder," he says. Growing up in Newton, Drum says he remembers his parents always going to estate sales. "My dad generally liked stuff. They would go to these sales and buy truckloads of tools. He wasn't going to use them, he just thought they were cool." His dad owned a junkyard, knew everything about what he bought and sold, and taught Drum to do the same.
"I guess I envisioned this as a kid," he says gesturing to the store. I really wanted to draw comics but I didn't have any imagination and it frustrated me to no end. I kept drawing until college."
That's when he turned to selling. While at UNC Charlotte he hit the Metrolina flea market every month buying up books, and in 1977 he started the Charlotte MiniCon, a one-day gathering of comics dealers at the Eastland Mall. "The mall was new, bright, and shiny," he says. "We had the show every two months in the community room on the Belk end of the mall. There were twenty dealers and a few hundred people." The first incarnation of his store came three years later, when an unemployed friend convinced him that going into business was a good idea.
"He said, 'Why don't you open a store? I need a job.' I said, 'You're not going to work here.' He said, 'I promise.' Six months later he was gone, but my store was up and running pretty well."
Finding a name for the store took some work. "It took a while to get to it because I was selling comic books for a long time before I opened the store," Drum says. "It was an evolution. I started going through names and nothing ever worked. I was a fan of Fleetwood Mac and they had an album, Heroes Are Hard to Find. And I said, but they're not! They're in the comic books, and they were easy to find because I had them. So that was the connotation: heroes aren't hard to find, they're right here."
Those heroes were for sale on shelves in what was essentially a closet on Central Avenue. "The front door was so tiny you couldn't walk through it carrying a box of comics. You had to turn and walk through," Drum laughs. "I think it was maybe 300 square feet. It was literally the size of what is my counter area now."
Drum opened Heroes in 1980, and it's become one of the best-known comics shops in the country. The store sells 6,500 books a week.
Over the years the store expanded, as did the convention. In 1982, he renamed it Charlotte HeroesCon. Four hundred people came that year. Drum's parents served as the welcoming committee for the industry's top writers, illustrators, and publishers. "Mom and Dad would make sandwiches and have refreshments for them in the hospitality suite," he says.
Illustrator Andy Smith has drawn Captain America, Thor, and Superman while working for Marvel and DC Comics, and he has been a speaker at HeroesCon for the past fifteen years. "Shelton puts together a show that is, at its core, about comics. It's just 100 percent pure," he says. Smith and his wife moved to Charlotte from Florida in 2005, in part because HeroesCon helped him get to know the area, and he and Drum have since become good friends. "A lot of the other shows around the country are about bringing in the actors and actresses that play the superheroes, but Shelton brings in the people that created them."
With one pretty big exception. "Lou Ferrigno has been here several times," Drum says. "In my opinion, he is the Hulk. I like him to be here, and I like him a lot. I consider him a friend." He laughs when recalling the time the two went together to work out at the Dowd YMCA. "It was awesome. People were just, like, staring!"
Over the years, Drum had been keeping his eye on a Seventh Street storefront within walking distance of his house. It had been an A&P Supermarket, and he delights in speculating that original Spider-Man books were probably sold on the grocery store shelves. It was once a dance studio where his little girls took lessons, and a wine shop he and his wife visited. In 2001, thanks to the success of the conventions and the store (combined with a lease dispute), Heroes relocated there from Plaza Midwood.
When he settled on the location for the new Heroes home, it didn't look like much. "The windows were broken, and homeless people were living in it," he says. That was the least of his challenges. It was October 2001, and Drum knew it would take a superhuman effort to make a go of it just a month out from 9/11. "It seemed like no one was going to come back into a store again at that time, and I realized I could close up and do something else, or I could put all my energy into making this place the best it could be, and make it a destination."
"A lot of the other shows around the country are about bringing in the actors and actresses that play the superheroes, but Shelton brings in the people that created them."
"This is one of the destination shops in the country," Harbin says. Because it has everything. Newsstands filled with genre comics and superheroes stretch from the front of the store to the back, and boxes of recent issues are stacked floor to ceiling. Drum estimates more than 150,000 issues from the last ten to fifteen years are in those boxes. And that's just in the store. He also has warehouse space about the same size of the store and several storage units. "The guy just has it all," says Smith. "I love comics. I go on vacation and I'm looking for the nearest comic book store. But I haven't found one like Shelton's."
Drum's reputation is what led three years ago to finding what he still excitedly calls, "the mother lode!" One of the 25,000 people on the store's mailing list was a Savannah man who was dying. "I got an email, which I get all the time, saying, 'I've got some old comics, blah, blah, blah' … but this one was from a woman from here who said, 'My dad is ninety-five years old, we're moving him to assisted living, and he's been collecting comics all his life.'" The family wasn't sure what to do with the collection. "I got right back to them. I thought, ninety-five, really? How long has he been collecting them?
"I made a plan to go down and look at them and found this man had collected every title from every company since the mid-fifties." After days of sifting through original X-Men and other popular titles, Drum counted more than 42,000 comics in all. All in perfect condition.
"It was one of the best collections in the country. It took a year to make the deal." Drum won't say how much he plunked down, but says the best book in the collection later sold for $22,000. Several others sold for five, eight, and twelve thousand a pop. He says the last ten years have been good to him, with the store turning enough of a profit that he can pay his own salary on time.
A collector at heart, he says he's always looking for the next mother lode. "Always! I've got huge signs that say: 'Wanted, old comics and original art. We pay cash!'" And even at the convention he hosts he'll have his own booth set up for just that.