Heroin in Charlotte
Alex Uhler was a straight-A student, an Eagle Scout, and earned a black belt in Taekwondo. And he was a heroin addict. Why are kids like him, from Charlotte's wealthy neighborhoods and good schools, turning to the deadliest drugs?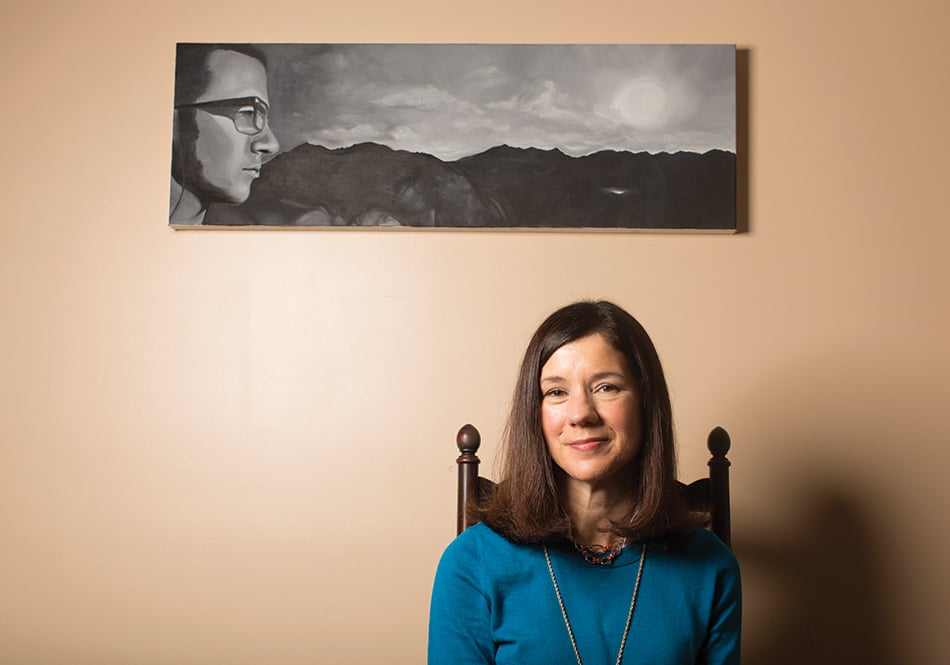 In October 2012, Deanna Uhler drove a U-Haul from Atlanta to Texas to help her parents move. She invited her son, Alex, to come with her, but he was busy with work and school.
Alex was a 21-year-old student at Queens University of Charlotte. He was pre-med, on scholarship. He was also a recovering heroin addict. Deanna, a senior manager for an airline, lived in Costwold and kept a close eye on her son.
That October, he'd been posting photos of naked women, images of nature, and philosophical quotes on his Tumblr page. He seemed to be searching for something. He seemed lonely.
"When we have a genuine experience of emptiness, it actually feels good," he posted on October 7, quoting Buddhist scholar Ponlop Rinpoche. "It's as if we're suddenly freed from our bondage, we feel so good, so much more relaxed and happy."
Five days later, he quoted Kalu Rinpoche, another Buddhist scholar: "We live in illusion and the appearance of things. There is a reality. We are that reality. When you understand this, you see that you are nothing, and being nothing, you are everything. That is all."
Alex's mom left for Texas without him. In Houston, at around 8 p.m. on the night of October 18, she texted Alex to let him know she was boarding a plane back to Charlotte.
"Good," he wrote. "I'm home right now. Love you."
"Love you too."
Deanna arrived in Charlotte late that night and went to sleep. The next morning, she got up early for work. She tried to call Alex afterward, but he didn't answer. It was Friday. She figured he was busy with his job at Selwyn Pub and couldn't take her call.
She went to the office again on Saturday. While she was there, her ex-husband called. "Hey," Brian Uhler said. "Alex's phone's off. I can't get ahold of him."
"Oh, that's weird," Deanna said. "I called him last night and he didn't answer."
It was the afternoon of the 20th, nearly two days since she'd texted with her son. It seemed like a good time to panic.
She left work and drove to Selwyn Pub. "Where's Alex?" she asked the other employees.
"We haven't seen him for two days."
At Alex's apartment, she walked right in. The door was never locked. Moms were always welcome to visit the three college roommates—they had nothing to hide.
One roommate was out of town visiting his parents. The other roommate, Ed, was sitting at a computer when Deanna arrived.
"Where's Alex?"
"Um, I think he's working."
"No, Ed. He's not working."
Deanna saw that Alex's bedroom door was closed. She knocked; there was no answer. She tried the knob; nothing. She pushed, but the door refused to yield.
"Ed, where is Alex?"
He didn't know. He thought he saw Alex that morning.
"Ed, we haven't talked to him in two days," Deanna said. "You need to help me open this door."
He tried the knob. Something neither of them could see—a piece of wood, wedged beneath the knob on the other side— was blocking their entry.
"Ed, get the door open now."
He broke down the door.
***
"As soon as I did it, it felt like I had found what I was looking for. I felt right for the first time in my life."
—female heroin addict, 27
Imagine a substance that feels like a hug. It warms you, quiets your mind, and rocks you gently to sleep. There is just you and this warmth, and the sensation is almost like being loved.
This is the way addicts describe heroin.
"As soon as I did it, it felt like I had found what I was looking for," a 27-year-old female heroin addict from south Charlotte said in a recent interview. "I felt right for the first time in my life."
Alex Uhler grew up in era when America began treating pain like a curable affliction. Depressed? There's a pill for that. Trouble sleeping? Take Ambien. Anxious? Have a Xanax. Aching back? Here's a Percocet.
"We have created a societal culture that is, quite frankly, not holistic," says Paul Friday, a criminologist at UNC Charlotte who has studied local drug use for years. "It is a culture that will use substances to solve our problems."
The leap between popping pain pills and using heroin is not a big one. Like heroin, prescription painkillers such as OxyContin, Percocet, and Vicodin are all opiates. In the past few years, as states began cracking down on "pill mills" and the practice of "doctor shopping" for prescriptions, painkillers became more expensive and harder to obtain. Some addicts began switching to heroin. "The epidemic use or abuse of pharmaceuticals created generations of opiate addicts," says Drug Enforcement Agency agent Jeff Ferris, supervisor of a high-intensity drug trafficking area in Charlotte.
Nationwide, the number of people abusing or dependent on heroin has more than doubled in the past decade, according to the National Survey on Drug Use and Health. In the metro area covered by the Charlotte-Mecklenburg police, heroin overdoses (including those that were not fatal) more than doubled in two years. There were 32 overdoses in 2011, 55 in 2012, and 73 in 2013, says CMPD Lt. Nathan King. Of those 73 overdoses, at least 15 were fatal. Reid Fliehr, the 25-year-old son of famous wrestler Ric Flair, died after overdosing on a deadly cocktail of heroin and prescription drugs last March.
Many people struggling to kick their addiction look much like Alex Uhler: white kids from good neighborhoods. The drug is on an "upswing" in south Charlotte, Ferris says. Bob Martin, director of the Mercy Horizons substance abuse treatment center, did a study of his heroin clients' zip codes. He found that they came from the city's most well-off areas: Mint Hill, Matthews, Ballantyne, Raintree. They include lawyers, nurses, and other young professionals. The typical patient is white and upper-middle class.
***
Alex Uhler grew up in a small town in Texas. His mom stayed home to care for him, her first born, and in many ways, he was a model son. Kind and gentle, Alex was a straight-A student and an Eagle Scout. He played piano and tenor sax, earned a black belt in Taekwondo, and won an IronKids Triathlon using a bike he found at a garage sale. The one thing he couldn't do was sit still. He was always moving, always active.
"You think, if I keep 'em real involved, and I keep 'em real busy, they won't get into drugs," Deanna Uhler says. "That didn't happen."
Starting when he was very young, Alex had trouble falling asleep. His parents would sit with him and stroke his hair, but he couldn't shut off his mind. He declared in second grade that he wanted to be a microbiologist; his mind was a formidable force.
The Uhlers ate dinner together and took family trips together—Alex, his younger sister, Deanna, and Brian. They visited the FBI Academy, went skiing and hiking. Their family photos looked like postcards: petite, gentle Deanna with her long, dark hair; a grinning son and daughter; and proud police officer husband.
Around 2004 and 2005, Deanna and Brian Uhler had trouble in their marriage. "We never let the kids know we had any problems, but we ended up getting divorced," Deanna says.
Newly single and in need of a job, Deanna went to work for an airline that transferred her to southern California, so she moved with Alex and his younger sister to the West Coast.
"I regret every minute of that," she says now. Alex was in high school. Forced to make new friends, he fell in with people who turned out to be less than perfect. Deanna never saw Alex drunk or stoned. By the time she discovered he was into drugs, she says, "he was using strong stuff."
Emotionally, Alex's habit was to tell his family that he was fine. He never wanted to hurt anyone, or display weakness. "He kept it all in," Deanna says. "I don't think he wanted it to show."
When Alex was younger, his dad had undergone several surgeries, so he'd grown up around pain medication. It's possible Alex swiped some of the pills and started experimenting. Deanna is only guessing, because sedatives appeared to be his drug of choice.
When he was around 16 or 17, Alex moved out of Deanna's house to live with friends from school. Six weeks later, he called asking for help. "Mom, I need you to take me to the hospital. I can't go to the bathroom," she remembers him saying.
In the emergency room, a doctor told Deanna that her teenage son couldn't use the bathroom because he had opiates in his system. She didn't know what that meant. "I had no idea that 'opiates' was heroin," she says now.
She thought opiates were pain medicine, which they can be. Alex told her that he had been taking pain pills because he couldn't sleep and his back hurt. She left the hospital feeling overwhelmed and confused. Nobody warned her that Alex might be lying. "No one said, 'Your son has a problem. If you don't take care of it now, he's gonna die.' "
This was 2007, in the middle of the decade when prescription painkiller abuse was exploding across the country. By 2012, 2.1 million people abused or were dependent on painkillers—second only to the 4.3 million marijuana abusers, according to the National Survey on Drug Use and Health. Many people crush or snort opioid pills before switching to heroin. Nearly half of young heroin users surveyed in three recent studies said they abused prescription pills first.
Convinced that Alex needed to get away from a place where drugs were easily accessible, Deanna sent him to live with his dad, who was a police captain in San Francisco. His dad soon discovered Alex was using heroin and kicked him out of the house. "It was kind of like a tough love thing: You will not do these drugs in our home," Deanna says.
But Deanna couldn't handle the idea of her son being homeless. The Uhlers found Alex a place to live in Oakland, and then put him into treatment. It wasn't easy. Alex still didn't think he had a problem, and most treatment facilities didn't want to accept a heroin addict who was not yet 18. His parents enrolled him in an adolescent rehab facility. He stayed about two weeks before he was asked to leave. If he didn't want to be clean, the counselors told Deanna, they couldn't help him.
Finally, the Uhlers found an adult facility that worked. When Alex finished his treatment, he gave his mom a necklace with a handwritten note. "Thank you for helping me through thick and thin," he wrote.
Deanna had been transferred to New Hampshire for work, and Alex followed her there. (His sister stayed in California with their dad.) Alex enrolled in community college and thrived. Professors and students loved him so much that they made him a maroon cape that said "Super Alex."
Then Deanna's job situation shifted again. She was offered a position in Charlotte, and Alex came with her to look at schools. Queens was his top choice. After reviewing his grades and glowing recommendations from professors, the university offered him a scholarship, and he enrolled in a pre-med program. When his mom was transferred to Las Vegas, he moved in with some roommates in Myers Park.
Alex hid his addiction, even from close friends. To them, he was an extraordinarily smart, funny kid. He became a founding member of the Phi Kappa Sigma fraternity at Queens and landed a job bartending at Selwyn Pub.
Dustin Harris, one of his roommates and a frat brother, says the two of them did what best friends in college do. They drank a lot. They hung out with girls. They once swiped a cardboard cutout from a bartenders' ball and ran around with it uptown. When Alex needed to dispose of his fish tank, they found a law office with an outdoor fishing pond, snuck in, deposited the fish, and left. They never got caught.
"I thought I was pretty intelligent until I met him," Harris says.
He remembers Alex doing chemistry experiments in his basement, creating soap, making dyes. Alex loved reading so much that he bought a special magnet and used it to deactivate the bar codes on library books, so he wouldn't have to worry about checking them in and out. Alex didn't talk about the past, and for a long time Harris didn't know he had a problem with heroin. Until he overdosed.
***
Buying heroin in Charlotte is similar to ordering a pizza. Phone numbers of dispatchers float around the city. For an eager customer, dealers are easy to find. Call the number, place an order, and the dispatcher will instruct you to drive to a safe, public place—a mall parking lot, a suburban cul-de-sac. The park behind the Arboretum was once a popular place to buy. A runner—not the person who took the order—meets the buyer, and they can complete the deal window to window, without ever leaving their cars.
Much of the heroin being sold here is called black-tar heroin, named for its sticky, gooey consistency and dark brown color, which can resemble brown sugar or a Tootsie Roll. Its production is overseen primarily by Mexican drug cartels, DEA agent Ferris says. Black tar is a crude, unrefined version of the drug. To make white powder heroin, opium is converted to morphine and then to heroin. When making black tar, manufacturers leave out a refining step, and leave in many impurities. This means the drug is cheaper, but full of bacteria and other dangers.
At any given time in Charlotte, there can be 10 to 15 trafficking "cells" receiving heroin from the cartels, Ferris says. Members of the cells process the drug, dilute it to increase their yield, roll it in plastic, and wrap it in tiny, brightly colored latex balloons containing anywhere from one-tenth of a gram to a full gram. Runners and dispatchers travel to Charlotte primarily from Mexico. They are often quiet men in their 20s who may sell for an average of a year at a time. If they are not arrested, they go back home, Ferris says, although some return to America to be promoted through the ranks of the drug-dealing organization. To the cartels, runners and dispatchers are interchangeable and dispensable. Hundreds may be arrested, but they are quickly replaced.
The cartels are taking advantage of a business opportunity. Mecklenburg County has roughly a million people with little gang competition. There's plenty of disposable income, and an established base of people already addicted to opiates. In Charlotte, one-tenth of a gram of heroin now costs as little as $10, while a similar hit of OxyContin costs $80.
From Pineville to the university area and up into the Lake Norman area, heroin use is spreading, says Lt. King of CMPD. It's so popular that there are now plenty of resellers—people who are two or three connections removed from the original Mexican or South American dealers. Unlike cocaine or marijuana dealers, who run lucrative businesses without using the product, these heroin "resale" dealers are often just breaking even, selling enough to support their own habits. This is especially true in northern suburbs such as Mooresville and Lake Norman. "I don't know if we have ever arrested anyone for selling heroin that didn't use it," says Captain Clarence Harris of the narcotics division of the Iredell County Sheriff's Office.
Charlotte-Mecklenburg police officers have seen teenagers as young as 14 or 16 years old getting hooked. They have also seen more heroin users getting involved in property crimes. CMPD made 171 arrests for possession or sale of heroin in 2012, and 235 in 2013. Recent arrests included two teenagers from Raintree and Ballantyne, accused of dealing heroin from one of their homes.
Alex Uhler bought his heroin from Brian Lambert, a 24-year-old Charlotte resident and convicted felon.
***
On July 10, 2012, the summer before Alex's third year at Queens, his roommate, Harris, came home from the gym to find Alex passed out. He called Alex's sister, who called her dad. Brian Uhler, on the phone from South Lake Tahoe, shouted instructions to call 911. Alex was limp and wheezing, barely breathing. Harris, along with two other friends, lifted him onto a surfboard and drove him to the emergency room. Later, Alex would tell his mom about a Bloody Mary and a Xanax and heroin he didn't remember buying.
"Mom, I can't sleep," he told Deanna when she visited him in the hospital. "Heroin is the only thing that lets me sleep. … It's like being in a warm place. Everything just calms down and I can rest."
The hospital didn't provide any resources for recovery, Deanna says. She arranged for Alex to see a hospital psychiatrist, who recommended a support group for addicts who were professionals: lawyers, nurses, people Alex could relate to on an intellectual level. He also referred Alex to another doctor, but that person was not accepting new patients. And the Uhlers never could find the support group.
Even if Alex wanted to stop using heroin, his body could be working against him.
Yet Alex insisted he could handle his addiction. In the weeks following his overdose, he said the experience had been a wake-up call. "I'm doing fine, I'm doing great," Deanna remembers him saying. "I almost died. I don't want to die."
Of course, Deanna worried. Even if Alex wanted to stop using heroin, his body could be working against him. The drug is incredibly physically addictive. After daily use for two or three weeks, a user can develop skin-crawling, nauseating, aching withdrawal symptoms, says Kathleen Kane-Willis, director of the Illinois Consortium on Drug Policy at Roosevelt University in Chicago. Without heroin, an addict can't sleep. He can't sit still. He needs the drug to avoid getting physically sick. It's not about choice anymore; it's about craving.
It may also be a form of self-medication. It is "very, very common" for young, suburban heroin users to have a mental illness before they begin abusing the drug, Kane-Willis says. They may have depression, ADHD, or what she calls "sensation-seeking." Some have experienced trauma or suffer from a bipolar disorder; others feel alienated and alone. Heroin eases their pain better than any other drug.
After Alex's overdose in July, Deanna transferred back to Charlotte from Las Vegas. She was back in town by Labor Day. She rented a house in the Cotswold area that had a spare bedroom and bathroom downstairs. Her plan was to have Alex come live with her again, so she could be his support system.
Meanwhile, she was constantly checking with his roommates and friends to make sure he was OK. They thought he was fine. He was hanging out with Harris, and with a girl. He had stopped drinking and doing any kind of drugs, except for an occasional beer or glass of wine, Harris says.
On the night of October 18, 2012, Deanna was in the Houston airport, and Harris went to bed before Alex got home. When he woke up, he saw that Alex's bedroom door was closed. Alex usually closed the door when he wasn't home, so Harris assumed his friend was not inside. He left to spend the weekend with his parents. Ed, the third roommate, was still home, sitting at his computer when Deanna Uhler arrived and demanded help opening Alex's door.
***
The coroner estimated that Alex had been dead for 24 to 30 hours. Deanna and Ed found him lying facedown in bed, as if he were asleep.
For a full month afterward, his dealer continued to text and call his cell phone, three to five times a day. As far as Deanna could tell, her son contacted the dealer only twice: in July, when he overdosed, and in October, when he died.
Last year the dealer, Lambert, was arrested in Gaston County and charged with conspiracy to deliver or sell a Schedule 1 substance. Deanna went to every court hearing. She made a victim's impact statement. Lambert was sentenced to 30 months of probation.
Deanna was never embarrassed for her son. She was proud of him, and is one of the rare family members of heroin addicts eager to tell her story. "If I can touch one person," she says, "then I've made a difference."
***
To mark the first anniversary of Alex's death, Deanna organized a vigil at Queens. The event was designed to raise awareness about the problem of prescription painkiller and heroin abuse, but it was also a chance to grieve for Alex.
A few dozen people gathered in the opulent room at Burwell Hall. There were glittering chandeliers on the ceiling, oil paintings on the walls, a plush carpet underfoot. One of Alex's fraternity brothers served as master of ceremonies. Harris was in the crowd.
Jeff Ferris, the DEA agent, was one of the first speakers. He wore a suit and tie, the universal uniform of cops delivering bad news. "Heroin addiction is a growing problem in Charlotte," he said. By purifying black-tar heroin enough that it can be smoked, dealers have made it more accessible, and less intimidating to first-time users. Kids in Charlotte-Mecklenburg Schools are trying it. There's no way cops can solve this problem by arresting bad guys. "We must stem the
demand for these drugs," he said.
Deanna was next at the podium. She looked tiny as ever, her long hair shining, her makeup tasteful. The photo she displayed, the one she likes to show people, was of Alex on Mt. Tallac, near Lake Tahoe. He hiked there with his dad after his overdose in July 2012. The Uhlers scattered his ashes there when he died.
"Alex was very ashamed of his addiction," Deanna said, her voice wobbling. "He did an amazing job concealing it. "If it can happen to my son, it can happen to your son. … I thought my family was too good. I thought I had done everything right."
Women in the back row of seats wiped away tears.
After a song, and more tears, the group shuffled outside into the dusk. Gray clouds hung heavily in a purple sky.
The crowd formed a semicircle around a fountain, with Deanna Uhler in the middle. They held candles, passing the flame silently from one person to the next. Queens University Chaplain Diane Mowrey gave a brief speech to end the ceremony.
"We carry the candles into the darkness, and the darkness will not overcome us," she said.
The murmur of the fountain filled the quiet. Deanna blew out her candle. Around her, small flames began to disappear.
Lisa Rab is an associate editor for this magazine. Reach her at lisa.rab@charlottemagazine.com or on Twitter at @lisayrab.
---
What's happening to the kids?
Heroin hits high school-age teenagers in Ballantyne
In September 2013, Charlotte-Mecklenburg police officers arrested two teenagers for selling black-tar heroin from a house in south Charlotte.
According to the allegations outlined in court records, a 17-year-old former Ardrey Kell High School student was dealing from his house in the Raintree development. He worked with an 18-year-old girl who had recently graduated from Ardrey Kell and lived in Ballantyne.
Detectives found 29.3 grams of heroin in the boy's single-story ranch home. He now faces 16 drug-related charges, including one that could lead to 18 to 23 years in prison. The girl faces nine drug charges. Both were free on bond and scheduled for trials in mid-February, after this article went to press.
One afternoon last fall, a printout of the boy's mug shot sat on the desk of J.C. Herrera, the longtime school resource officer at Ardrey Kell. He remembers the alleged dealer, who attended the school for ninth and tenth grades, as a quiet kid. "He didn't do that here," Herrera says, referring to drugs. "He's quiet." Herrera says the girl, who moved to Charlotte from Florida, attended Ardrey Kell for only one year before graduating.
Students are now hearing rumors about the boy's possible prison term, and they're scared, Herrera says. "They're starting to get the magnitude of it."
Very little drug education is required in Charlotte-Mecklenburg high schools—just one semester of health for all four years. "That's part of the problem," says Deb Kaclik, director of arts, health, physical education, and pre-K-12 curriculum support programs for CMS.
At Ardrey Kell, Herrera teaches classes in health and law. He focuses on what he calls the "liability" of drugs. How much time would you get if you're arrested and convicted? If you throw a party at your house and serve alcohol, will your parents get sued?
Kathleen Kane-Willis, director of the Illinois Consortium on Drug Policy at Roosevelt University in Chicago, recommends giving kids specific information about the consequences of individual drugs. Teenagers often don't know how easily or quickly they can develop an addiction to heroin. Living in a wealthy neighborhood or attending good schools won't protect them, either. Studies have shown that "more disposable income, more money in allowance leads to more drug use," Kane-Willis says.
Last June, Lt. Nathan King of the Charlotte-Mecklenburg Police Department's south Charlotte division began gathering data about the city's heroin problem. In October, his team spoke to staffers at Ardrey Kell. They were trained to look for telltale signs of abuse—needles, foil, pieces of brightly colored balloons. They were warned about dealers targeting vulnerable kids. "We're starting to see predatory sellers that are trying to get new clients," King says.
His team has trained school nurses to look for track marks on students' arms, and to keep a close eye on kids who are taking prescription painkillers.
His goal is to reach the kids who are still experimenting with heroin, snorting or smoking it, but haven't started injecting it. If they become addicted, the problem becomes infinitely harder to solve.
"No one talks about heroin," King says. "You barely have the conversation going on within society, let alone with the schools." —L.R.