High Cotton
Designing friends turn a Highland Mill loft into a stylish home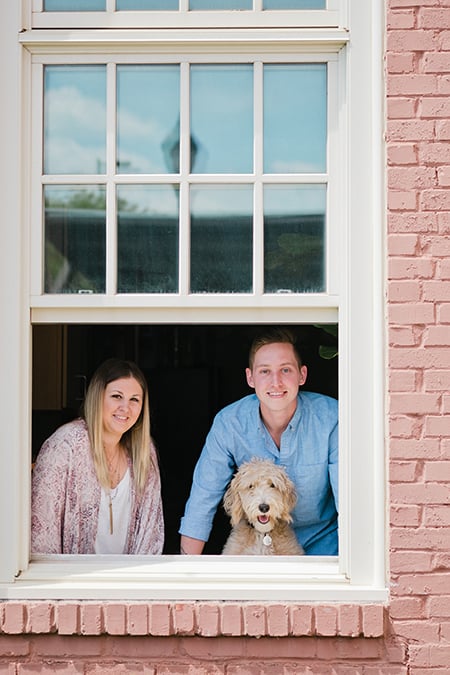 IT'S MONDAY MORNING, dark, and a 12-hour workday is about to begin at the largest cotton mill in North Carolina. Eight hundred men, women, and children stream through the doors of Highland No. 3, a sprawling brick complex just north of Charlotte on the Southern Railroad mainline. It's not yet 6 a.m.
The drawing-in girls swish by, their long skirts brushing across wooden floors. Soon they'll be lacing threads into looms. They're making the best money in the biggest room in the plant; the Weave Room is 150 yards—a football field and a half long. Earning six dollars a week is not bad in 1904.
Sugar is four cents a pound and coffee is 15; housing is less than a dollar-fifty a week. They're glad to have a job at the new mill.
Fast forward to more than a century later: Hundreds of people are once again streaming into Highland No. 3, but for different reasons. Some come for a frosty craft beer at Heist Brewery on North Davidson Street. Others, like designers Caitlin Burton and Chuck Horne, come home to a hip apartment at Highland Mill Lofts. The old mill, which sat vacant for decades, was renovated nine years ago and now has 155 units.
"We liked the loft feel and the character, the history," says Horne, 24. He and Burton met when they worked together at Restoration Hardware a couple of years ago—he worked upstairs in stock and she, having recently arrived in Charlotte, worked the floor. Soon, they became roommates in the Briarcreek-Woodland neighborhood, just southeast of Plaza Midwood.
They wanted to be closer to the heart of a neighborhood and began entertaining the idea of moving to NoDa, the arts district along North Davidson Street. They drove to the Highland Mill Lofts and parked. "Let's walk up to the restaurants and bars, and let's see how we enjoy doing this," Horne said. It didn't take long to figure out this was where they belonged. Artists, craft breweries, intimate performance venues such as the Evening Muse, dogs, a coffee bar named Smelly Cat … the decision was made. "Without seeing the unit that we live in—we couldn't see it until move-in day—we signed our lease. We didn't know square footage, bedroom layout, anything," Horne says. "We loved it."
Although the unit is 883 square feet, it's enough space for two bedrooms joined by a hall. Burton's is light and airy, with a line of gray and mauve geometric shapes painted across white walls. Her metal bed, chests of drawers in both natural wood and gray, and deep green armchair create a comfortable setting. Petite and warm, Burton, 25, has known since high school that she would be a designer. "I knew I wanted to do something creative—I had that in me. I was a dancer growing up," she says. She visited Charlotte for dance competitions from her home in Virginia and eventually returned for a design internship with Anne Ferree. After earning an interior design degree from Virginia Tech, she moved to Charlotte and soon met Horne. She now works at Reinvented Charlotte in NoDa, staging and managing the upholstery line.
Horne's room is whimsical, with moody dark blue walls, architectural prints, and a small Chippendale-style mirror. The somber mood is broken by a Caribbean-blue chest of drawers and a Kelly-green bike, hung like wall art. Tall and lean with sky-blue eyes, Horne has an aesthetic that's both sensible and playful, a talent he puts to good use as director of visuals for High Cotton Home and The Furniture Connector in South End.
Like the bedrooms, the living room is eclectic yet inviting. Here the two friends are at their best, and the room shows their strengths. Bright colors are tamed by white walls that soar to a 24-foot ceiling, and dramatic touches of black and white add sophisticated restraint. Plants, homemade art, and quirky finds infuse the space with a youthful tone. Burton painted a pair of circle paintings as a birthday gift to Horne, and Horne created the large black-and-white painting in the center of the room with a kitchen spatula.
Standard furnishings, like a Mitchell Gold + Bob Williams gray leather sofa, are paired with reinvented pieces, like a vintage Asian chest painted emerald green. Since the two specialize in arranging furniture and accessories for stores and clients, their attention to detail is meticulous. The table by the 15-foot window is transformed into a vignette; Horne framed the space with wallpaper and then hung an oversized Restoration Hardware wall clock. Plenty of light floods in from the south-facing window, and the room is fresh with large, potted fig trees, cut flowers, flowering branches, and huge pottery bowls of moss and plants.
They feel lucky to have a spot that feels like home. Here in the old mill, where machines once cleaned cotton, fibers were spun into threads, and drawing-in girls set up looms, something new is underway. The fabric of a new generation is being woven at Highland No. 3.