High Performance: Giordana Andretta
With a clothing line named in her honor, Giordana Andretta cycles in style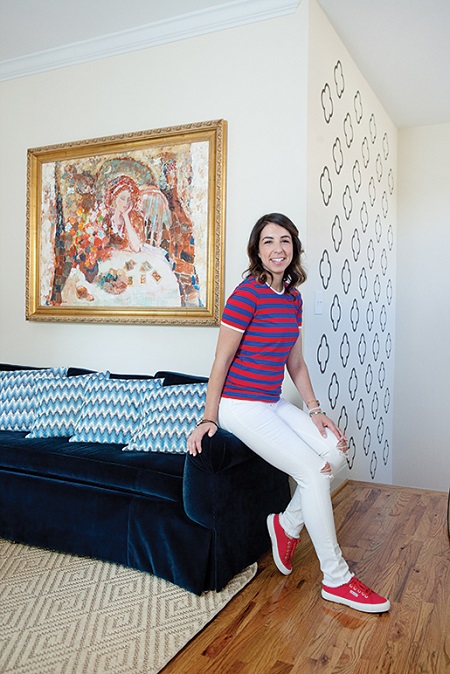 IF THE ITALIAN BIKE whizzing by your car on Queens Road West looks like something in this month's Tour de France, it may be Giordana Andretta on her carbon-frame Pinarello. Her family's wholesale distribution company, Gita Sporting Goods, has been the sole American importer of Pinarello for decades.
Friendly and laid-back, Andretta is a regular on the Booty Loop, the hilly Myers Park running and biking route near her townhome. "Charlotte is so beautiful, so clean; I love the trees, the canopy," she says.
She grew up in Tega Cay, the first child of an Italian dad and a Canadian mom who now live in Piper Glen. To celebrate her birth, her dad created a high-end line of Italian-made clothing for cyclists and named it Giordana.
Thirty-five years later, the sleek collections are still made in Italy, distributed all over the world from Gita's Charlotte headquarters.
As sales manager for Gita, Andretta expects to be in Italy this month with clients. She'll be taking them to a Gran Fondo—a challenging, long-distance bike ride that may top a hundred miles through the Veneto region of northern Italy.
Does Charlotte feel provincial after so many trips to Italy? She doesn't think so. "We're still a young, new city," she explains. "I love traveling—obviously—but everything's coming to us: new people from all over the world, all over the country. That's exciting."
---
BRACELETS // Casual bracelets of shells and wooden beads dress up a summer outfit. Andretta mixes and matches from Twine & Twig; the bracelet with brown beads is by Boho Beads of Raleigh.
---
VINTAGE // Designer Allan Chapman put a modernist spin on Andretta's home, upholstering hand-medown sofas in blue velvet. Andretta found the vintage avocado phone at Sleepy Poet.
---
GIORDANA JERSEY // The eponymous "Arts" tank is designed to fit a woman in the cycling position. Made in Italy, it has a reflective strip on the rear pocket.
---
ART // A Shepard Fairey print of Burmese opposition leader Aung San Suu Kyi is one of many striking pieces in Andretta's home. She also has paintings by her mother and brother, a lithograph by Japanese artist Takashi Murakami, and a large Hua painting.
---

GIORDANA CYCLING APPAREL
MODIFY WATCH // This San Francisco ambiwatch (for men or women) offers multiple looks with pop-in faces. The one shown here is a custom design, given to top fundraisers for 24 Hours of Booty, the annual Myers Park bike ride held in July. Andretta is on the board for the event.