His Life's Mission
From an orphan in South Korea to a missionary in Haiti, Kevin Wright never dreamed his path would guide him to Charlotte's Myers Park United Methodist Church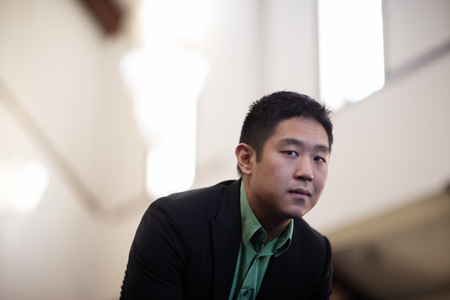 As A young missionAry in 2008, Kevin Wright was hoping God would be on his side. Wright was one of two men Myers Park United Methodist Church was sending to Haiti after Hurricane Gustav had nearly flattened the small island country. Wright stuffed $6,000 in cash into a Panera Bread bag full of poppy seeds and crumbs to ensure the money made it past Haitian customs and any potential thieves. An aid group used the cash to hire a helicopter to deliver a four-ton food drop to a village devastated by the hurricane.
"I wouldn't want everyone to experience this because it's extremely stressful, but there are moments when you just have to sit back and laugh at the absurdity of it all," says Wright, twenty-six. "It's a delightful absurdity that you get to be a part of this adventure."
It's an adventure that allows him to travel the world helping those in need. As the church's minister of missions since June 2008 he has traveled to Liberia, Romania, Costa Rica, and Haiti. He was in Haiti when the recent earthquake struck, and he's planning to return with a school bus full of supplies.
"I see myself as one of them," he says of the people he helps. "They're basically starving to death, and I see the faces and I realize that could have been me."
Wright's birth mother, who was seventeen when he was born, abandoned him in a South Korean hospital. He never knew his birth father. A Chicago Wesleyan minister and his teacher wife adopted him out of an orphanage. The youngest of four kids — two others were also adopted — Wright says his parents made sure he grew up in a diverse community. "We had a population of Nigerians, Latinos. … Growing up in that context you learn to appreciate diversity and the flavor it brings." Wright's parents also instilled the idea of loving thy neighbor. "If someone's sick, you bring them a casserole. If someone needs a ride, you give it to them. How can you be around that and that not rub off on you?"
His minister father also taught him to love God, and soon after high school Wright found himself studying biblical literature and religion at Indiana Wesleyan University followed by Duke Divinity School. Just before his May 2008 graduation, Wright received a call from Myers Park United Methodist asking him to join its parish as minister of missions. One of Wright's professors had recommended him. "I had another job offer to work in a church in Detroit working with young adults," he says. "This church was not even on my radar until I got that e-mail. It was a game changer for me."
Wright, who also works closely with Charlotte's Urban Ministry, looks more like the hip teacher's assistant you liked to hang out with in college. His office is decorated with things from his travels: mostly pictures of the kids he has met or thank-yous they have sent him. It's only when you catch a glimpse of his white minister's robe hanging on the back of the door that you remember Wright's true career path.
When the earthquake hit Haiti on January 12, Wright was in the mountains of Bayonnais, one of the poorest parts of the country, working at a clinic. More than a hundred miles away from the quake's epicenter in Port Au Prince, he didn't feel the tremors in the physical sense, but in the hours that would follow he felt the pain of a nation collapsing. He says it's a testament to the people of Haiti that despite all their personal losses, the Haitian minister he was staying with worried first about getting Wright and his eleven-man mission team home.
"These are people who had just lost family members, their food supply was incredibly uncertain, they didn't know when the next time was they'd be able to purchase fuel, and they were willing to say, 'We have to get you out of here because we know your families are worried about you.' That sort of self- sacrifice speaks to me on a level that is indescribable."
Weeks after the earthquake, Wright traveled back to the once-quiet mountains of Bayonnais, now home to more than 100,000 earthquake survivors. The church had wired cash ahead of Wright's visit. Now the congregation is working to fill something much bigger than a Panera Bread bag: a school bus full of supplies. Wright says the need is greater than ever, and he's already planned his next trip,
which will be in a few weeks. There is work to be done. There are kids who need him.