History Lesson
Notes on vintage wedding dress shopping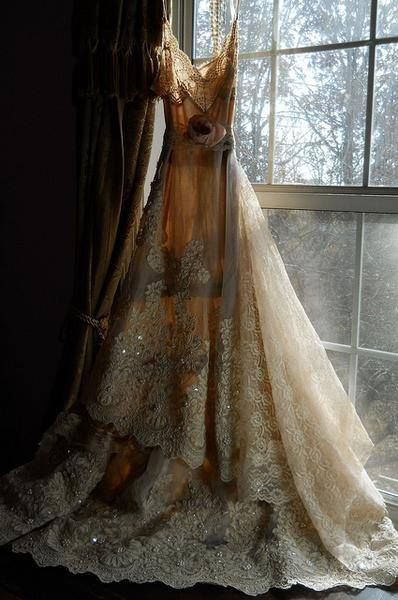 There is something to be said for a gown that's truly one-of-a-kind. The most sought-after frocks of the season can be spotted all over Pinterest and in the dressing suites of countless brides. But the distinction inherent to vintage gowns and the mysterious appeal of a long-lost love story behind each one–it seems unequivocally romantic. So should you choose to seek out a vintage dress to don for 'I do,' or keep it in the shopping mix, there are a few things every retail savvy bride should keep in mind before hitting the stores.
Beauty in the Breakdown. A vintage gown is precisely that–vintage. Bits of discoloration, stains or frayed hems come with the territory. While some flaws can be fixed, others may not. For flaws that can't be masked, either work around them or ditch the dress. Consider giving a discolored hem an ombré dye job, for instance. Imperfections can be beautiful. Be sure to have your tailor be brutally honest about the fabric's durability. If you're working with 100-year old lace, it's going to be questionable.
Bone Structure. Vintage dress shopping requires a creative eye. You'll have to look past dated necklines or dowdy sleeves. All of these features can be changed by a tailor. A dress with impeccable lacework or hand-sewn pleats shouldn't be discounted simply for its silhouette. Though you may pay a pretty penny in alterations, you'll likely be saving a great deal on the initial cost of the gown. Look for dresses with "good bones."
Sizing up the Situation. Keep in mind, should you be ordering the dress online, that vintage gowns tend to run small. Though it may be in your best interest to order larger, a dress that is much too large can be very costly in alteration fees. A good tailor is always key when shopping vintage. He or she will be able to add boning, built-in bras, remove or replace lining, and even add length. Closures and zippers can easily be changed as well.
Penny For Your Thoughts. Be sure to find out from the shop owner or website what the return policy entails. Many vintage dresses are final sale. That said, you must be meticulous in your examination of flaws, rips and stains. For a dress found in a local boutique, you may be able to persuade the owner to let you take it to a tailor to discuss the logistics of alterations. But before you take too much time deciding whether or not to say 'yes' to the dress, don't forget that vintage dresses can't be duplicated. Don't let a dress you love fly off the rack with another bride while you're still deciding.