Hogwild for Livermush
One of the South's best foods is underappreciated. That needs to change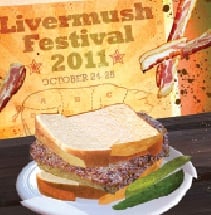 Whoever named livermush wasn't looking to do the meat any favors. And yes, the grainy, brown loaf doesn't look particularly appetizing. And then there's the little issue of its aroma, which is reminiscent of an old sock. But one bite of the stuff known as "poor man's pâté" and you may rethink any negative feelings you had toward eating something with mush in the name—and with "head parts" listed in the ingredients.
Full disclosure: I grew up in Shelby, home of livermush, and, more importantly, home of the annual Livermush Exposition. I spent high school frequenting a place called Beefy's, where I purchased 99-cent deep-fried livermush sandwiches. I almost lost a college roommate because of my insistence that despite its stench it was perfectly acceptable for me to prepare livermush in the microwave in our eight-by-ten dorm room. I was born and bred to be a livermush advocate.
Truth be told, my early years at the expo were less about eating pigs and more about my desire to adopt them. A local potbellied pig farmer would bring his livestock to the expo specifically with gullible—and obnoxiously insistent—kids like me in mind. And so I spent the majority of my festival time petting the pigs and loudly demanding that my parents allow me to have one as a pet. In retrospect, hanging out with swine at a festival dedicated to eating pigs is a little strange, but when you're at an event where they're selling shirts with "Got Mush?" slogans, strange is relative.
The next year I walked past my ex-potbelly pals and headed to the livermush booths. If you can't befriend them, eat them.
Then, one year one of the pigs bit me, and I decided that maybe I wasn't so interested in the furry little fatties after all. My parents acted concerned ("Sure hope she doesn't have some swine disease"), but I think secretly they were glad to see the annual begging end. The next year I walked past my ex-potbelly pals and headed to the livermush booths. If you can't befriend them, eat them. And with the possible exception of bacon, I'm of the opinion that there's no better way to eat pork than in livermush, a product composed of pig liver, head parts, and cornmeal and seasoned with black pepper and sage. That year I tried my first livermush sandwich and realized all I'd been missing—the rich flavor of pork liver, a crispy golden brown exterior yielding to a polenta-like texture inside, and enough cholesterol to necessitate a postlunch trip to the cardiologist.
To some, livermush is simply the best way to improve on the leftover parts of a pig after the good stuff has been taken. But I believe there's more to it than that. The dish is said to have become popular in rural North Carolina during the Civil War, when desperation drove locals to take advantage of anything edible. It's not something you're likely to find outside the state—or even beyond this region of the state. You won't find it in white-tablecloth restaurants or upscale cookbooks. The best livermush is sold in off-the-beaten-path country stores and kitchens. It's the adventure and history behind livermush that gives it that tasty flavor. Well, that and the fact that just about anything can taste good if it's mixed with cornmeal and dropped in hot oil.
Around Charlotte you can find your poor man's pâté at several of the country kitchens in our feature on page 52, but for the best version you'll have to wait until the expo in October. Because if you're going to eat deep-fried mush, there's no better place to get it than from the back of a truck on a small-town court square, with barnyard animals in attendance.