HOLIDAY RECIPE: Braised Short Ribs with Root Vegetable Rosti
The long cooking time will infuse the meat with flavor, and the delicious smells will permeate your kitchen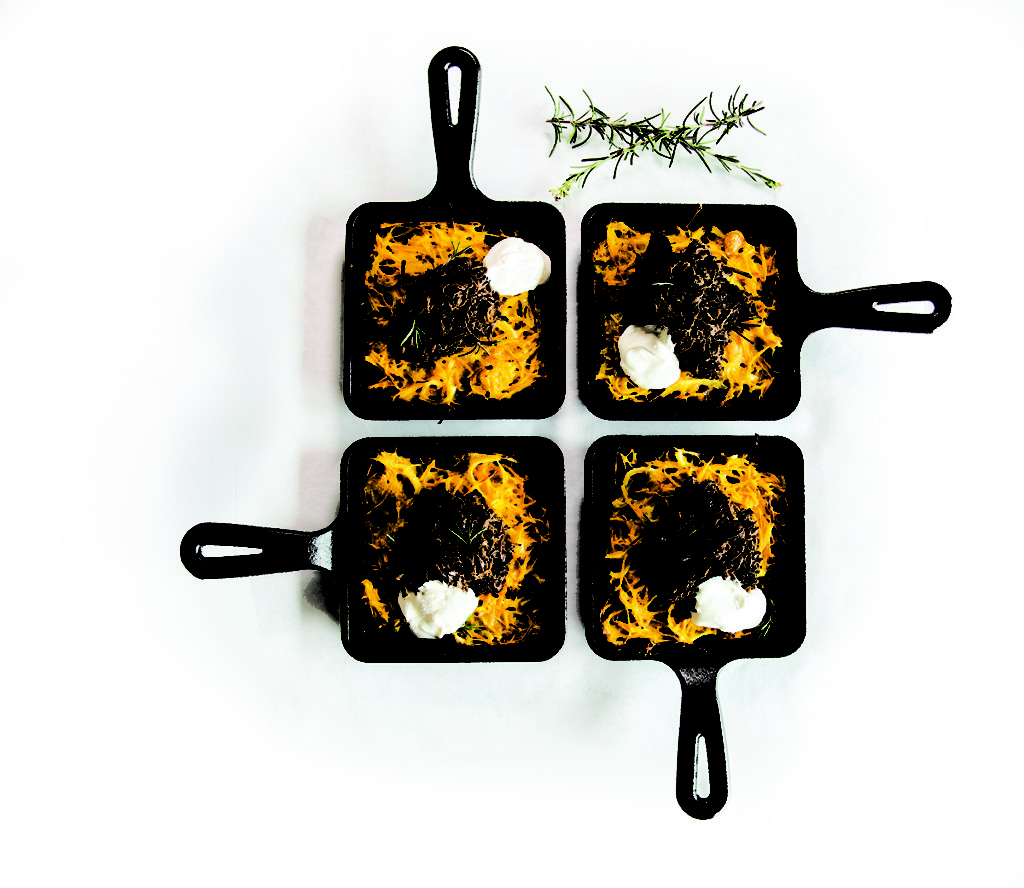 Braised Short Ribs with Root Vegetable Rosti
Serves 8 to 12
Ribs:
3 pounds boneless short ribs
2 tablespoons dark roast coffee grounds
1 ½ teaspoons salt
1 teaspoon smoked paprika
1 teaspoon garlic powder
1 teaspoon onion powder
½ teaspoon cayenne pepper
1 cup beef stock
1 tablespoon unsalted butter
Kosher salt, to taste
1. Combine coffee, salt, and spices and rub onto short ribs.
2. Wrap short ribs tightly in plastic wrap and leave in refrigerator for a minimum of six hours, or up to 12.
3. Preheat oven to 325°F.
4. Place short ribs in a roasting pan and pour in beef stock. Cover and cook for three hours before checking to see if they're done. They can take up to five hours to become pull-apart tender.
5. Once ready, remove short ribs from the oven and allow them to cook for about 20 minutes in the liquid. Then remove from the pan to cool down. Once cool, shred the meat with a fork.
6. Meanwhile, simmer the cooking liquid. Skim off any excess oil from the top. Once thickened, turn off the heat and add butter, then return the short ribs to the sauce. Season with salt and pepper and serve over the root vegetable rosti.
Root Vegetable Rosti:
½ pound butternut squash
½ pound sweet potato
1 small turnip
½ medium sweet yellow onion
⅓ cup potato starch
2 teaspoons kosher salt
Lots of freshly ground black pepper
2 large eggs
5 tablespoons roasted garlic (recipe follows)
1. Preheat oven to 350°F on convection setting. Set the cast iron skillet(s) inside the oven to bring up to temp.
2. Peel and grate the squash, potato, and turnip, preferably using a food processor.
3. Thinly slice the onion and combine with the vegetables.
4. In a mixing bowl, beat eggs with salt and pepper until well combined.
5. Add eggs, garlic cloves, most of the garlic oil, and potato starch to the vegetables. Mix well.
6. Remove the skillet(s) pan from the oven, and add a drizzle of the reserved garlic oil. Carefully but quickly add the vegetable mixture, smoothing it out as evenly as possible. Bake for 30 to 45 minutes or until the rosti is creamy in the center and the top is a rich, crunchy brown.
Roasted Garlic:
½ cup garlic cloves
1 cup olive oil
1. Place the garlic and oil in a baking pan and cover with aluminum foil.
2. Bake in 350°F oven for 25-30 minutes until the cloves become golden; test with a paring knife for tenderness. Remove from oven and cool in the oil. Use the oil for cooking and incorporate the roasted garlic into other recipes.