Holiday Socials, Ghosts of Christmas, Ugly Sweater Parties, K. Michelle After-Party, and More – Dec. 18-21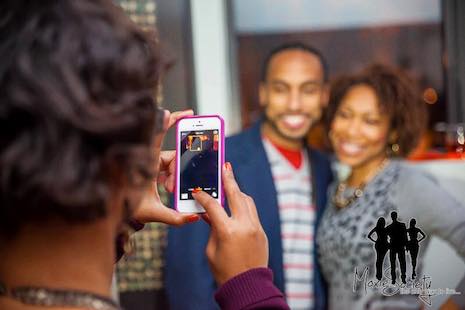 Do you feel the holiday rush? Well, take a break from all of the Christmas shopping you still have to do, and enjoy at least one of these events from your social itinerary.
Thursday, December 18
Socialtopias Pre-Release Event
Socialtopias is a new website and app that aims to help you manage your social life. The app is set to release later this month, so this is an opportunity to get a sneak preview. Plus, there'll be complimentary beer from the brewery, and food from Chrome Toaster food truck. 6-8 p.m. Free admission. Sycamore Brewing, 2161 Hawkins St., facebook.com/events/891701230862806.
The Art of the Socialite
The Prestige Group presents the end-of-the-year installment of its event series, inviting the city's socialites to come out and enjoy live art and cocktails. 6-11 p.m. Free admission. Kanvas, 525 E. Sixth St., theartofthesocialite.eventbrite.com.
ULCCYP Holiday Mixer
The Urban League of Central Carolinas' Young Professionals host this fundraising event to benefit great community programs. The evening will include heavy hors d'oeuvres and a complimentary drink. 7-11 p.m. $20-$25. Sydney's Martini & Wine Bar, 401 N. Tryon St., ulccypholidaymixer2014.eventbrite.com.
Friday, December 19
Ghosts of Christmas Tour…A Journey of Christmas Past, Present and Future
Good Eats and Meets and The Get Dead Crew are hosting an intimate candlelight ghost and cemetery tour of Charlotte's Fourth Ward. The event will begin and end at Rí Rá. 7-10 p.m. $15. Rí Rá Irish Pub, 208 N. Tryon St., meetup.com/geamclt.
Ugly Sweater Party (Howl at the Moon)
Wear your hideous, most horrendous Christmas sweater for a chance to win the grand prize. There will also be $3 drink specials and a complimentary buffet. Doors open 5 p.m. RSVP for free admission. Howl At the Moon, at EpiCentre, 210 E. Trade St., howlatthemoon.com/charlotte.
Ugly X-Mas Sweater Party (Roxbury)
Don your ugly sweater for prizes, and prepare to dance to hits from the 1980s and '90s. There'll also be holiday-themed drink specials. 8 p.m.-2 a.m. Admission cost varies. Roxbury Nightclub, 116 W. Fifth St., roxburynightclub.com.
#FaceTimeFriday: Holiday Edition
Moxie Society's monthly party at this intimate lounge concludes for the year, with music by DJ DR. 10 p.m.-2 a.m. Free admission. Kanvas, 525 E. Sixth St., moxiesociety.com.
Saturday, December 20
Browns Backers Bash
The Cleveland Browns are in town this weekend to play the Panthers on Sunday. Here's an opportunity for Browns fans to get together and enjoy a meet-and-greet with former players. Presented by the Carolina Browns Backers and Lake Norman Browns Backers. 7-10 p.m. Free admission. Rooftop 210, at EpiCentre, 210 E. Trade St., facebook.com/rooftop210.
Christmas Costume Party
Party gurus the SocialFlockers host this event, featuring a Christmas costume contest, complimentary appetizers (during the first hour), drink specials, and at 9:30 p.m. DJ Bob goes on. 8 p.m.-2 a.m. Free admission. City Tavern SouthPark, 4331 Barclay Downs Dr., socialflockers.com/event/costume-party.
Eighth Annual Jingle Bell Jam
The first half of the night will feature heavy hors d'oeuvres and jazz music by Buff Dillard and QC Bonejazz. And as it gets later, DJ 06 will lead the dance party. 8:30 p.m.-1:30 a.m. $35 at the door. Hilton Charlotte University Place, 8629 J. M. Keynes Dr., jbj8.eventbrite.com.
Pro Ho Ho Bash
It's a customer appreciation party at this Uptown bar, with secret Santa gifts for everyone (9-11 p.m.), including a $250 gift card for one lucky winner. Plus, there'll be complimentary Newcastle beer. 9 p.m. Free admission. Prohibition, 200 N. Tryon St., prohibitionclt.com.
Drais Las Vegas Takeover Party
Popular DJs Jay Envy and Weaponz from Vegas nightclub Drais will rock the party. 10 p.m. $20 and up. Label, 900 NC Music Factory Blvd., labelcharlotte.com.
Ugly Sweater Holiday Party (Nan and Byron's)
Wear your ugliest Christmas sweater for a chance to win a $100 gift card from this South End hotspot. Music by DJ BWillackers, and drink specials include select $2 beers and $4 vodka cocktails. 10 p.m.-2 a.m. Free admission. Nan and Byron's, 1714 South Blvd., nanandbyrons.com.
Atmosphere (weekly event)
This event is becoming a Saturday night destination for partiers, featuring music from DJ Ngenius. 10 p.m.-2 a.m. Free admission before midnight with RSVP; VIP also available. Studio Movie Grill, at EpiCentre, 210 E. Trade St., eventbrite.com/e/atmosphere-tickets-14969630568.
Off the Wall: Wu Tang Forever Edition Vol. 2
The next edition of this eclectic party series pays tribute to Wu Tang Clan, with DJs Justice and Aking playing many of the legendary hip-hop group and solo members' hits and cult classics. 10 p.m.-3 a.m. Free admission. Crown Station Coffee House & Pub, 1425 Elizabeth Ave., eventbrite.com/e/off-the-wall-wu-tang-forever-edition-v2-tickets-14407987679.
Sunday, December 21
Cleveland Browns at Carolina Panthers
It's the last home game of the year, and the Panthers are (remarkably) still in playoff contention, if they win the final two games of the season. Game time is 1 p.m.

Where to Watch the Game
@ All American Pub, 200 E. Bland St., facebook.com/allamericanpub.
@ Angry Ale's, 1518 Montford Dr., facebook.com/angryalesmofo.
@ Draught, 601 S. Cedar St., facebook.com/thecansrecycled.
@ Fox and Hound: Ballantyne, 15235 John J. Delaney Dr., facebook.com/fox.hound.ballantyne; Northlake, 9325 Center Lake Dr., facebook.com/foxandhoundnorthlake.
@ Hickory Tavern, at Metropolitan, 1100 Metropolitan Ave., facebook.com/ht.metropolitan.
@ Sports One Bar & Lounge, 521 N. College St., sportsoneclt.com.
@ StrikeCity, at EpiCentre, 210 E. Trade St., strikecitycharlotte.com.
K. Michelle Concert After-Party
After the feisty R&B singer performs in concert, she'll host this after-party. 10 p.m. General admission, $10 in advance. Label, 900 NC Music Factory Blvd., kmichellelabel.eventbrite.com.
Verify dates, times, prices, and other info at the web addresses listed for each event.
Be sure to bookmark www.charlottemagazine.com/Blogs/Dusk-Till-Dawn to stay plugged into Charlotte's nightlife and social scene. Click here to sign up to receive the weekly Dusk Till Dawn e-newsletter. Follow me on Twitter @HollidayInk; email me at jarvish@grownpeopletalking.com.