Hollyn & Matt
June 8, 2013: Daniel Stowe Botanical Garden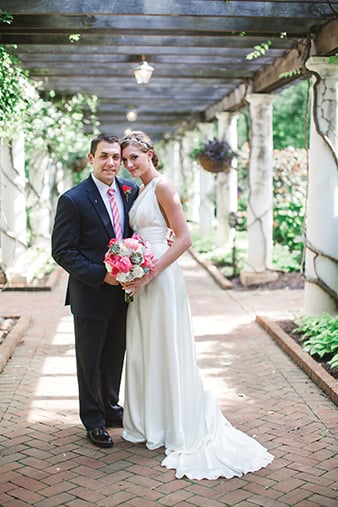 Photographs by All Bliss Photography
Hollyn Alberghini, a graduate of Mercy School of Nursing, and Matt Campbell, with YP Holdings, met at Wingate University, where he spotted her across a crowded cafeteria. Matt spent years being a total pest ("He was always picking on me!" Hollyn says), but eventually the pair became friends, until Hollyn came to realize Matt was so much more. He popped the question during a family game of Pictionary, tricking her into proposing to him, before offering her a stunning oval diamond from Rhudy's Jewelry Showroom in Fayetteville.
The bride's childhood pastor, Rev. Leslie Wray, officiated the ceremony in the White Garden at Daniel Stowe Botanical Garden. The couple delivered a heartfelt thank you to their parents, presenting a rose to each mother.
Guests enjoyed bruschetta and shrimp cocktails in the crepe myrtle grove before Audio to Go announced the first dance: "Love Song" by Adele. Creative Solutions matched the bride's soft summer palette with navy linens and pink napkins, and tables were flecked with milk glass and coral flowers. Everyone feasted on London broil, chicken Florentine, and mashed potatoes by Best Impressions Catering before sampling wedding pecan pie and banana pudding from Brenda's Cakes in Belmont. Making a joyous noise, everyone shook maracas, blew harmonicas, and banged xylophones as the couple zoomed away to the Ballantyne Hotel and then a Charleston honeymoon.